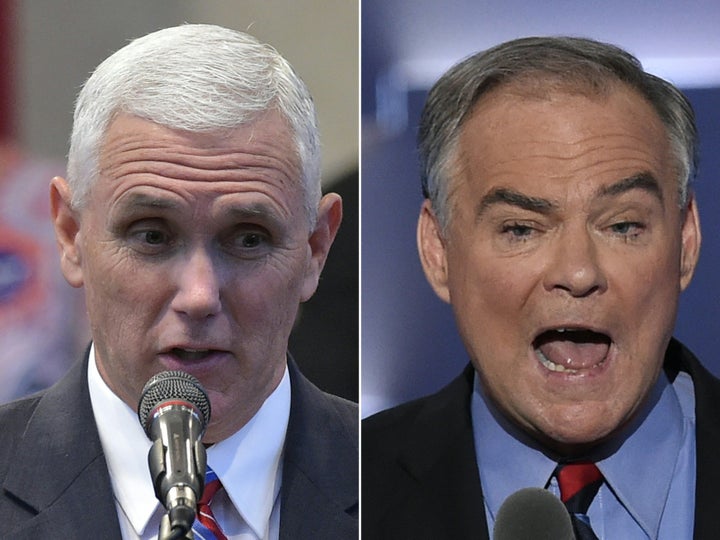 FARMVILLE, Va. ― Are you fired up about the vice presidential debate?
Well, try to imagine if that debate was happening right in your backyard. Because if it was, you might be marginally more excited than you are right now.
Democrat Tim Kaine and Republican Mike Pence are facing off Tuesday night in Farmville, Virginia, about an hour's drive from Richmond and Charlottesville. Longwood University, a liberal arts school of roughly 5,000 students, scored the coveted role of veep debate host, bringing a swarm of politicos and journalists to the college town, population 8,000.
Everyone has an opinion on Donald Trump and Hillary Clinton, perhaps the most polarizing political figures of their time. Opinions on their running mates, not so much. These two safe bets are grossly overshadowed by the tops of their respective tickets. But even if the undercard candidates are as vanilla as can be, that's OK with the residents of Farmville.
"It's hard to be excited, but [Trump and Clinton] do need somebody to level them out," said Alex, a 39-year-old local. "We're not super excited. We're mostly just happy this is in Farmville."
Linda Farmer, 73, of nearby Cumberland, said she'll be voting for the Trump ticket next month. She admitted she had never heard of Pence until the real estate mogul plucked his name from the veep short list. But what she's seen of Pence so far, she likes ― particularly that he doesn't set off fireworks the way his running mate does.
"He has a professionalism to him. I think they'll be a good balance," Farmer said. "I love his honesty. I love his compassionate voice for the people of the United States."
Dorothy, a retiree from Farmville, said she's supporting Trump, too, and thinks Pence seems like "an all-around nice guy." She sees him as just the kind of person Trump needs by his side: a dry, policy-focused conservative.
"I'm hoping with Pence, he will make Trump look a little more, what can I say… serious?" she said with a laugh. "Maybe?"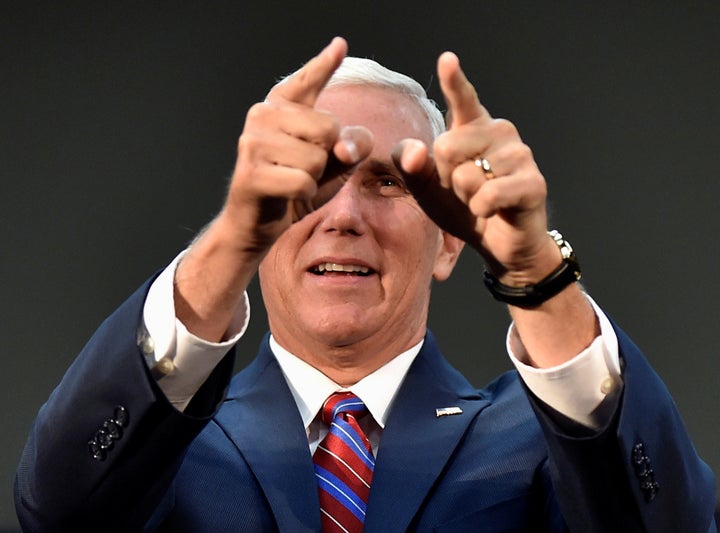 For Hazel Burley, another local who says she's "with him," the reserved Pence has served as a necessary tranquilizer for the top of the ticket. Burley and her friend, Jeanette Johnstone, cut out of work early to see the hoopla surrounding the debate.
"I think maybe he'll calm Trump down," Burley, wearing a red-white-and-blue scarf, said hopefully.
"Seems like a good family man," Johnstone agreed.
Burley and Johnstone didn't know much about Pence either before his name was paired with Trump's on campaign signs; Burley wondered if perhaps the governor hailed from Colorado. But so far, Pence seemed to them like the appropriate antidote to a flamethrower like Trump.
Besides, Burley didn't think much of Kaine.
"He closed the rest stops," she said with a shake of the head. (As Virginia's governor, Kaine shuttered interstate rest stops to save money during a budget crunch; nineteen of them were later reopened under Gov. Bob McDonnell.)
L.D. Phaup, a retiree from Farmville who declined to say how he plans to vote, said he views Pence as the "Cool Hand Luke" of the GOP ticket. The husband of a debate coach, Phaup described Trump's debate performance last month as more or less inept, rife with missed opportunities to attack Clinton. He said he wished his wife could spend a weekend coaching the Republican nominee.
"Mr. Pence has a character that Mr. Trump does not have," Phaup said. "He brings something to the equation that Mr. Trump needs badly."
Some locals were far more interested in the buzz surrounding the debate than the debate itself. Sally Kitterman, a retiree from the nearby town of Dillwyn, stopped by just to take pictures of the scene. That's when she bumped into a dreamboat: conservative columnist Stephen Hayes.
"I've died and gone to heaven," Kitterman gushed as she sat with her camera near a stage set up for TV interviews. "I'm waiting on [Fox News interviewer] Jesse Watters. And then I'll probably leave."
Others seemed downright depressed about the candidates and the elections.
"I'm not excited about anything," Diane Gunter, 40, said before letting out a slightly maniacal laugh. "Nobody cares. It's a puppet show. It's all rigged."
Gunter said she'll probably vote for Clinton in November, but she doesn't think it will change much because the government is fundamentally corrupt.
"I think we're going to hell in a handbasket," she said.
Calling all HuffPost superfans!
Sign up for membership to become a founding member and help shape HuffPost's next chapter
BEFORE YOU GO
PHOTO GALLERY
Twitter Tears Into Mike Pence's Many Science Fails With #PenceScience