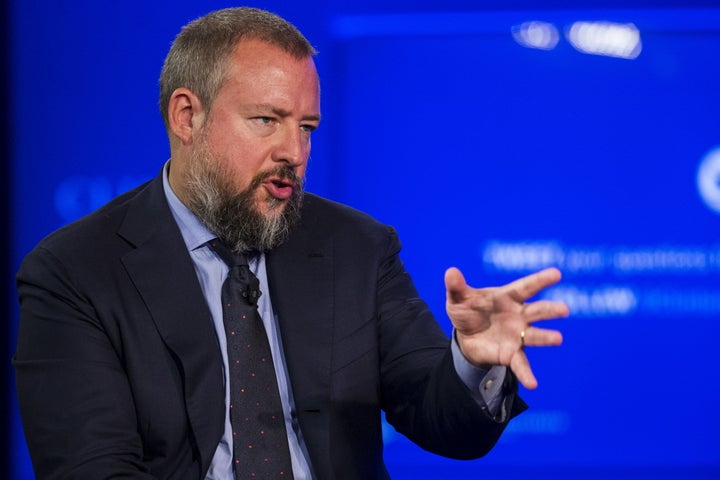 A New York Times report published Saturday details a toxic workplace culture at Vice Media, which the paper characterizes as being ruled by "a top-down ethos of male entitlement."
The comprehensive investigation unearthed four settlements of sexual harassment or defamation against employees at Vice. One of those involved the company's president, Andrew Creighton. He paid $135,000 in 2016 to a former employee who alleged she was fired after refusing "an intimate relationship" with him.
Two other men accused in harassment settlements, former Vice News head Jason Mojica and Vice producer Rhys James, were both fired in November.
According to the Times report, Vice settled for an undisclosed amount to an employee earlier this year who said that as her supervisor, Mojica retaliated against her at the end of a sexual relationship. The company settled for $24,000 in January to an employee of mixed race who said James made racist and sexist comments, including asking her about the color of her nipples.
The fourth settlement involved a writer who said the company defamed her by falsely publishing that she agreed to have sex with a rapper she interviewed.
Additionally, more than 24 women told the Times they had seen or personally experienced sexual misconduct at Vice like unwanted kisses, propositions for sex and inappropriate comments.
Vice co-founders Shane Smith and Suroosh Alvi appeared to agree with the sentiments of Vice employees. In a statement sent to the Times, they apologized that those running the company had failed to foster a "safe and inclusive workplace":
Listening to our employees over the past year, the truth is inescapable: from the top down, we have failed as a company to create a safe and inclusive workplace where everyone, especially women, can feel respected and thrive. Cultural elements from our past, dysfunction, and mismanagement were allowed to flourish unchecked. That includes a detrimental 'boy's club' culture that fostered inappropriate behavior that permeated throughout the company.

It happened on our watch, and ultimately we let far too many people down. We are truly sorry for this.
In a longer version of the statement sent to employees, Vice also outlined the steps the company has taken to improve the situation. Some of those steps were creation of a Diversity and Inclusion Advisory Board with Gloria Steinem as a member, a strengthened process for reporting harassment and the removal of a bizarre "non-traditional workplace agreement" that essentially required new hires to agree to not be offended by whatever went on at the office.
The Times report echoes earlier accounts that Vice employees, particularly women, have shared in recent weeks. Last month, The Daily Beast interviewed more than a dozen former and current staffers who described routine harassment and indifference on the part of the company. Employees also described having to sign the "non-traditional workplace agreement" mentioned in Vice's statement. Those agreements mandated, among other stipulations, that they agree to not find "the workplace environment at VICE" to be "offensive, indecent, violent or disturbing."
Shortly after The Daily Beast story broke, HuffPost's Ashley Feinberg spoke with multiple Vice staffers who were furious about the company's failure to address sexual harassment allegations and frustrated with a general lack of transparency. They also spoke of anxiety over the impending Times story, which they knew was in the works.
"That story is a shadow over all of us," one employee told HuffPost. "Every day you think, is this the day that it's going to break?"