Ten months after they won union recognition, employees of Vice's video, TV and production arm find themselves increasingly frustrated by what they view as the company's dragging its feet on contract negotiations, several sources told HuffPost.
"People are restless," said one current Vice employee, "and ready for change."
On Tuesday, employees did what they could to make that displeasure known. Members of the company's various bargaining units left work and gathered on the rooftop of Vice's Brooklyn headquarters to discuss next steps. Employees also plastered posters voicing their dissatisfaction around the office.
"We unionized 10 months ago. Our patience has limits. We call upon Vice to sign fair union contracts," the posters read.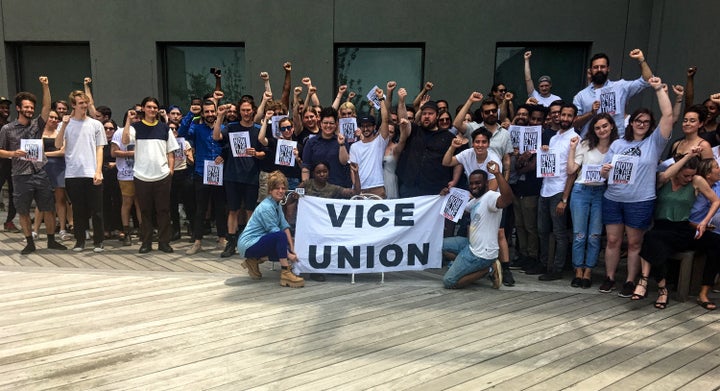 Last September, approximately 430 video content creators and post-production workers at Vice formally announced they had unionized, following the lead of Vice writers, who had organized two years before. The writers' contract negotiations in 2016 proved to be a rousing success: After eight months, Vice management agreed to minimum annual salaries of $45,000 and across-the-board raises of 14 to 20 percent.
But this time around, things have moved slower, according to Isham Christie, an organizer at the Writers Guild of America, East, which is representing video content creators at Vice.com, Viceland and the company's HBO programming. (WGAE also represents the editorial staff of HuffPost.)
"We've only had a couple bargaining sessions with the company and it's almost been a year," said Christie. "People are frustrated."
The first bargaining session for the content creators didn't come until May 7, according to multiple sources, and one Vice employee working on the negotiations said they were "not even close to finishing the first section of bargaining."
Part of the delay is tied to Vice's being unable to provide an "accurate employee list" and other sorts of "basic information" in the months after union recognition, Christie said. "On top of that, some of the pay information was inaccurate as well," he said.
Post-production employees, who are being represented separately by the Motion Picture Editors Guild, started their bargaining process earlier, but have also expressed frustration with management. An email sent on June 5 by the post-production negotiating committee to Vice employees said that contract talks had "proceeded more slowly than it ought to."
"Initially, we were inclined to attribute the slow pace of contract talks to management shake-ups at Vice and to the company's learning curve when it comes to collective bargaining," the negotiating committee wrote. "But our May negotiating session, for which management's representatives arrived unprepared to discuss key issues, has led us to question whether the company feels sufficiently motivated to reach a fair agreement in a timely fashion."
A Vice spokesperson told HuffPost that union negotiations are ongoing and that the company has remained supportive of unionization throughout the process.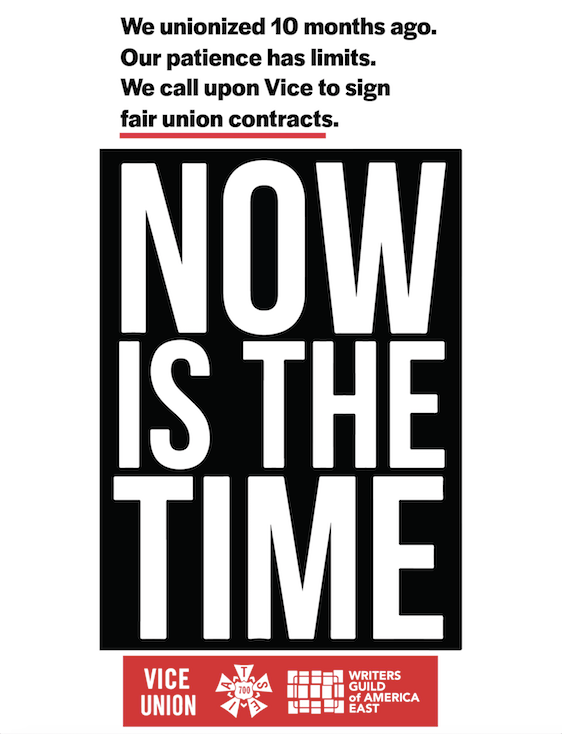 It has been a chaotic 10 months for Vice since the video and TV employees voted to unionize last September. In March, Shane Smith stepped down as CEO amid fallout from articles by The Daily Beast and The New York Times depicting Vice as a company rife with sexual misconduct and a "top-down ethos of male entitlement."
A month earlier, The Wall Street Journal reported that Vice missed its 2017 revenue goal by more than $100 million, leading critics of the company to start questioning whether it would ever live up to its onetime $5.7 billion valuation by a private equity firm.
The company's joint venture with a Canadian media giant to produce a Canadian TV channel didn't work out after "bleeding revenue and subscribers," according to The Hollywood Reporter, and even with some recent growth, ratings for Viceland in the U.S. have remained weak overall. Last month, the hosts of Viceland's "Desus & Mero" announced they had decided to leave the network for Showtime.
"Obviously the company was kind of in tumult," said one of the Vice employees. "But I don't think that's a reason not to come to the table with us."
"It's really hard to tell if it's actually mal-intent," said Christie, "or just mismanagement."
Popular in the Community