NEW YORK -- The first story on the fourth season of HBO's "Vice" is what CEO Shane Smith considers "classic Vice."
Correspondent Kaj Larsen, who embedded last year with Nigeria's military for an online report on Boko Haram, returns to the bloody conflict for the weekly HBO newsmagazine's Friday premiere. Larsen witnesses the terrorist group's wrath and the government's brutal counter-insurgency campaign in action, while speaking to everyone from Nigeria's president to a Boko Haram commander and a young woman kidnapped and impregnated by one of the terrorist group's members.
Such dispatches, he said, also demonstrate that the show isn't beholden to the news cycle, in this case sticking with the Boko Haram story long after the "Bring Back Our Girls" campaign faded from the headlines. "Boko Haram didn't start by kidnapping girls and it didn't end by kidnapping girls," he said. "Boko Haram has been around a long time and is going to be around a long time. And they're actually more deadly than ISIS or Al Qaeda."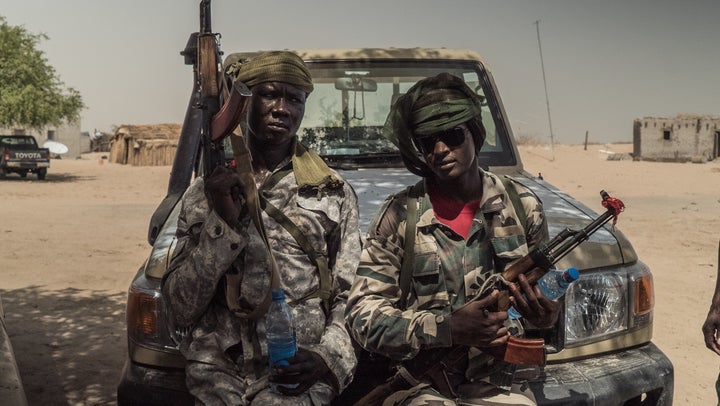 Still, Smith stressed that this season of "Vice" will expand its scope beyond the the world's most violent spots. He considers parodies of its swashbuckling style to be a good thing -- evidence the company's brand is ubiquitous enough for people get the joke -- but he also believes the show can delve into topics besides foreign news.
"I think its good to kill all your darlings and reinvent yourself every season," Smith said.
Last year, "Vice" struck a chord with specials on criminal justice and cancer, the latter of which prompted many people desperate for more coverage to reach out, Smith said. "There are so many diseases that touch the majority of people in the world, and so many questions about them, that we're going to focus on those and try to get as much information out to people as we possibly can," he said. 
Several of this season's 18 episodes will focus on medical science, including blindness in Pakistan and the use of fecal implants.
In the second half of the premiere, correspondent Isobel Yeung reports on advances in gene editing, such as the ability to select a child's sex and eye color. The potential to select more human characteristics, of course, could have far-reaching societal consequences.
Other episodes in season four, the longest season yet, will tackle surveillance, space travel, the future of energy, the environmental impact of global meat production and the euthanasia debate. Smith said the third episode of the season, "Right to Die," is like "nothing like I've ever seen on TV, let alone on our HBO show."
"I'm haunted by it," Smith added later. "I'm mesmerized by it... I just can't stop thinking about it."
Smith himself returns to the field this season, reporting stories on Iran, surveillance and energy. The latter, Smith said, is an attempt to move beyond the so-called debate over climate change and look toward solutions.
"We're trying to go for a bit more of a positivist vibe," Smith said. "It's important we know what the problems are, but there are solutions to every problem, and we have to figure out what those are."
Smith describes himself as truly platform agnostic. He said he doesn't care if people are watching Vice's content on HBO or HBO Now, their laptops or cell phones -- just as long as they're watching.
The weekly HBO show is just one piece of a broader push into TV throughout 2016. Though the strategy may seem counterintuitive for a youth-focused company that fashions itself as cutting edge, Vice can potentially reach millions of more viewers on TV and tap into the TV advertising market, which is far more lucrative than the digital one.
On Feb 29, Vice launches Viceland, a 24-hour cable channel in partnership with A+E Networks that will feature coverage of food, travel, and culture. And in the coming months, Vice will unveil a daily, half-hour newscast on HBO that was first announced last March. 
Smith said Vice could theoretically launch the daily HBO show now using its current news infrastructure, including correspondents and stringers in the U.S. and abroad. But Smith said Josh Tyrangiel, who joined in October to spearhead the show after a stint as Bloomberg Media's chief content officer, is "adding another layer of rigor," and producers are still tweaking the show's format to ensure it's distinct from traditional newscasts. 
"We don't want to be your parents' news show," Smith said. "We want to be new and innovative. The thing about being new and innovative, you have to try a lot of things first to find out what works because it hasn't been done before."
Smith said they're still determining how to cover stories like the 2016 election in "a Vice way," a challenge that has been "the whole structural, sort of algorithmic Rubik's cube."
This moment for Vice, Smith said, is "a once in a lifetime opportunity."
"We're in the right place at the right time, with the right show, the right time for the cultural zeitgeist and the right platform partner," he said. "All that's left to do is for us is to fuck up. If we fuck up, that's our fault."
Calling all HuffPost superfans!
Sign up for membership to become a founding member and help shape HuffPost's next chapter