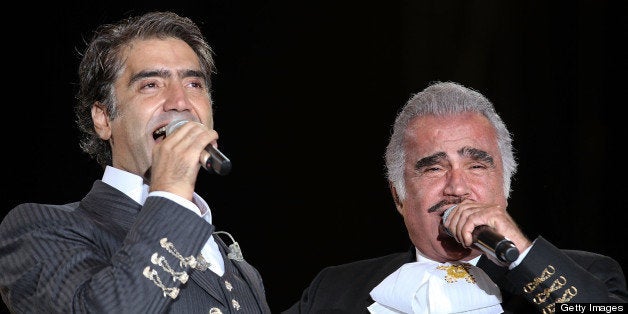 Alejandro Fernandez is coming out with a new album and one of his songs features a very important person, his father Vicente Fernandez.
Just recently the father and son took to the recording studio in their home, Rancho Los Tres Potrillos and recorded a song that is sure to please fans. Alejandro has been involved with music since he was six-years-old, singing at one of his fathers concerts for the first time and experiencing stage fright, but fortunately his dad swept in and helped him out. It seems a little stage fright wasn't enough to stop the Mexican star from pursuing music.
Alejandro Fernandez says it's a family experience
This isn't the first time Alejandro Fernandez and his dad have done a duet together, although the last time was back in 1992. "I haven't recorded in the studio with my father since my first album, more than 20 years ago. It is a family experience that has enriched me personally and artistically. I truly enjoyed all aspects of it. The song is incredible and I can't wait for you to hear it," said the 41-year-old singer in a statement.
Young Fernandez is finishing up his upcoming album, which has yet to have a title assigned. The new album will be available soon.
It seems as though duets are attracting the singer's attention. Word on Twitter is that Alejandro Fernandez teamed up with Christina Aguilera to record the theme song of a telenovela premiering May 13th called "La Tempestad."
Check out Alejandro Fernandez and his father performing 'Perdon' together!
BEFORE YOU GO
PHOTO GALLERY
9 Latinos Who Have Played Famous Latinos