Fox arrived for the interview bearing a gift of cowboy boots for O'Brien, after earlier trolling Trump on Twitter during his first major speech to congress Tuesday.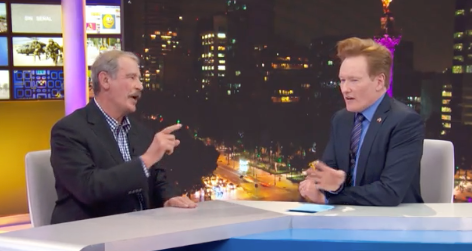 Fox cited the failure of the Berlin Wall that once divided the German city as an example of such barriers not working, before describing the people of the United States and Mexico as "neighbors," "friends," "partners" and "roommates."
Many Mexicans are doing great work in and for the United States, he stressed. "And now they wanna kick them in the ass and throw them out," Fox said of the U.S. policy. "That's gonna be a big, big loss for United States."
Fox, who was Mexico's president from 2000 to 2006, also had some words of advice for Trump ― should he care to heed them.
"If he wants to negotiate we have to go for the whole enchilada, not just one piece," said Fox. "He has to learn that we are his best friends and partners."
Check out the full interview above.
Popular in the Community