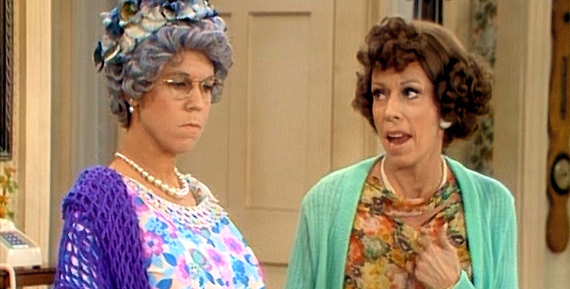 She's still glad she had that "time together." I'm talking about Carol Burnett, of course. The comedy legend crooned those words at the end of each episode of "The Carol Burnett Show," her iconic CBS comedy sketch series that debuted on CBS in 1967--that's nearly 50 years ago, folks--and ran for 11 years, garnering 70 Emmy noms and 25 wins. It remains one of the best comedy shows in television history.
Which is why Burnett is back--briefly--with a special dubbed "Carol Burnett's Favorite Sketches," airing June 3 on PBS. Fans and comedy enthusiasts will appreciate the selections offered, featuring Burnett and her comedy team of (the late) Harvey Korman, Tim Conway, Vicki Lawrence, and Lyle Wagoner.
Burnett, a recent recipient of the Screen Actor's Guild Lifetime Achievement Award, introduces each of her selections, sharing personal anecdotes and reminiscing about the groundbreaking show that made her a household name. The biggest surprise here is that several sketches actually seem unearthed from the vault--sketches that may not not have popped up on commercial advertisements for DVD sets of the stellar show over the years. These include "The Dentist," "As The Stomach Turns"--the one with Harvey Korman in drag and which has not been televised in more than 40 years--and "Oldest Man," featuring Conway at his best. Other belly laughs arrive via "Went With the Wind"--still a classic--plus selections from "Nora Desmond" and "The Family."
Here, Burnett's longtime co-star, Vicki Lawrence -- whose character of Mama from "The Family" sketches became so popular, it morphed into its own syndicated show after the series bowed in 1978--opens up the fiery show, Burnett, and that rare kind of comedy magic, which always turned heads and has never been replicated.

Greg Archer:Fun special. But tell me something: When you look back at that time period of your life now, what comes to mind?
Vicki Lawrence: When I look back at the whole thing, I just go, "man." I don't who of my generation of comedy wouldn't have given their right arm to be right where I was.
Greg Archer: What did you love most about being a part of that experience?
Vicki Lawrence: I was pretty young and pretty naïve, and I don't think I had any concept of where I had landed. I don't think any of us had any idea of the enormous impact the show would have. You don't think about that--at all--when you're trying to do a funny show every week. I feel as if I got to go to the Harvard School of Comedy in front of America. And that wouldn't happen today. Nowadays, if you're not Carrie Underwood out of the box ...
Greg Archer: It's a different time now.
Vicki Lawrence: Totally different world now. The judges would have booted me off in a nanosecond, and if they didn't, America would have. It's just a different world and a different time.
Greg Archer: Would you say you had an ideal, if not the ideal work environment?
Vicki Lawrence: It was a very nurturing. Carol was very supportive and letting me come along ... and learn slowly. That I even got to play in the sandbox with these people is just incredible; that I was a part of the legacy. It really took me midway through those 11 years to really get my stride. I was busy doing my "undergrad studies," you know?
Greg Archer: I get it. It takes a while for things to integrate. And then one day you're like, 'oh ...'
Greg Archer: So, why do you feel viewers responded so well, and continue to do so. Why do we love this show?
Vicki Lawrence: Comedy has changed a lot. With that show, we did a lot of laughing and there was no message. A lot of it was just silly but it held up really well. These days, a lot of the comedies are message-driven or cynical or sexual or dark. The show is still something you can sit and watch with your grandkids--and teach them what they missed when there were only three big networks and everybody saw us. Really, if you think of the great variety shows, and there were some good ones, Carol's was spiffy, beautiful, and the best of the best. Bob Mackie -- he was a frickin' genius. There weren't costumes like that on variety shows, to my knowledge, prior to "Burnett." Another thing is that it was ... Carol. There was just an umbrella of love when you were anywhere near her. People think so fondly of her that it just spills off onto you.
Greg Archer: She has a big heart?
Vicki Lawrence: She's every bit as special as everybody thinks she is. I think people wish that and hope that, and consequently, we are the recipients of the love people feel for Carol.
Greg Archer: Can you share a few things you learned from her ... about life, about the craft, or anything else?
Vicki Lawrence: It's hard not to learn from Harvey and Carol--just by osmosis. You're watching the best of the best do what they do and you get that timing drilled into your brain. Carol had a leg up, but she had a show to run. She had a lot of her plate every week. I have to say it was really Harvey who took me aside and mentored me, and taught me most everything I needed to know about comedy. He worked with me on dialects and prompts, and he would explain to me who I was in a certain movie takeoff, because I was so young I hadn't seen some of them. He was just very patient and nurturing. In the beginning he said, "Forget stage right and stage left, you can't even find a toilet!" [Laughs]
Greg Archer: And what about Carol?
Vicki Lawrence: From Carol, I learned from watching her. I learned how the business of show business should be run, because there definitely is a trickle down, and she is so special and giving. I feel I learned from the best.
In this special, we learn about Carol's favorite sketches, but how about yours?
Vicki Lawrence: Well, everybody still talks about that "dress" she wore in the "Went With The Wind" sketch, but I think [the character] Chrissy was pretty damn funny. I'm just saying. She was pretty fun to play. And, well, the character of Mama. That was a gift from Carol. She didn't want the part. That was an incredible part.
Greg Archer: Initially, the role of Mama was written for Carol?
Vicki Lawrence: Yes. But Eunice spoke to her. The writers were extremely upset because they had written this beautiful homage to their dysfunctional families--they both hated their mothers. [Laughs] They had written this beautiful piece and so when Carol said she wanted me to play Mama, they were doubly upset. And when she said that she wanted to do it Southern, and they said, "You've ruined it." They actually walked out of the rehearsal hall. Carol said, "Well, this is the way I think it needs to be done," and well ... we know what happened.
Greg Archer: You must get asked a lot about playing Mama. Is there anything we don't know about her? How was that for you?
Vicki Lawrence: Harvey said to me one time, "Any character you play is a part of you." And I have often said this, and my husband looks at me cross-eyed, because it's his worst nightmare to one day roll over in the bed and Mama will be there-- instead of me. But I often said that Mama really lived in my gut somewhere. I understand that lady perfectly. She has grown and changed into a great character.
Greg Archer: Yes. She did evolve from those initial sketches.
Vicki Lawrence: And that was Harvey's doing, too. Because she was one-dimensional in the beginning and very mean on the sketch show. I mean, some of those pieces were tearjerkers, and when we went to sitcom, we did two episodes, and I went: "Something is wrong, this doesn't feel funny." I begged them to bring Harvey in to help. And he said, "Well, you can't expect people to come home after a hard day's work, pop open a beer and watch this old lady scream and yell for a half-hour. She now has to be silly; she has to laugh." And I remember saying to him, "I don't think she's hardly ever smiled." He said, "She is you; you are she. You know this about your character."
Greg Archer: He was responsible for setting her loose?
Vicki Lawrence: He was. He was responsible for turning her into the little peacock she became.
Greg Archer: Any talk of another reunion show?
Vicki Lawrence: I don't think Carol would do that again -- not without Harvey. It's hard to capture it again. Even after the first reunion, we looked at each other and thought, "How the hell did we do this every week?" We put together a remarkable production. And it just ran like a top.
Greg Archer: So, what do you love most about comedy? About performing?
Vicki Lawrence: Making people laugh. Oh yeah. Yeah. I think its such a gift. Because there just is not enough of it. People are so--especially now--damn serious! I go out and speak to women's groups all the time, and I say, guys, you gotta laugh, and find the humor in things. You gotta pass it on. If you don't laugh in this world, you're going to slit your wrists, and if you're a mother, like I am, you're gonna have to clean up the mess. [Laughs] And if you are a person that make people laugh ... well, that's pretty special. So... laugh!
"Carol Burnett's Favorite Sketches" airs nationally at 9 p.m. ET (check local listings) June 3 on PBS.