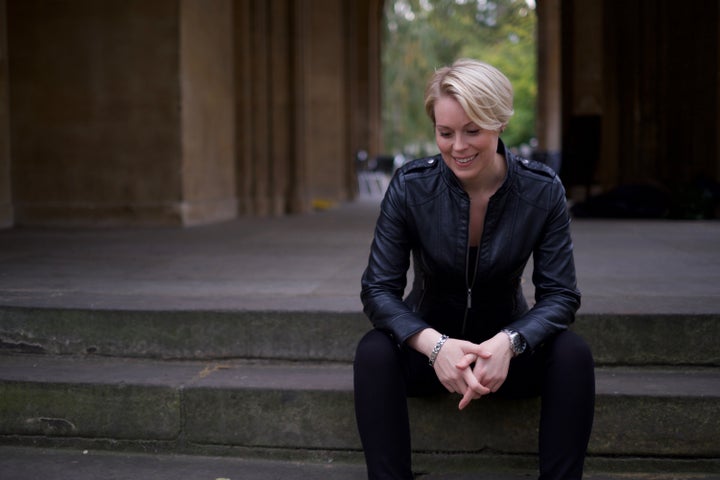 Beeching, a Christian singer and activist based in London, says she often uses social media to reach out to young queer Christians. She views using platforms like Facebook and Twitter as part of her ministry.
But in the course of her advocacy, she has often received hateful messages from anti-queer trolls. About 90 percent of the vitriol she gets online and offline comes from other self-identified Christians.
It was all par for the course until this Wednesday, when she realized a meme featuring a photo of her had gone viral. After seeing that image, Beeching decided that she had to take a break from social media.
She posted a screenshot of the meme on her Twitter feed on Wednesday. 
Beeching said she also got a seven page handwritten letter telling her to "repent from the sin of lesbianism." 
Beeching said that it's saddened her that much of the criticism she's gotten has come from inside the church.
"The sad thing is that these Christians believe they are acting out of love - that they are defending what the Bible teaches. So they genuinely don't think they're doing anything wrong. They don't see it as hatred or homophobia ― they see it as standing up for God's truth," Beeching wrote in an email to The Huffington Post. "And history shows that people can do terrible things when they feel like God is on their side and they have the moral upper hand."
After clicking through a few of the Facebook profiles of people who shared the meme, Beeching decided it was time to practice self care and take a break from social media.
Beeching told HuffPost that she is a big believer in the power of social media. She's been active on both Twitter and Facebook for years, and has never stepped away before. 
She doesn't plan to stay away for too long, however ― one month, at the most.
"There's a lot of people online who reach out to me for support - LGBT people who feel very isolated and need help - so I don't want to miss the chance to be able to help them. I don't want the trolls to feel like they have won," she said.
Beeching added that she's received messages of kindness and support that have helped balance out the negativity. She hopes coming forward with her story can help the church see how damaging homophobia can be, both online and offline. 
"My main concern are the young LGBT people who are told they can't be gay and Christian," Beeching wrote. 
"I'm resilient enough to cope with this kind of nastiness, but many of them aren't. So for their sake, I hope the church hears a wake up call to act."
REAL LIFE. REAL NEWS. REAL VOICES.
Help us tell more of the stories that matter from voices that too often remain unheard.
BEFORE YOU GO
PHOTO GALLERY
Christian Women On Feminism