Westboro Baptist Church is no match for Christian rock singer Vicky Beeching.
The singer joined fellow Christians in Portland, Oregon over the weekend to present the keynote address at the Gay Christian Network's annual conference. Also in town for the weekend were Westboro Baptist Church picketers, there to protest the event with signs of hate and bigotry.
Beeching came out as gay in an August 2014 interview with The Independent, after which she received countless messages ranging from the supportive to the hateful. Instead of responding with her own anger when confronted with Westboro's antics on Saturday, Beeching had only messages of love to share:
"I am very aware of the damage groups like Westboro have caused, and I'm in no way minimizing that," Beeching said in an email to The Huffington Post. "Their message is extremely harmful."
But despite the group's notorious track record, Beeching insisted that she was only fulfilling Christian teachings by extending a conciliatory hand.
"It's simply following what Jesus taught when he said in John 13:34, 'Love one another as I have loved you.' His love showed radical acceptance toward those who hated him, and on that basis, so should mine."
In typical Westboro style, the hate group announced its intent to picket Saturday's event with plenty of prior warning, giving Beeching the chance to prepare:
It also gave dozens of counter protestors -- many of them local Christians -- enough forewarning to show up with their own signs and form a "wall of love" to protect conference-goers from Westboro's abuse.
"As we arrived, we walked through the protestors, and then through a line of Christians telling us God loved us," Beeching said. "Some of them had even made their own positive placards about God's love being stronger than hate, and seeing those was a real encouragement."
Related
Before You Go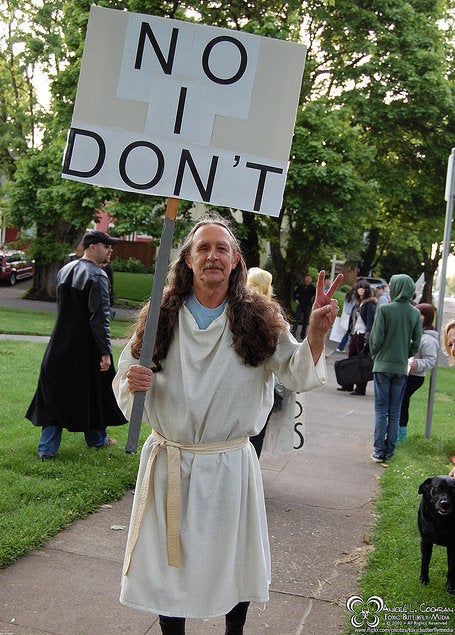 10 Amazing WBC Counter Protests
Popular in the Community