 Pianist Vicky Chow has a buzz around her. She plays a wide variety of new music; many works written by her composer friends in New York City. She performs with a lightness and ease, and she endows the music she plays with a luminous quality. When I saw her play recently, her hands seemed to become a blur of fingers as she played a difficult piece by Ligeti. Canadian-born and New York-based, Chow is a dynamite combination: she is both very accomplished and very committed to contemporary music.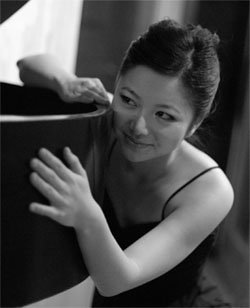 A crushed fly on the keyboard was the only casualty of Vicky Chow's recent concert in Toronto. She plays with such intensity that the poor fly, which was seen flying around the concert space, got smushed into a key on the keyboard as she played, as she announced to the astonished crowd after the piece.

Flies aside, one of her innovations in concert performances is to introduce the concept of the 'mix tape.' During her school days at Manhattan School of Music, her classmates and her would trade mix tapes which they gave to each other as secret Santa gifts. She loved the experience, because she would open herself totally, without prejudice, to the music her friends put on the tapes. It was a great way to encounter new music and broaden her horizons. Nowadays, she takes this concept to her concerts, where she presents a new music 'mix tape' program of mostly shorter works that would otherwise be difficult to program, all of which share similar musical ideas. During a recent concert in Toronto at Gallery 345, her 'mix tape' which she performed included short works by Morton Feldman, John Cage and Ligeti alongside five pieces by living composers, most of which were composed in the last one or two years.
I sat down with her for an interview in Toronto.
Joel Garten: What kind of projects are you working on now?
Vicky Chow: There's so many exciting things that I'm a part of that right now and I feel like I've been jumping from one thing to another the past few months. I want to share it all with you without boring you too much! Anyways, I was just in Italy for the soundRES festival where they had a John Cage Centennial celebration. I got to perform the Sonatas and Interludes for prepared piano by the sea! It was quite magical since the sun was just setting and as the piece went along, the stars starting appearing. Next I'm traveling to Krakow Poland with the Bang on a Can All-Stars for the Sacrum Profanum Festival. From there I directly head to Detroit for New Music Detroits 5th annual new music marathon called "Strange Beautiful Music V" held at MOCAD. They have an eclectic line-up of artists including Shara Worden of My Brightest Diamond all the way to the Grand Valley State University New Music Ensemble led by composer Bill Ryan.
JG: What is it like playing the music of a living composer, rather than someone like Bartok? Do you approach it differently?
VC: The great thing about playing a living composer's music is that they are here and you can ask them questions. It's a collaboration. Sometimes the works are still in progress and I can suggest things. Most of the time they already know what they want so it makes it even easier for me to interpret if they already have a sound they are looking for. For others, the process is about finding the sound together.
JG: When you play, are you most interested in the beauty of the music, the ideas behind the music or the technical aspect?
VC: I like it best when it is the combination of all three. It's unpleasant to play a piece that is simply technical.
JG: When I came in to meet you for the interview, you were playing a work by Ligeti, which I told you was very beautiful, but which you said you weren't sure if you were going to perform in the next concert because technically you felt it was a bit sloppy. So I am wondering, would you ever play a work that you felt was really beautiful but you were playing it a bit sloppily?
VC: If I think a piece of music is ready to be performed, then I'll perform it. If I accidentally hit wrong notes and make mistakes in a performance in the heat of the moment of this or that, I don't really care about it. However, if I'm making these mistakes because I simply haven't figured it out yet, then that's a different story and I'd be hesitant to present it. But in the next concert, maybe I'll throw the Ligeti etude back in there. I'll see how the program is going!
Also, with a classical background and training, this pursuance of note perfection is the standard. You have pianists who can play the most ridiculous passages without breaking a sweat and it is amazing. But if they mess up or miss a rhythm when they are performing, and therefore aren't perfect, that is where their mind is through the whole concert. But beauty in music is not always found in perfection of notes and technical capabilities.
JG: It's a real unfortunate thing in classical music, a real obedience to the ideal of technical perfection, and you know, folk music doesn't have that, and also modern visual art has totally abandoned that view point. And so we consider it great that Jackson Pollock can drip paint on the canvas, but on the other hand a modern classical performer has to be so exact, and nail every note or whatever. It's a real problem. I also approach this topic from my own point of view. I am an improviser, and in my music I have my own quirky technique and I feel that if not everything is perfectly technically attuned, it is okay, it is really part of the music. It's kind of like in an Ikat weaving where not everything is 100% lined up in the pattern, but that is part of the essence of its beauty.
VC: There is a vein in classical music where music is overly notated and controlled but when it comes down to it, 99 percent of the listener isn't paying attention to whether or not you nailed that quintuplet over a span of 11 sixteenth note beats. Your goal as the performer is to make music, not play like a machine, even though it is quite impressive when one can see this happen. I'm not saying it isn't important but rather that it is a combination of technical accuracy with the ability to tell a story and create a world within a sound. The most successful artists refine their technique so they can express themselves without any hesitation. These small conquerings are very personal and when you get it right, it's very rewarding.
JG: What about the philosophy or concepts behind the music, do you get very involved in that?
VC: Yes and no. It depends on the piece and the story, but it is definitely important to know where a piece of music is coming from and why it was written. It helps you understand the mood and sensibility and spirit of the music.
JG: What is it like to play Morton Feldman?
VC: It is very meditative. It is beautiful. I get the same feeling with John Cage as well. Feldman and Cage allows you to stop and listen, to really enjoy being in the space you are in and opening up your ears -- that's how I feel when I play their music. For me, it opens up a lot of possibilities and endless opportunities. I get a similar feeling when I play Philip Glass. It is probably some of the most difficult music to play because it takes so much mental focus and discipline to be still.
JG: What is the process for you to prepare a new piece for concert?
VC: It depends on every situation. There are times I spend endless sleepless nights stressing over a piece because its that difficult. I become too obsessed and I can't sleep and that's all I'm thinking about. And there are times where there isn't that challenge. I'm trying to find a healthy balance. I have a repertoire that I know that I am comfortable with and then I'm adding one or two new pieces every concert, so I'm constantly adding to the program.
JG: So when you are in that obsessive space, how do you get out of it?
VC: I won't get out of it until that performance is done. In some ways it is a negative way to approach to music, building up all that anxiety, but also, in some ways, I enjoy being in that crazy space where I can't think of anything else but that.
JG: What is the most challenging work you've ever played?
VC: The most recent one is a piece by Evan Ziporyn called 'In Bounds.' The way I describe it is like a two-part Bach invention meets Balinese gamelan with a bit of funk. That was the last piece I was obsessed about. The syncopations are always changing at different times between the hands. Once you've got that, a third voice enters and then a fourth So in the end you're playing a four- part fugue or something. I always joke to Evan that he's gotta write less complex music. [chuckle].

(Interview condensed and edited)

Be sure to catch Vicky Chow in concert:
October 16th, 2012 -- The Stone, New York, The Music of Virgil Moorefield
http://thestonenyc.com

Bang on a Can All-stars http://www.bangonacan.org
November 19-20-Vilnius and Riga
Australia November 2-7 -- Sydney Opera House and Melbourne

December 4th, 2012 -- Music on Main -- The Cellar, Vancouver, CANADA - John Cage Sonatas and Interludes -- http://musiconmain.ca/

For more information, please visit
http://www.vickychow.com and listen to her perform on her SoundCloud page
Calling all HuffPost superfans!
Sign up for membership to become a founding member and help shape HuffPost's next chapter