Victims of the $3.6 billion financial fraud by Minnesota businessman Tom Petters are justifiably angry about the federal victim-restitution process that began after his 2008 arrest.
The feds used hardball tactics to install well-connected cronies in key positions, which should trouble anyone who fears the precedent if their own finances get trapped in such a dispute nationally.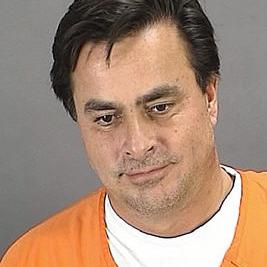 Most remarkable was that the federal judge supervising the case named the prominent local attorney Douglas Kelley to be court receiver and U.S. trustee. This was even though Petters, above as shown shortly after his arrest in 2008, had previously hired Kelley to defend his companies.
Victims are so disturbed at such decision-making and what they regard as excessive legal fees by Kelley and his team that some of helped produce The Second Fraud, a documentary about their case that premiered Aug. 25 at the Uptown Theater in Minneapolis for a one-night showing.
On behalf of the Justice Integrity Project, I was on a seven-person panel assembling there to discuss the case after the movie. Kelley and at least four other representatives of the government or Petters defense were invited, but none have confirmed. Here's a look at the discussion about this fascinating case:
For more than a decade, Tom Petters masterminded the first multi-billion dollar U.S. "Ponzi scheme" ever discovered. Authorities raided his companies on Sept. 24, 2008 after a tip from his former receptionist-lover, who'd received $8 million in bonuses during her ascendancy into his executive ranks.
Petters, a college drop-out now aged 53, received 50-year prison term in April. This ended his huge donations to leading politicians in both major parties, his swank lifestyle, and his control of such well-known companies as Polaroid and Sun Country Airlines.
But Second Fraud filmmaker Ryan Frost says:

Ultimately we discovered a tangled web of local professionals: judges, politicians and lawyers, some of which may have knowingly or unknowingly allowed the Petters fraud to perpetuate in
the first place. Now these groups are left in charge to clean up the mess.

As hundreds of years of legal precedent are blatantly ignored, creditors and victims are crying foul from the sidelines as they are swindled a second time by the very system that is in place to protect them.
On Friday (Aug. 20), I published a column as part of my legal reform group's research on such situations nationally.
During the post-film panel, I'm among those arguing that Petters oversight so far fails to provide the legal checks-and-balances among various litigants we need to protect the victims of such cases.
First-hand accounts come from Chicago hedge fund manager Thane Ritchie and New Jersey liquidator William Procida, who was elected by creditors such as Richie to be receiver via a process in Illinois promptly after the fraud was discovered. Procida, who says he's handled the liquidation of billions of dollars of assets, describes how Kelley used his twin roles as Petters attorney and as a former prosecutor to consolidate power in unusual ways.
Among them was the decision by U.S. District Judge Ann Montgomery to issue an order that empowered Kelley, her former law school classmate and colleague at the Justice Department. The order also granted Kelley judge-like immunity, thereby limiting the ability of various parties to force oversight.
Count me among those who don't understand the fascination with handing off complex problems in this way, even to well-credentialed private attorneys. To be sure, a special master is a longstanding concept. But this kind of vast power potentially has life-or-death consequences for companies and people alike, with too few due process rights.

Kelley essentially runs the show in Minnesota for victims nationwide. Kelley is subject largely to post-decision review by the judge, who named him ex parte in a private meeting. Creditors claim the Petters assets are being chewed up in legal fees, forfeitures to federal government and other controversial transactions.
In response, Kelley argues in his occasional public remarks that his decision-making balances the best interests of all to obtain optimal returns. Neither Kelley nor the judge has responded to my invitations for comment.
Others on the post-film panel with its creator Frost are law professor Richard Painter, bankruptcy expert Garrett Vail and longtime journalist James Merriner, author of an ad campaign spiked by the state's largest newspaper decrying court oversight of the Petters case.
The moderator is Bill Hillsman, founder of the ad agency that created Minnesota's campaign victories for underdog Senate Democratic candidate Paul Wellstone in 1992 and third-party gubernatorial candidate Jesse Ventura in 1998.
Nationally, some see excessive bankruptcy fees as a big problem. The American Bankruptcy Institute published a report in July entitled, "When a Pig Becomes a Hog...."
Without mincing words, the report quotes a Texas judge as saying last year: "At some time [the] Court must draw the line as to what is reasonable and what is not." The judge concluded, "When a pig becomes a hog it is slaughtered."
That's Texas talk, and perhaps a little rough for sensibilities elsewhere. But $3 billion in missing assets with only lawyers to help can be worse than tough talk. For some, it's grim reality.

Related
Popular in the Community