A new effort by an anonymous group of artists shines a light on the victims of police brutality in a unique way.
Indecline, who describe themselves as an "underground movement" of "activists, musicians, graffiti writers [and photographers]," honored the Black Lives Matter movement by giving Tamir Rice, Michael Brown, Dontre Hamilton, Eric Garner, Oscar Grant, Kimani Gray, Aiyana Stanley-Jones and Freddie Gray their own stars on the Hollywood Walk of Fame.
On Saturday, March 19, the group used an industrial-strength adhesive to install the names of the aforementioned victims alongside the group's logo on vacant stars. The following Wednesday, they posted a video of the act with audio of a Malcolm X speech on police brutality playing in the background.
On Friday, Indecline, which has produced several videos and apparel with messages to disrupt authoritarian figures and principles, told Sputnik News that they believed the names were still in place; however, Brown's name had been crossed out with black spray paint. By Monday, however, it appeared the plates had been removed, according to one Instagram account.
"Indecline wanted to basically say that the few men and women featured in this piece, along with the overarching issue that binds them together, are more important than any of the names embedded in a star on the Hollywood Boulevard. Police Brutality and blatant disregard for human rights on behalf of rogue officers of the law are among some of the serious issues at present and they thought this would be a way to engage the public in this conversation."
Whether or not the group will face vandalism charges for the Hollywood Walk of Fame project is unclear. A representative from Indecline told Sputnik that they haven't discussed a plan to cover more stars.
Before You Go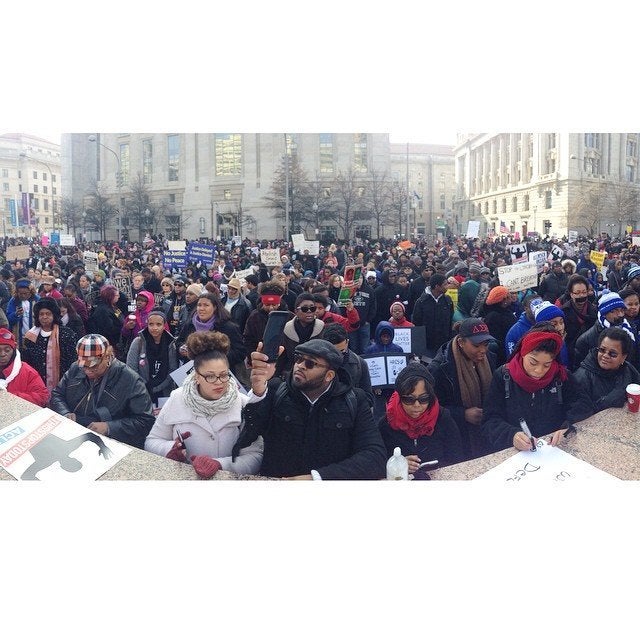 Powerful Black Lives Matter March In Washington
Popular in the Community