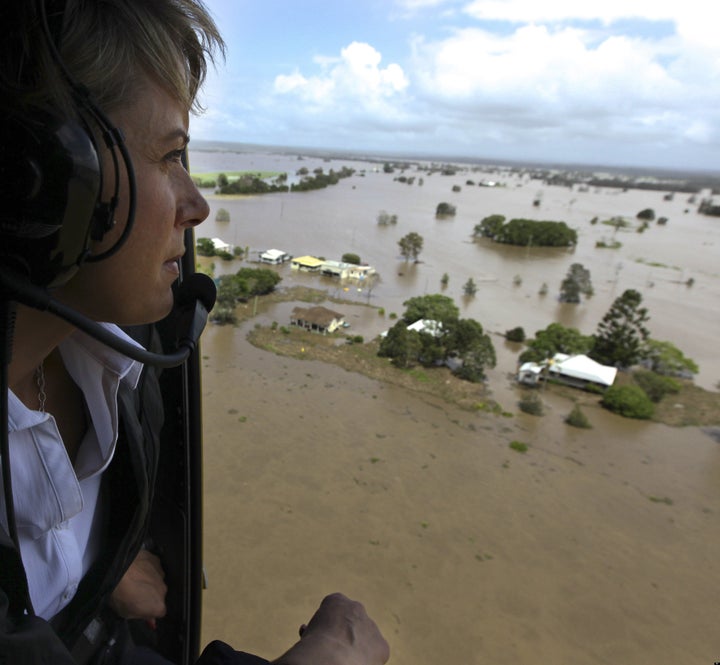 Dave Lines is no stranger to catastrophe.
As a senior firefighter, Lines specialized in disaster relief in his career and helped his fellow Aussies during the Katherine floods of 1998. Now, he tells NT News that he's ready to help out again.
"We will be trying to help where we can and get the people back on their feet. It's a tragedy... the fact people have lost so much."
Lines is one of thousands of disaster personnel that has responded to the Queensland floods. Australians have banded together to provide an overwhelming amount of manpower, but conditions are still dire and the call for donations is staying strong.
The Sydney Morning Herald reports that foreign volunteers have been deemed unnecessary as there has been a surge of local service workers and willing neighbors delivering disaster relief.
Foreign Minister Kevin Rudd said he will welcome additional help in the future, but he puts his faith in the people of his country to organize themselves.
"Here in Australia, we do have one of the best systems for natural disaster management that you'll find anywhere in the world, and that's because we are a sunburnt country full of drought and flooding rains and we're used to it."
All of Australia's states have pledged rescue teams. Thousands of emergency service workers and volunteers will travel to the affected area over the next weeks.
Soldiers from Australia's defense force are also involved. Over 400 other military personnel are involved with relief efforts and 120 more are designated as an "emergency company," scanning Lockyer Valley for survivors. Over 60 people have been declared missing, and the death count has been raised to 15.
Although there may be enough manpower, many areas are suffering as supplies are rationed sparingly and there is limited access to electricity and gas. The Sydney Morning Herald reported that over 200,000 people have been affected by the flood and the damage is estamated to cost in the hundreds of millions of dollars.
In response to the emergency conditions, ABC wrote that clean-up efforts are beginning to form at a neighborhood level. Communities have organized committees dedicated to restoration efforts, meeting together to offer emotional support along with relief.
Brisbane resident and community organizer Richard Newsome said that boosting morale is key to starting the process.
"I think it'll be a meeting where people can come together and grab some solace from their friendship and hopefully then just move on and get the next step started which is the clean-up."
Other organizations have found similar success with aid. Volunteering Queensland, a program devoted to organizing outreach, told ABC Canberra that they've been overwhelmed with offers. The total of registered helpers is over 11,000.
Jelenko Dragisic, CEO of the program, said that there are more volunteers than jobs to do. Still, he encouraged current volunteers to sit tight and wait for the call because it will come.
"The best thing they can do right now is register their interest with us now and be prepared to help later."
Although the need for workers may be satisfied, monetary donations are needed for the overwhelming restoration project ahead. Visit the Premier's Flood Relief Appeal on the Queensland government website to make your mark.
Related
Popular in the Community