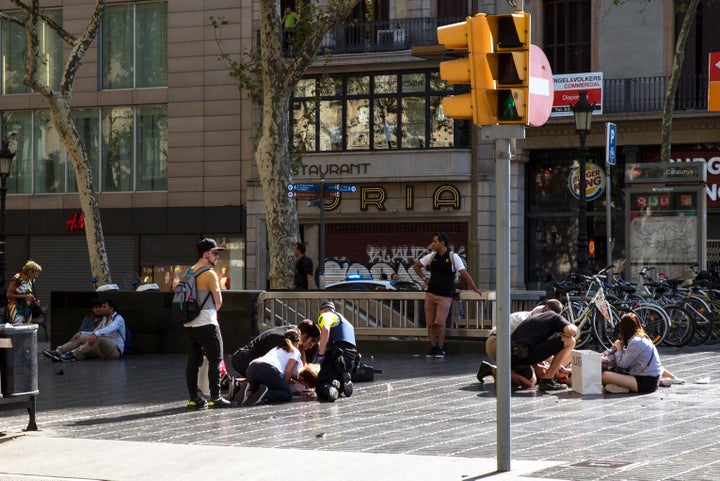 Authorities confirmed that 14 people died (13 in Barcelona and one in Cambrils) and more than 100 were injured. They hailed from 34 countries.
Carles Puigdemont, the regional president of Catalonia, announced three days of mourning. A minute of silence was held at noon Friday at the Plaça Catalunya in Barcelona, near where a terrorist drove a van into a crowd of people.
Here's what we know so far about victims who have been identified.
Jared Tucker, 43, United States
Tucker and his wife, Heidi Nunes-Tucker, were on a trip around the world to celebrate their first anniversary. On their stop in Barcelona, they were shopping at a kiosk on the sidewalk in Las Ramblas when Tucker left to go to the restroom, according to ABC News. Soon after, a van rammed into the crowd on the sidewalk.
After the crash, Nunes-Tucker said she was disoriented while she tried to find her husband. She later learned he died when she was contacted to identify the body.
Tucker, a resident of Lafayette, California, ran his family business resurfacing swimming pools, according to The Washington Post. He met Nunes, a teacher, in 2012, and the couple married last summer. Tucker's family said it was his first time in Europe.
"We love Jared, we love you, and we are grateful that in this time of turmoil in this world we can still band together in a time of need and support each other," Tucker's family said in a statement published by the Post.
"Pray for Jared and his family, pray for Barcelona, but most importantly pray that we can someday rid ourselves of the hate that takes our loved ones before their time."
Luca Russo, 25, Italy
Scomazzon reportedly told a relative, "We were walking together, then the van came on top of us." She survived with injuries.
One of the last posts on Russo's Facebook page, which has been turned into a memorial, contained a graphic with a quote in Italian reflecting on death: "We are born without bringing anything, we die without taking away anything. And in the middle, we argue for something."
Bruno Gulotta, 35, Italy
The vacationing Italian husband and father of two was walking on Las Ramblas with his wife, Martina Sacchi, and their young children when the van raced toward them Thursday. 
According to Italian media, Gulotta's wife kneeled down to shield their son, 6, and daughter, 7 months. Gulotta knelt to shield his son too, but was hit.
Gulotta was a marketing and sales manager at Tom's Hardware, which confirmed his death on Facebook. Gulotta's colleagues said his son was about to start primary school, "knowing that his life and the life of his family will never be the same," adding that his daughter, Aria, will never know her father.
"Rest in peace Bruno," Gulotta's colleague's wrote on the company's website. "We will remember you forever." 
Ian Moore Wilson, Canada
Fiona Wilson, a staff sergeant with the Vancouver Police, confirmed Friday that her father died in Barcelona. In a statement published by police, Fiona Wilson described him as a "much-loved husband, father, brother and grandfather."
Ian Moore Wilson, she said, had been married for 53 years and was "compassionate, generous, adventurous, and always game for a lively debate, a good book, exploring new places, and a proper-sized pint."
His daughter added, "In the midst of this tragedy, my dad would want those around him to focus on the extraordinary acts of human kindness that our family has experienced over the past several days, and that is exactly what we intend to do."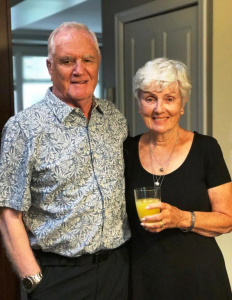 Francisco López Rodríguez, 57, Spain
The Granada native, who was living in Barcelona, was with his family in Las Ramblas on Thursday, with his wife, his niece and her son. They were strolling through the port when the van ran onto the sidewalk, according to local media.
Relatives said Francisco was the youngest of three brothers in Catalan, according to El País, and they wanted others to know that he was a good person.
Elke Vanbockrijck, 44, Belgium
The Belgian post office clerk was on a family vacation with her two sons, ages 11 and 14, and her husband, a Belgian Army soldier. 
Julian Cadman, 7, Britain & Australia
Julian Cadman and his mother, Jumarie, had traveled from Sydney, Australia, to Barcelona for a wedding. The two were walking on Las Ramblas when the van struck. Julian, a dual British-Australian national, was separated from his mother during the chaos and listed as a missing person following the attack.
Family members put out urgent calls to find Julian in the days following the incident, but authorities on Sunday confirmed that he had been killed. Jumarie was also injured in the attack, but is expected to survive.
Nick Robins-Early contributed reporting to this article.
Language in this story has been amended to clarify that Het Belang Van Limburg is a Dutch-language newspaper, not a Dutch newspaper.
REAL LIFE. REAL NEWS. REAL VOICES.
Help us tell more of the stories that matter from voices that too often remain unheard.
BEFORE YOU GO
PHOTO GALLERY
Van Plows Into Pedestrians In Barcelona