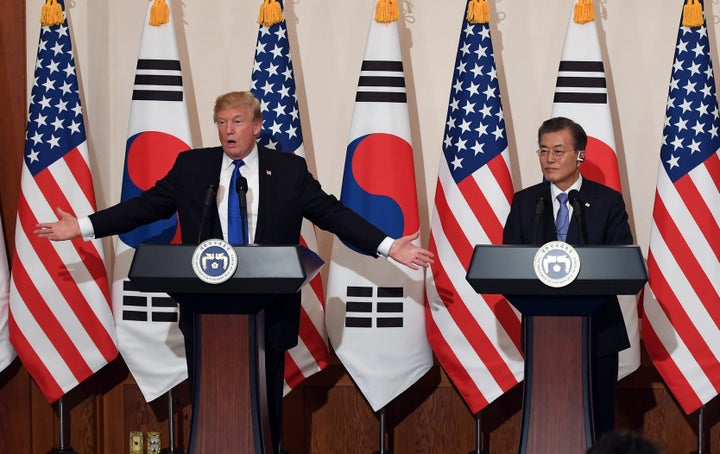 The White House has pulled back from nominating a respected foreign policy expert to be the U.S. ambassador to South Korea after he expressed concerns over policy decisions related to North Korea, according to a report Tuesday in The Washington Post.
The Trump administration was widely expected to nominate Victor Cha, a former adviser to President George W. Bush and a professor at Georgetown University, to head the U.S. embassy in Seoul, a position that has been vacant for more than a year. Officials had hoped he would be confirmed before the 2018 Winter Olympics in Pyeongchang, South Korea, which begin next month.
The Post, citing people familiar with the appointment, said Cha's nomination was derailed after he expressed concerns about the consideration of a limited, preemptive strike on North Korea meant to send a message to the dictatorship of Kim Jong Un. That prospect has become known as the "bloody nose" strategy
Cha reportedly also said he opposed plans to undermine a U.S. trade deal with South Korea, which Trump called "horrible" last year and has threatened to end.
Cha confirmed that he was no long under consideration for the position in an opinion article published late Tuesday in the Post.
In the piece, he addressed his opinions about the "bloody nose" strategy, saying the answer to the North Korean threat was "not, as some Trump administration officials have suggested, a preventive military strike."
"I empathize with the hope, espoused by some Trump officials, that a military strike would shock Pyongyang into appreciating U.S. strength, after years of inaction, and force the regime to the denuclearization negotiating table," he wrote. "Yet, there is a point at which hope must give in to logic. If we believe that Kim is undeterrable without such a strike, how can we also believe that a strike will deter him from responding in kind?"
He noted that such preemptive action could put in danger the 230,000 Americans in South Korea at any one time, including tens of thousands of military personnel.
Cha concluded with recommendations for coercive diplomacy and urged the U.S. to increase its cooperation with South Korea and Japan, writing: "A sustained and long-term competitive strategy such as this plays to U.S. strengths, exploits our adversary's weaknesses and does not risk hundreds of thousands of American lives."
The White House had already spent months conducting background checks on Cha and had sent his name to South Korean officials as part of a formal process meant to signal Trump's intent to nominate him, according to the Post. Cha was widely seen a hawkish choice regarding engagement with North Korea, a stance that appeared to be in line with the Trump administration.
Evans Revere, a senior fellow specializing in Korean policy at the Brookings Institution, said it was "unfortunate that the United States will continue to be without an ambassador in Seoul at this crucial juncture."
But he said the decision not to nominate Cha is in line with the Trump administration's slow pace to fill key diplomatic vacancies.
"It troubles me to say that this administration does not seem to regard such appointments as priorities, as witnessed by the fact that there are still so many high-level diplomatic vacancies, many of them in countries in crisis," Revere said in an email. "This administration appears to place little emphasis on the institutions and the people necessary to pursue our diplomacy and promote our interests and our values."
Other experts also expressed concern over Cha getting sidelined.
Revere added that U.S. interests in South Korea remain in capable hands. The embassy has been under the stewardship of Chargé d'Affaires Marc Knapper since former ambassador Mark Lippert left shortly before Trump's inauguration.
"If the administration is looking for a suitable ambassadorial candidate for Seoul, they should have a look at Marc," he said.