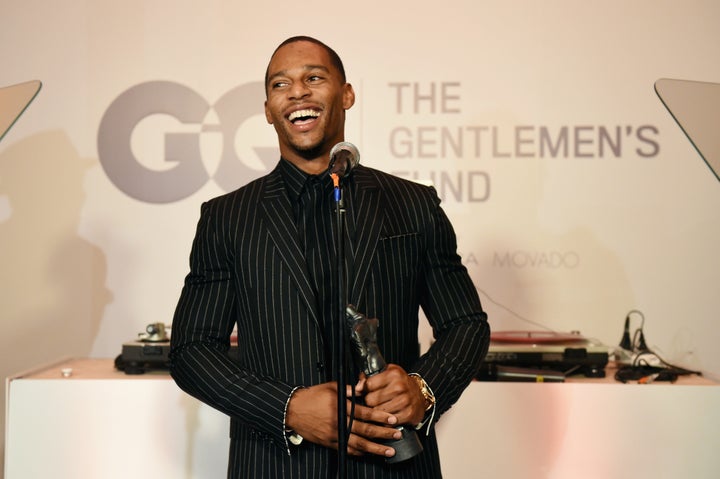 "As an adult and as an athlete, you can control that," Cruz told The Huffington Post. "You know the cameras are going to be around. Cover yourself properly when the cameras are around, don't pretend you don't know that they're looking at you and just protect yourself. I think we're old enough to understand that the cameras are there and to put clothes on in a timely fashion." 
Some NFL players, however, would disagree with Cruz. Bengals offensive lineman Andrew Whitworth was one of the players who was shown naked on the NFL Network. On Monday, Whitworth expressed his frustration with the current NFL locker room policy, which allows in media after a 10-minute postgame cooling period for players.
"You can't judge us off who we will and won't accept into our locker room and then say all these things we have to do, but then also put us in a situation where every single day I have to change clothes and be naked or not in front of media. It's just not right. There's no office, there's no other situation in America where you have to do that. It's dated, it's old and it needs to change," he said. 
Cruz, however, still won't be disrobing to change into his Giants uniform this Sunday. Despite a glimmer of hope, a strained calf is still preventing Cruz from getting back on the field for the Giants' upcoming game against the Dallas Cowboys at MetLife Stadium.
But despite all that, Cruz is focused on getting better and has put a lot of time and energy not only into his recovery, but into his charity, The Victor Cruz Foundation, which aims to teach children that resiliency, commitment and perseverance are essential skills for achieving their goals. He was honored with an Ambassador Award by GQ and The Gentlemen's Fund in NYC on Thursday for his work with the foundation.
"The balance is strictly two things, football and my charity, 50-50," he told HuffPost. "Maybe football a little more right now, obviously, but those things are very dear to my heart and very dear to what I do every day, and I just want to continue that," he said. 
It has been over a year since the wide receiver tore the patellar tendon in his right knee during a game against the Philadelphia Eagles, and nearly three months since a calf injury sidelined him during training camp. After an MRI showed that Cruz's calf is still not healed, coach Tom Coughlin said the player was not cleared to return to practice but will continue working with medical trainers until his next examination. This will be his seventh missed game of the year, but he's rearing to get back to the action.  
"Football is definitely my priority, where I'm giving 110 percent of my time and my effort to getting better," he said.
PHOTO GALLERY
Amazing Photos From The 2015 NFL Season
Calling all HuffPost superfans!
Sign up for membership to become a founding member and help shape HuffPost's next chapter