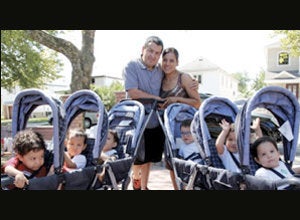 Move over Gosselins: TLC has signed on a new family with sextuplets and ordered eight episodes of 'Sextuplets Take New York.'
Victor and Digna Carpio of Queens, NY, have four boys and two girls: Genesis, Joel, Justin, Jezreel, Jayden and Danelia, all 22 months old. The children are billed as the first Hispanic sextuplets born in the US, according to The Hollywood Reporter. They also have a 9-year-old son.
The family is on a tight budget - before the show, Victor made $1,800 a month as a maintenance worker, according to a 2009 New York Daily News story.
"We fell in love with them," said Nancy Daniels, senior VP of production and development at TLC. "All of our shows look at interesting families and interesting live. They're struggling with taking care of a lot of small children who are all the same age and overrunning their house."
The series is set to premiere September 14. Also coming up on TLC this season: 'Sister Wives,' a reality version of HBO's polygamy series 'Big Love.'
Popular in the Community