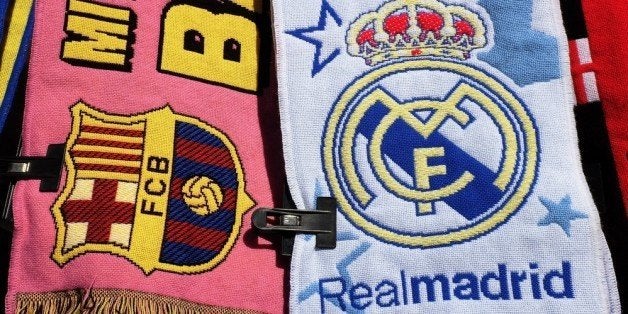 In a pool of over 50 college players vying for the attention of soccer coaches from the Major League Soccer and beyond and trying to bolster their chances of a pro career, one young man has a special distinction. Victor Muñoz is listed as a product of UCLA, but with a twist: he is a product of the Real Madrid youth academy, who decided to take a chance on completing an education in the United States before continuing his dream of pursuing a pro career.
A creative midfielder, Muñoz faced a career decision at age 18. After nine years in the Real Madrid academy, the Madrid native decided to pursue playing and studying, "I was 18, was with the third Madrid team, and had an offer to sign for three more years. Had I signed, I would have had to renounce school. I saw my brother and other friends leave the game because of injury or circumstance and it seemed to be a bit risky for me."
Victor Muñoz headed to the US
So Muñoz dribbled in the other direction, made contact with friends playing at Iona College and followed. them to New York. " After my first year I received calls from other programs," Victor Muñoz explains, and after a year at Iona, he then he transferred to California and UCLA.
In the meantime, Spain added the World Cup title to the European crown, and Spaniards were now part of a world championship system, from the 23 players who won medals in South Africa to those in the youth systems.
"When you play, they know you're from Madrid, part of the Spanish system and they expect you to be a technical player," notes Victor Munoz. "The game here is more direct and physical. But futbol is futbol. A smart player will adapt."
However, school demands were another matter. "My English not too good. I was at the level of high school students. It was very difficult, but in 6-8 months I could defend myself in English." Also, in the American system, the soccer season lasts three months, instead of the year-round training in Madrid.
Victor Muñoz to try his luck in the MLS
On the field, Muñoz is an attacking player, but with a stature similar to Barcelona's Xavi and good vision and skill, in the United States Victor Munoz has played as an offensive midfielder.
"He has enough talent to be in MLS. After a few years of MLS, we think that he could go to Mexico or Europe, explains Enrique Cortina, who works with Reygadas and Associates, a firm representing Munoz. "If he has a couple of good years in MLS, he could easily return to Europe."
The jump in status conferred on Spanish soccer by the 2010 World Cup also transfers to all levels. "I was [with Madrid] for nine years. So I had a chance to play with guys like Bojan Krkic (PSG), David De Gea (now Manchester United), Nacho (now substitute for Sergio Ramos and Pepe in Madrid), and Antonio Martinez."
At the MLS combine in Fort Lauderdale, players flew in from different places and in different conditions and tried to show what they could do playing three matches in five days with new teammates. "I'm not 100% physically, but I did well. It's really so coaches can talk to you personally, because they've already seen you play."
Now with an economics degree from UCLA, Victor Muñoz lives near the Home Depot Center in Los Angeles, so former teammates, coaches and friends invite him to watch MLS games on a regular basis.
"If I have offers from Europe in the long-term, time will tell. One of the advantages of coming out of Real Madrid is that I can handle pressure pretty well. If you are not at the level, you can be 15 and be released. It's not like playing in high school," reveals the 22-year-old midfielder.
On Jan. 16, Muñoz will enter the MLS Superdraft and wait to see which team will have his "derechos deportivos" or rights. "I will work in the game, whether it's on the field or in the front office," he concluded.
REAL LIFE. REAL NEWS. REAL VOICES.
Help us tell more of the stories that matter from voices that too often remain unheard.
BEFORE YOU GO
PHOTO GALLERY
12 Soccer Hispanic Legend's Babies