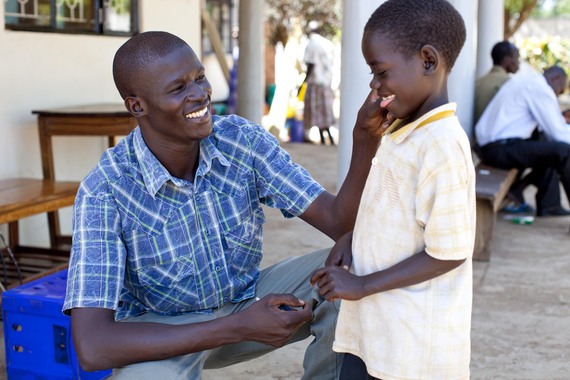 Upon hearing the announcement that Victor Ochen was the first Ugandan citizen to get nominated for the Nobel Peace Prize, I knew I had to talk to him about his journey. There have only been six Nobel Peace Prize Laureates coming from Africa, and for me, just by being nominated, Victor has already won for all African youth and is truly a model of what the young African should aspire to be no matter what background they come from or what resistance they have faced in their lives. I asked Victor to tell me his story and what got him to this point.
Growing up in a country where tomorrow is a gift, where adversity was everyday life, Victor's childhood was filled with the everyday reality of misery, being born in 1981, just a year after Dictator President Iddi Amin was deposed and during the peak of Uganda was going through series of ethnic-based guerrilla wars. He spent 21 of his 33 years amid war and witnessed the most abysmal human rights abuses. Victor often survived on just one meal a day and sometimes had to go completely without food, and he often suffered from malnutrition and diseases which often mar the poor. His parents were also too poor to provide him and the rest of the family with clothes. His family lived in an Internally Displaced Persons (IDP) Camp and there were no readily-available opportunities for education in the IDP camp. However, having a yearning for education, him and his brother started to burn charcoal and sell it in order to pay for their school fees. Through education, coupled with his parents' repeated encouragement to always choose peace and never war, Victor grew a passion for activism and having experienced the worst kind of injustice, he sees himself as an activist whose passion has been fuelled by having been a victim.

In 2003, the Lord's Resistance Army (LRA) which is a rebel group led by Joseph Kony which kidnapped children abducted his older brother Geoffrey Omara and his cousin James Opio who to this day, have not been found. About his brother, Victor says; "I have a feeling that if my brother was alive, given how much he misses his family and children, he would have escaped and come back by now. But I still hope to see him some day."
Despite it being the seemingly inevitable path, Victor fought to not fall into the trap of being a child soldier. "Some of my age mates felt such desperation and helplessness that they deliberately allowed themselves to be abducted by the LRA. I chose not to pick up guns or join any armed forces."
Growing up in the IDP camp, he used to have many questions, but one of the most prominent ones he would ask himself was; "What would I do differently if I had a chance to be a leader, hero, and champion?"
Victor says; "The answer is, we all have desire and wish to achieve our legitimate needs and deepest desire for a peaceful and prosperous society."
Victor is the Founder and Director of African Youth Initiative Network (AYINET) came into existence in 2005 with the aim of creating a functioning, mutually trusting and inclusive society. One of their most important strategies in their quest for peace and justice is to mobilize the active participation of youth and communities.
At the peak of war, which ravaged Uganda for over two decades, he witnessed suffering and destruction in northern Uganda and, despite odds he made a decision to always embrace Peace. The mission of AYINET he says, is the determination to stand up for Peace translated into constructive non-violent responses to the horrors of ongoing conflict through engagement which promotes post-conflict recovery and development as well as guides deeply frustrated communities towards peaceful conflict management and resolution. Since its inception, AYINET has reached and screened tens of thousands of victims of war violations and helped to provide reconstructive medical care/surgeries to over 5000 victims from across northern Uganda. The victims AYINET works with have suffered physical injury and deformity due to physical trauma, gunshots, retained shrapnel, maiming, immolation, torture, and sexual abuse and those who are in critical medical need of reconstructive surgery and psychosocial support. AYINET's medical work is aimed at providing a more effective response to these victims, with an emphasis on women and children. Through this, Victor and his team offer psychosocial support, seeking to build safe, peaceful and healthy communities through victim empowerment, and strengthening a human rights culture.
About his work, Victor says; "I meet and hold in-depth discussions with victims and these help me to help them help themselves. The feelings of these wars are painfully burning to those people directly and indirectly and hurt by this war. But I have always told my fellow young people, that the war has had devastating effects on all of us for too long and and we have all experienced the bitter results. However, Even if we have pains, we don't have to be one and we should always strive to have more positive effects in our communities."
Victor's work has seen victims of war healed and reconciled, families re-united and rebuilt, he has also seen youth abandon criminal activities because through his support and his will to support them in solidarity, compassion and love.
When I ask how he thinks his nomination for a Nobel Peace Prize will affect other young Africans, he says; "My story represents so many Africans, and people from around the world who are caught and stuck into a cycle of conflict. The nomination is a sign of deep respect for victims and survivors of unspeakable atrocities who, instead of being crushed by war, struggled and regained their dignity that allows them to leave in peace with their fellow humans. Further, it is recognition for those victims who have devoted their lives to heal others."
For Victor, a Win would help mainstream the issue of care for victims of serious violations globally and highlighting the importance of contributing to healing the lives of those of our invisible women and children in conflict. It would also inspire youth in Africa and around the world to work towards alternatives to violence, and strengthen their actions for peace and building a culture of peace in all human endeavors.
Victor said he hoped that his nomination will change the perception of Africa's Youth that "We are not a tool of injustice, but agents of prosperity and peace."
This is not a Nobel Peace Prize Nomination which Victor owns alone, rather, it is a spotlight for those who have been sidelined and ignored, bringing the issues of conflict, human rights violations and the importance of security for all to the forefront of global consciousness.
Support HuffPost
The Stakes Have Never Been Higher
Related
Popular in the Community