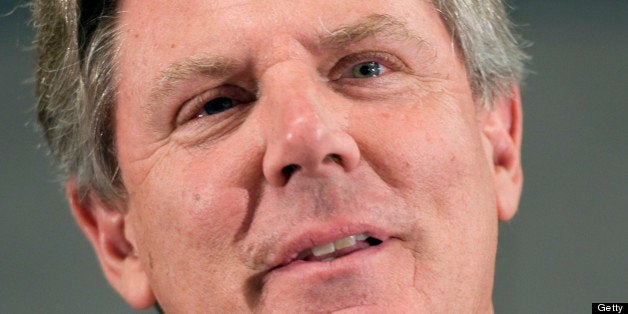 Politics in New Jersey has never been for the faint of heart, but this year's election cycle could be dangerous for those with angina.
In a bizarre Democratic family feud that's popping up eight days before the state's special primary election for the U.S. Senate, former Monmouth County Democratic Party Chairman Victor Scudiery is spending tens of thousands of dollars of his own money to finance a campaign mailer slamming Democratic candidate Frank Pallone, a former ally who lives in county. Scudiery is using the mailer and a website to attack Pallone for ignoring the Jersey Shore community.
"He has not done anything for the people he represents," Scudiery told The Huffington Post of Pallone.
Scudiery was the county's top Democrat for most of Pallone's career over two decades in Congress, but the two have had a rocky relationship over the last eight years. Scudiery has endorsed Newark Mayor Cory Booker, who leads Pallone by more than 30 points, in the Senate race.
Scudiery claims Pallone has been unresponsive to constituents and local officials in Monmouth County on a number of issues. In the mail piece, Scudiery charges Pallone with ignoring the county's rebuilding efforts in Sandy Hook following Hurricane Sandy, with failing to work to keep Fort Monmouth open, with killing a development plan and with failing to assist a senior citizen center where Scudiery chairs the board.
Scudiery also claims that at a 2009 fundraiser, he introduced Pallone to a new local mayor whose calls Pallone later left unreturned. After that, Scudiery told HuffPost, he stopped donating to Pallone's campaign.
While Pallone is trailing Booker by a large margin, Scudiery said his true target is Pallone's 2014 congressional campaign. He's sending the mailer to likely Democratic primary voters across the state and has spent at least $40,000 of his own money to date.
"When he runs again next year, I am going after him," Scudiery said. "We have to get his congressional seat."
Pallone's campaign did not have a comment on the Scudiery effort, but items on his official congressional website dispute several of the claims in the mailer.
His website also includes press releases from 2005 detailing his push to keep Fort Monmouth open. Fort Monmouth is not in Pallone's district but in that of Rep. Rush Holt, who is also running in the Democratic Senate primary.
Democratic Party insiders told HuffPost that the source of the bad blood between Scudiery and Pallone dates to 2005 when Pallone, along with a representative for then-U.S. Sen. Jon Corzine, asked Scudiery to resign following the party chair's efforts to get a Republican state senator to block the governor's pick for county prosecutor.
"Since that day he's hated Frank Pallone," a party insider said.
Scudiery said he holds no animosity toward Pallone over the 2005 meeting and that his records show he donated over $5,000 to Pallone's campaign between 2005 and 2009.
Scudiery said he plans to up the ante against Pallone in 2014.
"I will spend more next year," he said.
Calling all HuffPost superfans!
Sign up for membership to become a founding member and help shape HuffPost's next chapter
BEFORE YOU GO
PHOTO GALLERY
Chris Christie's Greatest Hits