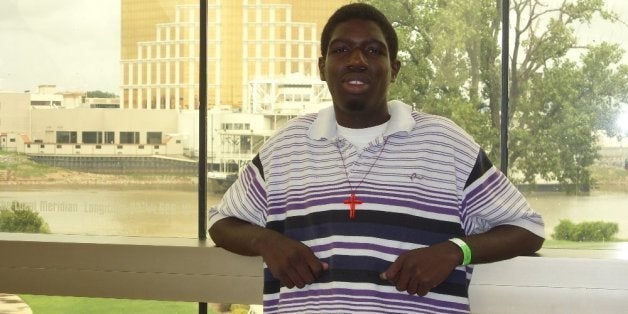 The attorney representing the family of Victor White III -- a 22-year-old man who authorities claim shot and killed himself while locked in a patrol car with his hands cuffed behind him -- says police are not only responsible for his death but launched a cover-up immediately afterwards.
"He didn't kill himself," Louisiana attorney Carol Powell Lexing told The Huffington Post. "They killed him and they have been covering it up instead of dealing with the rogue cop within their department. The bigger question is why did they kill this boy?"
According to the Louisiana State Police, deputies with the Iberia Parish Sheriff's Office were investigating a fight on the night of March 2, when they stopped White as he was walking down the street.
"[Deputies] discovered he was in possession of illegal narcotics," state police said in a March 3 press release. "White was taken into custody, handcuffed behind his back and transported to the Iberia Parish Sheriff's Office for processing."
Upon arrival at the sheriff's office sometime in the early morning hours of March 3, White became uncooperative and refused to exit the patrol vehicle, according to the release. "As the deputy requested assistance from other deputies, White produced a handgun and fired one round, striking himself in the back," it continues.
After the shooting, White was transported to a local hospital where he was pronounced dead.
Authorities have not released the name of the officer who initially arrested White. And while White's death is not in dispute, the circumstances in which he died are.
"It's unbelievable that they are saying he took his life," Victor White Sr. told HuffPost. "My son did not take his life. He had so much going for him. He was working hard -- he had just got done working a double [shift] when they arrested him -- and had plans and goals set that were beginning to materialize."
Those plans, according to the father, included White moving into an apartment with his longtime girlfriend and their 1-year-old daughter.
"It just doesn't make any sense," said White Sr.
Because of the many questions surrounding the case, the Whites hired Lexing to look into their son's death. Lexing, who has been working on the case for several months, said she rejects "the whole hypothesis" of a suicide.
"From the beginning, nothing matched up," Lexing told HuffPost. "Police said they searched this young man before they took him into custody. A gun is a hard object -- surely they would have felt that. That is standard protocol for them to check for a weapon."
Lexing also claims a video of the fight being investigated by police at the time of White's arrest has revealed he was not involved in the altercation. Contacted by HuffPost on Monday, the state police had no details to share about that incident.
The case took another twist on Aug. 14, when the Iberia Parish Coroner's Office released a copy of White III's autopsy. While the media was provided only a one-page synopsis of the report, Lexing received a copy of the full report, which she shared with HuffPost.
The report contradicts the state police's March 3 press release and states White III was shot in the chest -- not in the back -- in the area of his right nipple. The bullet exited out his left side, according to the report.
However, the manner of death was unchanged: Iberia Parish Coroner Carl M. Ditch records it as a suicide.
White Sr. said he was dumbfounded by the report, which for unspecified reasons took authorities five months to release.
"He couldn't shoot himself in the right part of his chest with his hands behind his back," he said. "He is left-handed, and they are saying he did this and shot himself on the right side."
On Tuesday, HuffPost provided a complete copy of the autopsy report to Dr. Maranda Kles, assistant professor of Anthropology at the University of Louisiana at Lafayette. Kles is familiar with the case and has previously commented on it for KATC.com.
While Kles was unable to say whether she believed the death was a suicide, she did say it would have been difficult, but not entirely impossible, for White to shoot himself.
"It is a very difficult shot -- he had to be pretty contorted -- but anatomically, physically, it is possible," she said.
However, Kles did say the autopsy report doesn't seem to tell the entire story.
"There are still a lot of questions surrounding this case, going beyond just this injury," she said. "Was he on the driver's side or passenger side? Was he seat-belted? Why did they go with suicide versus accident?"
CASE PHOTOS: (Story Continues Below)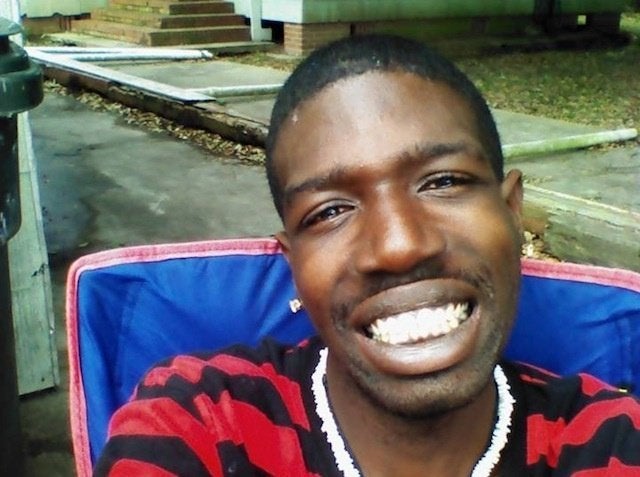 Victor White III
One of the reasons the coroner determined suicide is mentioned in the autopsy report. He said White allegedly made a statement to police "that 'he was gone' or some similar phrasing before being placed in the patrol car."
Neither Lexing nor White's father believe he made any such statement.
As for the weapon used in White's shooting, Louisiana State Police spokesman Brooks David told HuffPost on Monday that the weapon was not "a weapon used by the Iberia Parish Sheriff's Office."
According to White Sr., his son was not raised around guns and, to his knowledge, had never owned or handled one.
Lexing has her own theory on where the gun came from.
"If a gun existed, we think that it was a throw-down gun," she said, insinuating police planted the gun at the scene.
Lexing also said she believes police caused two abrasions to White's face, which are noted in the autopsy report.
"They told his parents the abrasions were caused when he shot himself," she said. "That's not true. I can tell you this boy's left eye looked like he was beaten, like he got hit in the eye with the butt of a gun."
Inquiries to the Iberia Parish Sheriff's Office were directed to the Louisiana State Police.
Contacted by HuffPost on Tuesday, Capt. Doug Cain, head of the state police public affairs unit, declined to address any of Lexing's specific allegations.
"[The] state police was not involved in the incident at all," Cain said. "We were brought in at the request of the sheriff to do an independent investigation. Our goal is to gather facts. That's the only thing we deal with, and we're getting close to the end of the investigation."
Cain said the next step is for state investigators to meet with the family, which he expects to take place later this week.
"So to comment on any details of it now would be premature," he said. "We want to give the family the facts as we determine them first, and then we'll present them to the district attorney for his review."
Despite Cain's assurances, Lexing said she has "no confidence" in the investigation or the autopsy conducted by the Iberia Parish Coroner's Office. Because of that, she said she has retained Dr. Michael Baden, a forensic pathologist known for his investigations of the John F. Kennedy and Martin Luther King Jr. assassinations, as well as his testimony at the O. J. Simpson trial.
Contacted by HuffPost on Tuesday, Baden confirmed he is looking into the case.
"I am going to review the file to see if a second autopsy will give more information," said Baden.
In the meantime, the family of Victor White III waits and mourns his loss.
"He was very vibrant, energetic and humorous and hard-working," said White Sr. "Him not being around is the hardest part. I can't sleep, and I just come home from work and sit there. He used to text me and my wife every night, and every night we still find ourselves looking for his text messages."
He added, "We just want answers. We want to know what happened to our son."
READ THE COMPLETE AUTOPSY REPORT:
Popular in the Community