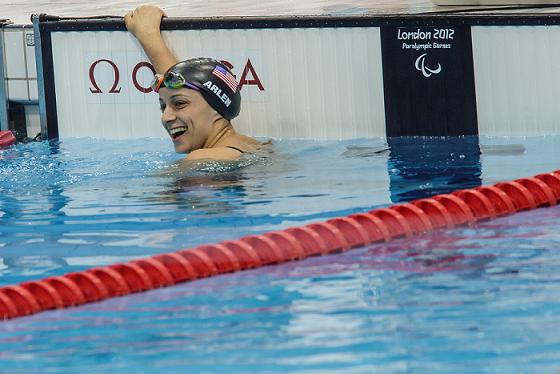 Courtesy of U.S. Paralympics
Smiling on the pool deck at the U.S. Paralympic Swim Trials for the London 2012 Games, I knew that Victoria Arlen was going to make an impact on our sport. Since then, she has thrived in the face of adversity and has brought a new meaning to swimming.
In 2006, Arlen contracted a neurological disorder called Transverse Myelitis, leaving her paralyzed from the waist down and in a coma for nearly 2 years. Arlen reclaimed the water at age 16 and later earned a spot on the United States Paralympic Swim Team for the London Paralympic Games. Defying the odds, Arlen set a world record, won a gold medal in the 100-meter freestyle, and 3 silvers in the 50-meter freestyle, 400-meter freestyle and 4x100-meter freestyle relay. Arlen is currently a member of the U.S. Paralympic National A Team and was set to compete at the 2013 IPC World Championships in Montreal this month. Upon arriving in Montreal, Arlen was notified by the International Paralympic Committee that she was ineligible to compete in IPC-sanctioned competitions due to the possibility of walking in the future.
In reaction to these events, Arlen stated on her Facebook Page,"Being penalized for maybe having a glimmer of hope of one day being able to walk again is beyond sad. What message are we giving the world when we don't encourage hope for disabled individuals? I always choose hope and encourage hope no matter the circumstance. As it stands today I am disabled and that won't change in the near future. To be told I'm ineligible only days before World Championships is beyond ridiculous. Being up in Montreal only to have to head home is devastating."
Chief of Paralympics for the United States Olympic Committee, Charlie Huebner also stated, "We are disappointed in the outcome. We feel strongly that this athlete is Paralympic-eligible and deserved the right to undergo classification evaluation in Montreal. To learn of her change in eligibility three days before a scheduled classification evaluation is not taking the best interest of any athlete into consideration. Regardless of the outcome, we also feel the IPC classification process has to improve for all athletes throughout the world."
But the question remains, under what guidelines are disabilities permanent for IPC competition? Should the status of an athlete's disability be dictated by the projected future rather than the reality of today? In retrospect, if a physical impairment drastically limits an athlete's mobility, they should be able to compete regardless of future outcomes through medicine or physical therapy. The anticipated future should not dictate the present moment.
Making Arlen ineligible to compete is a true upset, but Arlen is too strong to be stopped. From a coma to world record status, Arlen has shattered my pre-existing definition of what is possible.
Athletes are a force to be reckoned with, and for swimmers the water is in our blood. I thrived on competition, early morning practices, cold pools, and most importantly representing my country on the international stage. I dreamed every day and night for the moment to look at the clock after a grueling race to see that my years of sacrifices and training have paid off. And in the face of adversity, I reminded myself that failure is never definite and success is not final. Like all athletes, including Arlen, my passion for the sport ignites me to move forward.
Arlen will never give up on hope and her love for the sport. It is leaders like Arlen that are making waves for future generations.

I am an athlete. I have a voice. And I stand by Victoria Arlen.
REAL LIFE. REAL NEWS. REAL VOICES.
Help us tell more of the stories that matter from voices that too often remain unheard.