NEW YORK -- Victoria Azarenka collapsed and fell to the ground while chasing down a ball on the baseline and had to be taken off the court in a wheelchair Wednesday, 31 minutes into her match on another steamy day at the U.S. Open.
The 10th-seeded Belarusian was trailing Gisela Dulko 5-1 in the first set on the Grandstand court. The temperature had reached 90 degrees with 42 percent humidity by 11:30 a.m. On-court temperatures topped 100 degrees.
Tournament officials gave no immediate update on the 21-year-old's condition. About an hour after the match was called, her agent said Azarenka had been taken to the hospital. Dulko said Azarenka was conscious and responding when Dulko walked over to make sure everything was OK.
Wearing an all-black tennis dress, Azarenka had been moving slowly throughout the match. Before she served the first point in the seventh game, she hesitated and winced in pain. After the point, she kneeled down. [Article continues below.]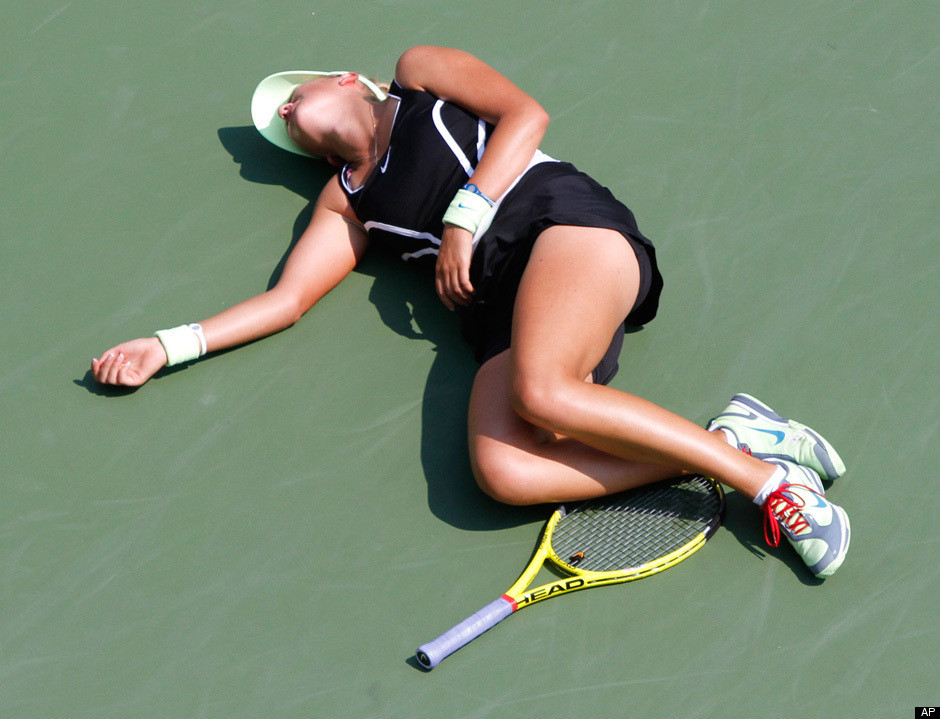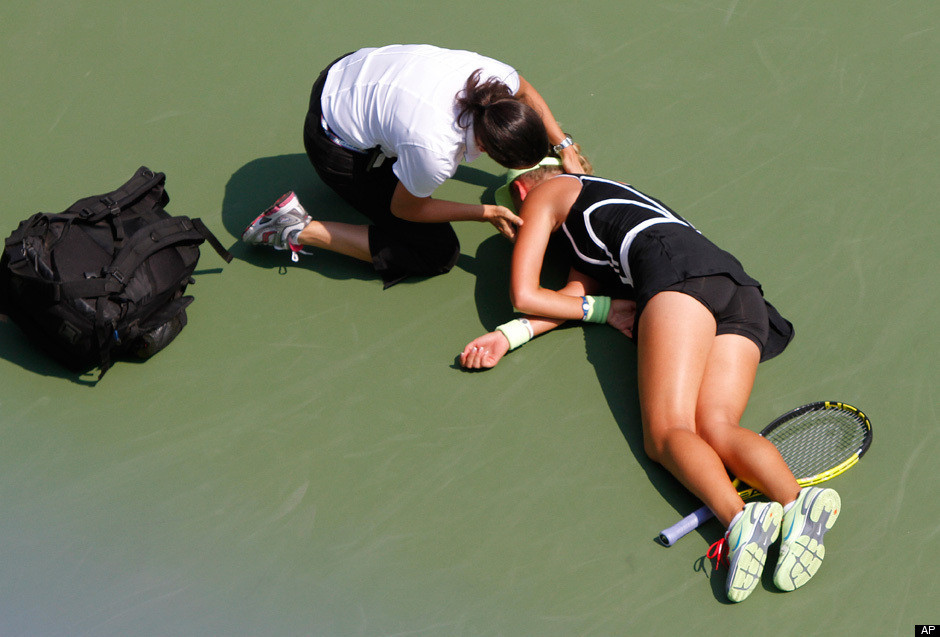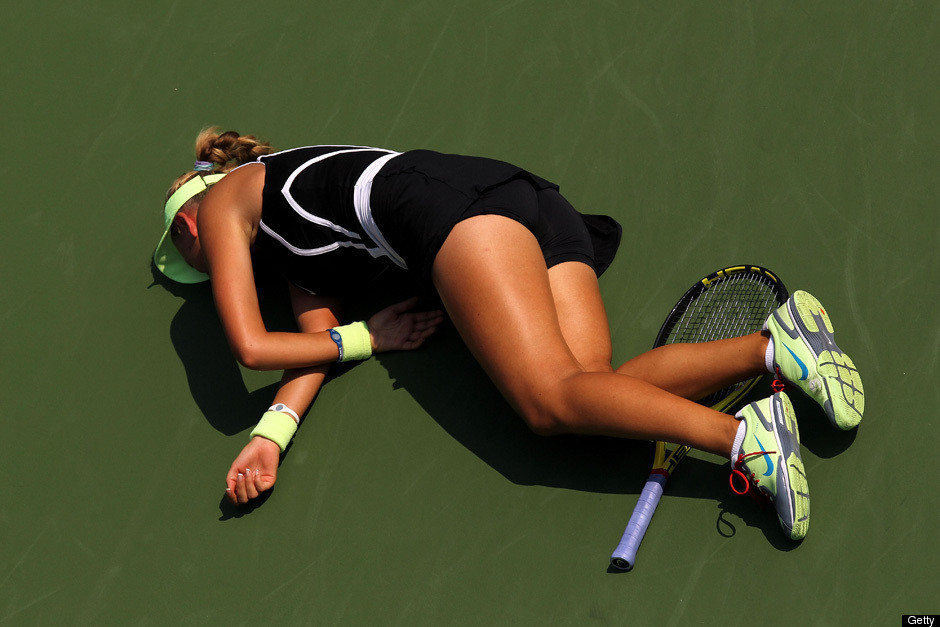 Two points later, while trying to run on the baseline, she stopped and crumbled to the ground, not appearing to twist or sprain anything. Medical personnel rushed out and yelled to the sideline to bring water. After a few minutes on the ground, being sheltered by an umbrella and with an ice pack on her neck, Azarenka was helped into the wheelchair and moved off the court. A trainer placed his hand on her neck to check her pulse.
"I was scared," said Dulko, who advanced to the third round. "She went to the floor. I was worried for her. I went to see her, brought some ice, did whatever I could do to help."
Dulko said the conditions were, indeed, brutal. For the second straight day, tournament officials put in place their extreme-weather policy, meaning women could ask for a 10-minute break if they split sets.
"It's tough to play out there," Dulko said. "It's really hot, really humid. You sweat so much, sometimes it's impossible to hold the racket."
In other early action Wednesday, former world No. 1 Ana Ivanovic defeated 21st-seeded Zheng Jie, 6-3, 6-0 in a match that took 56 minutes.
Others scheduled to play Wednesday include defending champion Kim Clijsters, along with Andy Roddick, Andy Murray, Melanie Oudin and John Isner.
At the 2009 Australian Open, Azarenka won the first set of her fourth-round match against Serena Williams but quit during the second set while dizzy and in tears during a witheringly hot day in Melbourne.
Though the Aussie Open - played in midsummer in the Southern hemisphere - may be the most consistently hot Grand Slam tournament, they have roofs available on some of their courts. That makes the U.S. Open, where all matches are played outdoors, the toughest grind of the four major tournaments in many minds.
The year 2010 is going down as the hottest summer in recorded history in New York, which certainly is doing nothing to change that reputation.
Seven men's matches went five sets and 14 women's matches went three sets in the stifling heat on Tuesday, though Azarenka was the first to fall with what appears to be a case of heat exhaustion.
The news traveled quickly through the tennis world.
"Did anyone watch Vikas match?? I really hope she is ok!" top-seeded Caroline Wozniacki said on her Twitter account, a few minutes after Azarenka fell. The previous night, Wozniacki defeated Chelsey Gullickson 6-1, 6-1 in a match that ended around 1 a.m.
Azarenka has won four career titles, most recently at Stanford last month, when she beat Maria Sharapova in the final. She reached the quarterfinals at the Australian Open this year, losing to Williams, the eventual champion.
Edmonton Oilers goalie Nikolai Khabibulin, a native of Russia, is a family friend and a mentor, taking her in with his family in Scottsdale, Ariz.
AP Sports Writer Rachel Cohen contributed to this report.
Popular in the Community