"Fashion is a hobby that has done really, really well for me," Victoria Beckham said to a crowd of 850 Parsons students eager to learn and hoping to break into the world of fashion. Seated in the recently opened New School building designed by Skidmore, Owings and Merrill's Roger Duffy, a 375,000 square-foot space devoted to teaching kids fashion, which she had just called a hobby.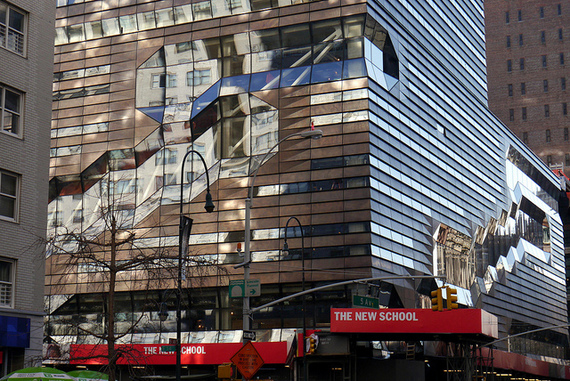 I knew little about Victoria Beckham before attending the recent talk with Simon Collins, the dean of fashion at Parsons The New School for Design. In summary, here's what I knew: She's married to David Beckham. She has four children, three sons and a daughter. She wears a size zero (probably). She doesn't smile; she smolders.
The buzz in the long line zigzagging through the lobby was high. Outside it was twenty degrees, but inside it was Fashion Week. Parsons students undulated from the line wearing black pants, big-heeled shoes, wide-brimmed hats and giant swaths of eyeliner. The boys dressed like girls, and the girls dressed like boys. I admired a pair of oil-slick colored Doc Martens. I asked if they were good in the snow. The girls in front of me were from a sprinkling of majors: photography, design, business and, for good measure, undecided.
An enigma of sorts, Beckham's had a unique career: Spice Girl, author, fashion designer and icon, if not to me then to the hundreds I queued up with. Just being a working mother of four was a huge accomplishment.
Inside the vast auditorium we found places among the rows of red leather seats, and waited. I sat next to an eighteen-year-old girl whose major was also undecided. She told me she lived in the building. I wondered what that was like: attending a school on 5th Avenue, and living on 5th Avenue. Could one go to class in their pajamas? Perhaps, as long as you accessorized it right.
Beckham walked onto the stage in black leather spiked heels and loose but slim pants that ended in a tapered hug. Her wisp of a body looked like it might snap off at the ankles. She looked like no 40-year old mother that I knew.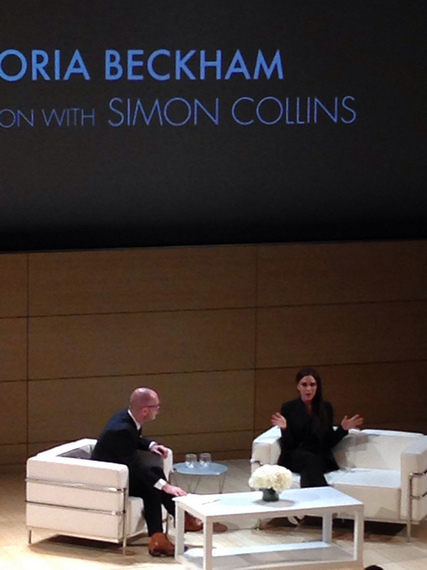 "What's your first fashion memory?" asked Simon Collins.
Beckham's response wasn't one that might have been shared by the crowd, but I wanted to leap up and shout, "Me too!" It was of her mom in the eighties, with big hair, big shoulder pads and gobs of makeup. "I collected fashion mags," she said, sweeping her long brown hair to the side, like one half of a parentheses, which she did often throughout the conversation, like a nervous high schooler talking to a boy she liked.
Did she have any advice for the students? Collins wanted to know. "Work for other people," she replied, urging the students not to start up their own business right away. Anything else? Beckham noted she surrounded herself with the right people. She said both of these things several times. She also told us that she wasn't a prima donna. If you're not a prima donna, do you have to say you're not a prima donna? I looked around for a prima donna to ask, but didn't see any raising their hands.
Beckham proffered no stories, just statements. Collins' questions were quickly responded to in short sound bites and then lobbed back, like a quick game of tetherball.
When Beckham mentioned she had brought her children to New York this year, so they could see "Mummy at work," I wrongly assumed we'd finally get to the emotional heart of her story, her kids. I waited for the stories where models wearing little clothing ran into her tousle-headed tykes. "David took care of them," she told the audience. I wondered how they saw Mummy at work if David was taking care of them. I wondered if they had a nanny. I wondered what they talked about at the dinner table.
She mentioned Sheryl Sandberg and her book, Lean In with admiration, and, perhaps, a wee bit of comparison to Sandberg's strong work ethic and business success. Later, when asked by a student if she was a feminist she said, "No, I wouldn't say feminism, but I support women." There were challenges mentioned, but none elaborated on. If mistakes were made when she first launched her company we didn't hear of them, probably because Marc Jacobs, her friend, provided business advice. We should all be so lucky.
We all have friends like her, those that never complain or tell you anything bad. Job is great. Marriage is wonderful. Everything is fine. Fine. I never believe anyone that tells me something is fine. I just assume it means they don't want to talk about it and I can accept a person's choice to not go deeper. (Even though I'm from California and going deep is my natural state.) However when you're a public figure, speaking to almost 1,000 fresh new minds, you should be prepared to enthrall and engage.
Thirty minutes after the conversation, Collins looked to the audience for help. "Let's have some questions," he implored the crowd.
One student asked Beckham where she got her inspiration. She looked overwhelmed, like she didn't know what to say. Finally she threw out a word: "Art," she said. "I love Julian Schnabel." Another student asked her if she was inspired by music. "No. Music doesn't inspire fashion like it once did."
Music doesn't inspire fashion? I wonder what Gwen Stefani, Lady Gaga or Madonna would say to that. Doesn't she even listen to music? When Collins made a few light jabs at Spice Girls lyrics, Beckham quickly pushed them off. Music, which launched her career, was now the unwanted stepsister.
"What was the inspiration for your signature dress," asked a student, referring to the now iconic, slim fitting dress with the zipper down the back. "I couldn't find what I was looking for," she replied, "So I decided to make my own." I was curious how she launched her first collection and wondered how she had the courage to put her creative work out in front of such a demanding audience. I wanted to ask Beckham what she thought of the recent partnership between Sheryl Sandberg and Getty Images, an announcement just that morning that they were going to focus on featuring more realistic images of working women in stock photography, but I couldn't bare the idea of her not understanding or giving me a one-word answer.
At the end of the conversation, which was scheduled for ninety minutes but lasted less than sixty, I knew two things for certain: She was a terrible driver and she had gone to boot camp class that morning at 8 a.m. It was a confession that came at the end, and it was the first truly real moment.
The entirety of the conversation felt like a string of sports quotes: I feel good. I had great focus. I have a strong work ethic. It's all about my team. I learned nothing substantive about Victoria Beckham.
This morning I discovered she has almost 1.7 million Instagram followers. I learned little from her feed, but her number of followers was staggering. If she wanted to influence women in a positive way, she could do it with one click of her iPhone. I did an internet search and found one lone article, on Women's Wear Daily, announcing her first shop, set to open this year in London. I couldn't read the article because it was behind a pay wall. That left me with Wikipedia, items I will take as truths, but that I have not researched to confirm.
Wikipedia Fact 1: In an interview with a Spanish paper Beckham was quoted as saying she had never read a book in her life. She attempted to unravel this damaging quote with a follow up, saying she actually never had time to finish reading a book because she was always too busy looking after her children.
Perhaps Lean In was the first book she finished, or maybe she just admired the back cover?
Wikipedia Fact 2: Despite original plans for six episodes, her reality show, Victoria Beckham: Coming to America, was cut to a one hour special as there "just wasn't enough (material) for a series."

As an alumnus of the New School, I had eagerly accepted my invitation to the event. I was curious and intrigued. Victoria Beckham had changed her career numerous times, as had I. Throughout the conversation, as dozens of students picked up their bags and left early, I wondered why this woman is where she is today. Does she have talent? Is it her looks? Her husband? Or was she just lucky? I wanted her to be more than a paper doll cutout. I guess the final thing I should take as fact is that this woman has one damn fine team in place helping her stay on top.
Photo by: Nickolay Khazanov/Flickr.
Photo by: Larissa Zimberoff/Flickr.