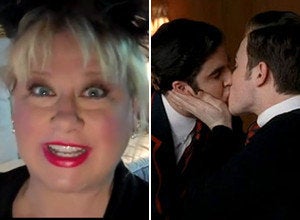 Victoria Jackson may have earned her fame as a comedian, but her recent comments on "Glee" are no laughing matter.
Did you see "Glee" this week? Sickening! And, besides shoving the gay thing down our throats, they made a mockery of Christians – again! I wonder what their agenda is? Hey, producers of "Glee" – what's your agenda? One-way tolerance?
Jackson's comments came after a string of anti-Muslim and Arab diatribe, and immediately followed her saying:
This new al-Qaida magazine for women has beauty tips and suicide-bomber tips! Gimme a break! That is as ridiculous as two men kissing on the mouth! And I don't care what is politically correct. Everyone knows that two men on a wedding cake is a comedy skit, not an "alternate lifestyle"! There I said it! Ridiculous!
Jackson has become known for her outspoken, and often controversial, conservative political statements. In 2009, on a Fox News panel, she said, "My motivation is gone, because [Obama] will punish me if I'm successful. That's how you start communism, is just -- take Cuba. Obama wants to be Castro."
That appearance followed a 2008 onslaught from Jackson, who went after both a campaigning Obama and former "SNL" cast mate Al Franken, who was running for Senate in Minnesota at the time. Writing about Obama, Jackson said that Obama, "bears traits that resemble the antichrist." She also accused him of close friendships with "Communists, domestic and Muslim terrorists, racists and convicted felons."
Popular in the Community