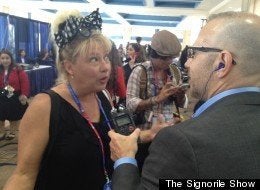 Victoria Jackson, former "Saturday Night Live" comedian turned ultra-conservative gadfly, delivered a rant on Thursday in which she targeted "Black History Month" and suggested that whites ought to create their own annual celebration.
Jackson wrote that America's decline parallels the end of white men's dominance, then offered this:
'Find a white, middle-aged Christian man today and hug him. And then, encourage him and your white Christian sons to stand up, be leaders again, and save our country from the God-hating communists like Alec Baldwin and Obama."
None of the above should come as a surprise; Jackson, 53, is decades removed from her show business glory at "SNL" but has found a new public platform in venting controversial beliefs.
Popular in the Community