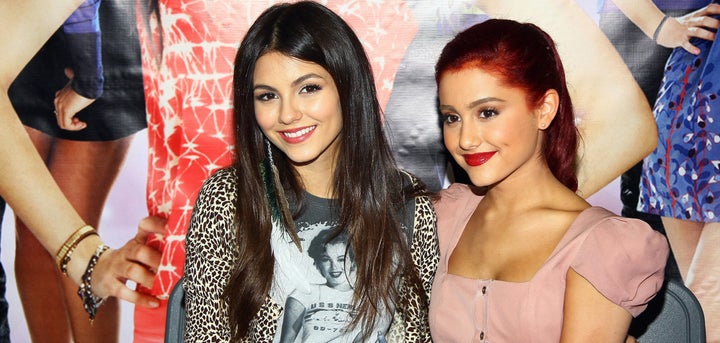 To refresh your memory, Justice and Grande co-starred on Nickelodeon's hit show "Victorious." After the show wrapped, Grande told Seventeen that she felt bullied by a former colleague, whom many assumed to be Justice. Grande later clarified that she wasn't referring to anyone on "Victorious," but the damage was already done. And a video making the rounds on Twitter has brought rumors of their purported feud back to life.
In the old video, "Victorious" castmate Elizabeth Gillies praises Grande for her singing voice.
"One thing you don't know about Ariana Grande is that she literally sings everything," Gillies says. "It's a good thing, because she has a beautiful voice."
Justice nods along before adding, "I think we ALL sing."
And thus, a meme was born.
People on Twitter simply couldn't deal with Justice's level of pettiness. Twitter user @beachparadisee even found a second clip in which Justice didn't acknowledge Grande's musical talents, despite the fact that each of her co-stars did.
The meme quickly took on a life of its own. Check out some of our favorites below.
We may never know if the Victoria Justice/Ariana Grande "feud" is real or fake, but I think we all know this is the best meme to hit the internet in a long time.