 Victoria Justice is probably known best for her role in "Victorious" as an aspiring singer who is accepted into the Hollywood Arts High School. Though the popular Nickelodeon show finished its run last year, the actress-singer has returned to the classroom, playing a bullied teen who fights back in the upcoming film, "The Outskirts."
In an interview with HuffPost Teen, Victoria opened up about her new role (including her personal experiences with cyberbullying), the singers who inspire her and what's next on the horizon.
In addition to being an actress, you've also proven yourself as a singer -- especially through your character on "Victorious." Do you have any role models or people who inspire you in the industry?
There are so many people that inspire me, but I especially admire great singers and songwriters. When I hear a song that tells a great story and has great lyrics that can make you see it and feel it, I'm impressed. One example of that is Sara Bareilles' song, "Manhattan." You can tell it was a very painful breakup for her, but her lyrics were so honest and beautiful that it blew me away. Don't get me wrong -- I love a great pop song also, but those that can tell a story like that are my inspirations.
You released two singles last year, "Gold" and "Shake." Do you have any other musical projects on the horizon?
I just very recently got out of my record deal with my label and I'm currently focusing on acting. Music is a huge part of who I am and I'm trying to figure out how I can do both and give them each the time that they deserve.
You're working with Jet Blue's CSR Program, "Soar With Reading." Could you tell us a little bit about it and how you got involved?
I was approached by Jet Blue to get involved in this program. I knew it was something that I would endorse because I am all about literacy and I am thrilled to help inspire kids to read this summer and beyond. My mom would always take my sister and I to the library and bookstores all throughout my childhood. She instilled a love for reading in me that is with me to this day. Soar with Reading is a program which is focused on inspiring and sharing the gift of reading, starting at the grade school level. The program places age-appropriate books in the hands of kids in underserved communities.
Jet Blue is taking reading on the road and to the skies with a nationwide tour to celebrate the program. We are so close to reaching our goals ($500,000 worth of Magic Treehouse books to kids in need). No money is needed. It is as simple as clicking on this link, making a guess and submitting. With each guess JetBlue will donate a book. It's that simple.
Speaking of reading, which books have been on your summer reading list? Read anything good recently?
I am currently reading Tina Fey's autobiography (which I've almost finished) and next on my list is "The Alchemist." I'm also always reading scripts to decide on my next project.
Photos from your upcoming movie "Outskirts" are all over your Twitter. What was it like for you to play someone who was bullied in high school? Were you able to channel pieces from your own high school experience or was it a completely new role for you?
It's a role that I think is important for the fans to see me in. I am a very relatable character. I wear almost no makeup and my hair is very different and I'm definitely not part of the cool crowd. I worked with a great group of people and I'm proud to bring it to life. I can't wait for you guys to see it. I think teens are going to love it!
As for my personal high school experience, it was different than most teens, because I didn't go to a physical school for long. I was tutored on set while I was doing my show, so because of that I had a very different experience than other people. I do deal with cyberbullying online to a large extent because I put myself out there on social media. The demographic I deal with is younger and they are easily influenced by things that aren't necessarily true. They also hide behind anonymity and find it a lot easier to say things online than they would never say to your face. Unfortunately, it's become part of our culture. There need to be stricter guidelines online and awareness brought to this issue, because it is not OK. The same way that we have no tolerance in schools for bullying; that's the same policy we should adopt online.
We love looking through your Instagram for outfit inspiration. How would you describe your personal style?
Thank you for the compliment. I would describe my personal style as eclectic. Sometimes I feel edgy, sometimes I feel like I want to wear a bright, bold beautiful color. I love color and clothes that have interesting details and fabrics. I love clothes that are different. Fashion is fun and a great way to express yourself or how you are feeling. I love cool and different accessories (hats, purses, glasses, scarves, etc.). They can really make an outfit.
Being a teenager in today's world, it feels like there's a lot of pressure to look a certain way. What advice would you give to teens struggling with confidence issues?
What really matters is what's on the inside. Focus on something that you have a passion for and hone that skill, it will make you feel confident about your ability. Read and be aware of what's going on in the world, so you have things to contribute to conversations. Surround yourself with people who really care about you and have your back. If someone doesn't treat you the way you want to be treated, move on.
Related
Before You Go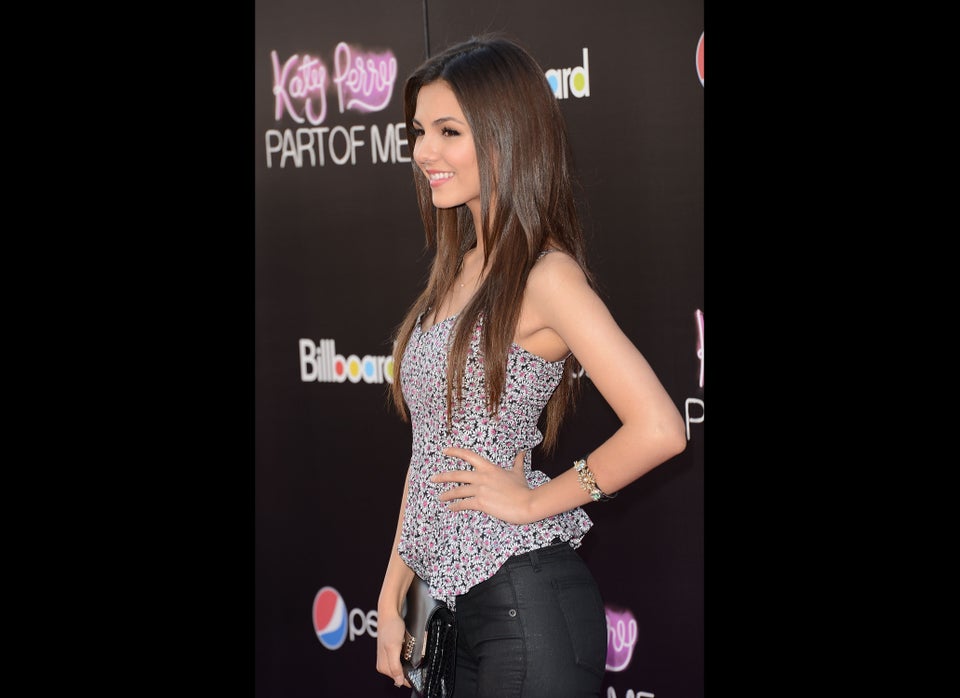 Victoria Justice Hits 'Katy Perry' Premiere
Popular in the Community