Amidst a heightened presence of troops in army fatigues at the Lexington Armory in Manhattan, you'd be right to think they were all working together to bring relief efforts for those affected by Hurricane Sandy. But the pink carpet they trudged over suggested something else was afoot. For one day, supermodels, hair and makeup artists, and even Rihanna descended upon the historic building for the Victoria's Secret Fashion Show (the lingerie brand actually helped the National Guard during the storm with extra generators they had on hand for the performance.)
Meanwhile, upstairs, large barrel curling irons flew around, clouds of hairspray filled the air and about a million camera men stood around. Stationed right in the middle of it all was Alessandra Ambrosio, sitting back (actually watching video of her new London Fog ad on her phone) while lead makeup artist Tom Pechuex went to work. "We have our routine," he said about the Brazilian model. "We know we are going to work together."
As far as the makeup for the show, Pecheux says that "the last three years have been very, very natural. This year, we decided to increase the makeup on the eye. Like a cat eye, a little bit of black, but also brown, gold, taupe colors. Black mascara on the top lashes, brown mascara on the bottom. No shimmer, everything is like a satin finish. And no bronzer, we are going much more for healthy than the bronzey look." (Wait, no shimmer or bronzer? Did we hear that right?) "Totally," he said. "Yeah, we want the girl to be quite sophisticated. All the girls have this gorgeous color already, but not like they've spent the last six months in the Maldives, but more like they've had a long weekend… in Brazil."
As models left makeup stations and headed to get VS bombshell waves, stylist Orlando Pita also suggested that the effect this year was decidedly more natural. "It's more tousled, softer, not as done," he said. But still present were the signature hair extensions. One model who will definitely need extra in that department is Karlie Kloss, who just cut off her hair into a darling shaggy bob with bangs à la Jane Fonda in the 1971 film "Klute."
When people aren't talking makeup and hair, the hands down most-asked questions backstage are about diet and exercise leading up to the show. Naturally, new mom Lily Aldridge met an onslaught of post-pregnancy workout inquiries. "I made sure health was my priority because I'm still nursing my daughter," she said. "I ate really healthy food, organic proteins and vegetables. I worked out a lot -- during naptime so I could still be with her. But I worked really hard and I'm really proud of what I've done. And I'm proud that I did it healthfully. And I hope I can be a good example to other women."
As far as pressure she's gotten to shape up in time for the show, this is what she had to say about that. "I'm a woman, of course I still have curves on me, and that's ok. I had a baby and I've worked hard. And I don't think women should have to feel that kind of pressure. I've done it really healthfully, and I took my time. Even though four months is really fast. I think you have to ignore those things, because I'm a human, and I did as much as I can." Yeah, what she said.
Check back soon for more coverage from the live show.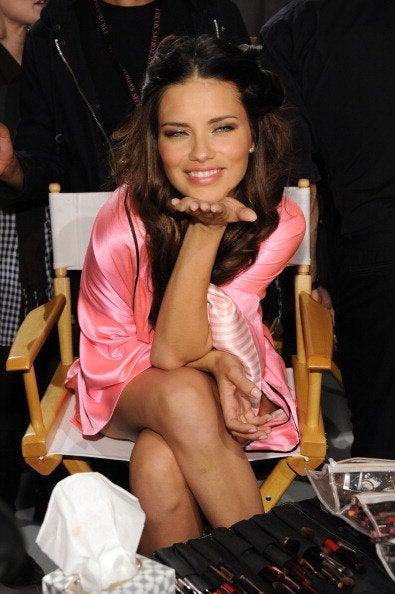 2012 Victoria's Secret Fashion Show Backstage