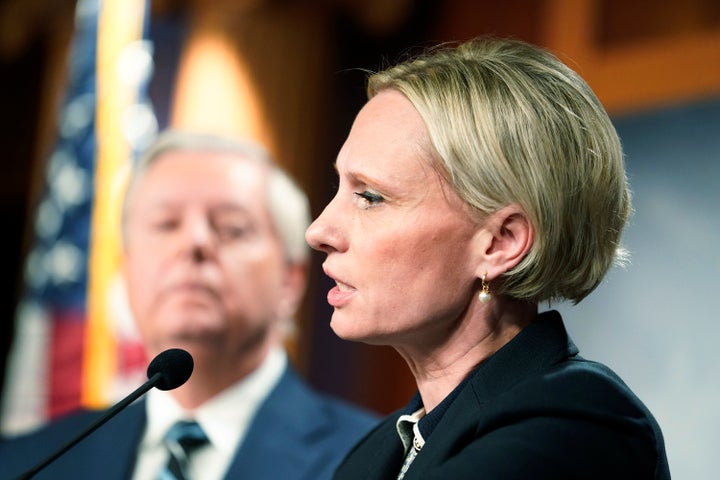 Victoria Spartz, a House Republican from Indiana who just won a second term, announced Friday that she intends to retire from politics at the end of 2024.
"It's been my honor representing Indiana in the Indiana State Senate and U.S. Congress and I appreciate the strong support on the ground," Spartz, 44, said in a press release. "2024 will mark seven years of holding elected office and over a decade in Republican politics. I won a lot of tough battles for the people and will work hard to win a few more in the next two years. However, being a working mom is tough and I need to spend more time with my two high school girls back home, so I will not run for any office in 2024."
Spartz's announcement comes as Republicans have begun flexing their new power in the House. Spartz initially opposed Kevin McCarthy's bid for House speaker, but eventually committed to backing him after voting "present" in several rounds of ballots. She also resisted McCarthy's effort to deny Rep. Ilhan Omar (D-Minn.) a spot on the House Foreign Affairs Committee, only to relent once McCarthy agreed to allow language that gives Omar the opportunity to appeal the decision.
In withholding her support in both cases, Spartz seemed to be leveraging the slim Republican majority to boost her profile. The past week she had been in and out of the speaker's office for meetings. But it's possible she wasn't enjoying the work. Twice, HuffPost heard her say, "Someone has to be an adult in the room."
Her announcement is surprising, given that Spartz only just started her second term in Congress and is relatively young by congressional standards. Even some of her colleagues were blindsided. "SHOCKED," one House Republican told HuffPost in a message.
Spartz is the first Ukrainian-born member of Congress after immigrating to the U.S. in her early 20s. In March, she showed up uninvited on a congressional delegation's trip to Ukraine. CNN reported that Spartz had expressed interest in joining the bipartisan group but had been denied an official spot.
She has been outspoken about her birth country — sometimes to the frustration of her colleagues — and what she believes is necessary for it to fend off Russian aggression. "President Zelensky has to stop playing politics and theater, and start governing to better support his military and local governments," Spartz said in a July statement.
Her move also closes the door on a possible Senate bid in 2024 for Sen. Mike Braun's (R-Ind.) open seat.
Spartz, a certified public accountant, was first elected to Congress in 2020 after several years in the state Senate.
Arthur Delaney and Jen Bendery contributed reporting.
Popular in the Community