One of the most anticipated films of this holiday season is Walt Disney Pictures' Saving Mr. Banks. It's a beautifully written, directed and acted movie about how Mary Poppins came to be -- both from Walt Disney's and P.L. Travers' perspectives. Portraying Julie Andrews, who won the 1965 Academy Award for Best Actress, to virtually spit-spot accuracy, is actress Victoria Summer.
Victoria said that getting to play Julie Andrews was "one of those classic Hollywood stories, really... I got a phone call from casting and they said that my picture had been chosen out of thousands and I was first choice to play Julie Andrews in the new Tom Hanks/Emma Thompson movie Saving Mr Banks," said Victoria. "They asked if I could go on set to meet with the team. It was completely out of the blue... I went on set up in Pasadena, and met with hair and make up and the director."
As a child, Victoria grew up watching and admiring Julie Andrews. Since she would be involved in the filming of the premiere scene, Victoria did do a little research: "I knew we would literally recreating the 1964 premiere, so I used the videos on YouTube of the premiere, and studied her mannerisms on the Internet."
"When I saw the final version of Saving Mr. Banks, I thought is was heartfelt and the movie touched me. It takes one into a completely different world and perspective than I imagined, and I think it's a fascinating story. Emma Thompson is magic. The character she created in P.L. Travers had me riveted beginning to end."
During filming, Victoria got to meet Emma Thompson and Tom Hanks, but she also got to meet Richard M. Sherman who, along with his brother Robert, wrote the songs for the 1964 film: "I met Richard and his wife on set. It was an honor to meet Richard; particularly considering my background and training in musical theater," says Victoria.
His eyes danced as he spoke about what a delight the whole experience had been for him. It was marvelous. I was lucky enough to meet many of the cast and crew -- including of course Emma and Tom. They were very warm and welcoming. Particularly Emma. I went to shake her hand and she gave me a huge hug and said 'Hello, Victoria. Welcome to set.' I will never forget that moment! She's a truly incredible talent. I really admire her.
For all actors, character transformation usually becomes complete when they get out of hair and makeup and into their costume. Victoria said: "I became Julie Andrews in a matter of hours! The makeup was incredible -- they shaded my face in such a way that I took on her bone structure; I really didn't look like me anymore! They bleached my eyebrows and made them thinner -- that made a huge difference. When you have such a great team, it makes my job much easier!"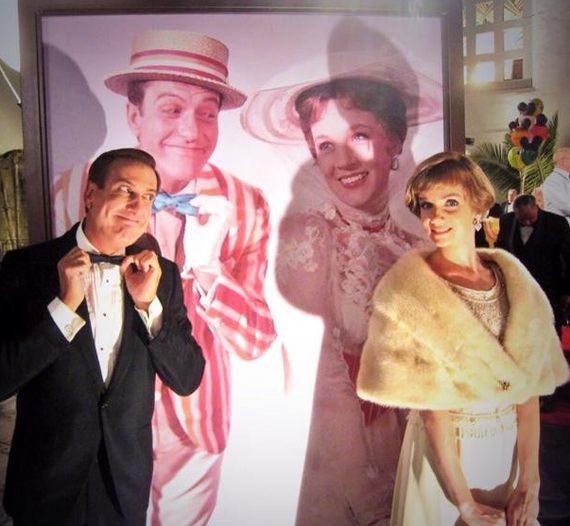 Kristopher Kyer as Dick Van Dyke and Victoria Summer as Julie Andrews
Photo: Victoria Summer via Instagram.
Saving Mr. Banks went to great lengths to faithfully reproduce some very well-known and iconic images, including 1960's Disneyland, Walt's office and the premiere of Mary Poppins at Grauman's Chinese Theatre. Victoria said that scene took quite a long time to film. She was on set for more than eighteen hours that day. "They closed down Hollywood Blvd., and there was a huge crowd of spectators, as well as extras," said Victoria. "It is one of if not, the biggest scenes in the movie. It was quite the spectacle. An absolute honor to be able to contribute to it."
Victoria has an uncanny resemblance to a young Elizabeth Taylor. So much so, that she portrayed a young Taylor as the photo double for Lindsey Lohan in the Lifetime movie, Liz and Dick. "That was another incredible transformation -- probably my favorite," said Victoria. "The shots looked just like her on a Vogue cover. I was completely blown away when I saw them. Unfortunately still to this day they will not release the shots to me!"
No stranger to playing Hollywood icons, Victoria just finished playing Audrey Hepburn for a commercial in Tokyo. Victoria recently completed filming the fourth Transformers movie, Transformers: Age of Extinction, portraying the assistant to Stanley Tucci's character, Joshua. The film is scheduled for release in June 2014.
Calling all HuffPost superfans!
Sign up for membership to become a founding member and help shape HuffPost's next chapter