LOS ANGELES -- An 11-year-old girl bested professional computer developers at a competitive hackathon, winning $20,000 to further develop a mobile app and market it. The competition, sponsored by AT&T, challenged developers to create an app to reduce distracted driving.
Victoria Walker, a sixth grade student at Dodson Middle School, showed a video and a slideshow presentation of her app "Rode Dog" to a panel of judges that included KTLA technology reporter Rich Demuro, Here on Biz founder Nick Smoot, and TEK consulting owner Ben Nelson.
The playfully designed app enables users to create micro social networks of their "pack" (friends and family) to protect them. A GPS tracks the location of each person in the pack at all times and alerts users whenever someone in the pack is using their phone and driving at the same time.
Like a little warning bell, users within the social network can send barking sounds to offending pack members to encourage them to stop using their phone while driving. The app makes money by enabling users to download the sounds of different animals for 99 cents for their own signature bark.
When hackathon organizer Alex Donn announced "Rode Dog" as the grand prize winner at Cross Campus in Santa Monica, Walker's family erupted into cheers and woofs, evoking the sound of her app.
The judges praised Walker's app for its viral potential, saying that sending barks could be fun and addictive. They also marveled at the business model, which distinguished it from the four competing apps that awarded prizes and gifts to users who avoid using a phone while driving or who publicly pledge to end distracted driving.
For the judges, Walker's presentation was also a big part of the package. While Walker seemed to have memorized her presentation and delivered it with a beaming smile, the other teams suffered from bungled tech demonstrations, stilted or over-technical language and lack of charisma.
Walker told The Huffington Post that she had practiced for days. "I practiced non-stop!" said Walker. She left school early Tuesday to practice a few hours before the event. Of course, skipping class isn't par for the course for this sixth grader. Her favorite subject is math (she's taking seventh grade pre-algebra) and when she grows up, she wants to be a basketball player.
When asked what advice she had for other children her age who want to get into tech, she said, "Try your hardest and never give up." She also encouraged students to attend events like AT&T's hackathon to get started.
The "It Can Wait" hackathon is part of AT&T's campaign to discourage distracted driving. The initial two-day hackathon Sept. 7 attracted more than 120 people. From that group, five finalist teams were selected to continue developing their apps for 10 more days before giving a final pitch presentation before a panel of judges.
Walker's mother, Denise Walker, has won several prizes at other hackathons in the region. A business developer for startup Pivot HQ and founder of a startup called Flutterway, she said she brought her daughter to the AT&T hackathon to expose her to the tech world. While Denise Walker worked with her own group on an app idea that eventually didn't make it to the final round, she watched as her daughter pitched the idea for "Rode Dog" to groups around the room, hoping to build a team to qualify for the chance to make it into the finals. In the end, Victoria Walker had managed to bring on as co-founder 28-year-old designer David Grau of WLDG Agency, who had arrived at the event a day late and had no one else to team up with. Victoria Walker's pitch and Grau's initial design won their little team a spot in the finals.
When Victoria Walker's idea beat her mother's, Denise Walker didn't skip a beat. "I knew she had a good idea," Denise Walker told HuffPost. Denise Walker joined her daughter's group to be project manager, and the team managed to attract developers Vak Sambath and Adam Ahmed from other non-qualifying teams to develop the app further for the final round.
The app "Safe Car Key," created by developers Cheston Contaoi and Mikhail Yurasov, won second place and $7,000. Contaoi and Yurasov had built both software and hardware to demonstrate their app, which actually shuts the car down if the phone is removed from a loading dock built into the car.
"Drive Pledge," created by developers Michael Bleigh, Jake Johnson and Francisco Ramos, won third place and $3,000. It rewarded drivers with phone apps, games and songs for every mile they drove without texting or using their phone.
All three winning teams told HuffPost that they would use their prize money to further develop their apps and market them.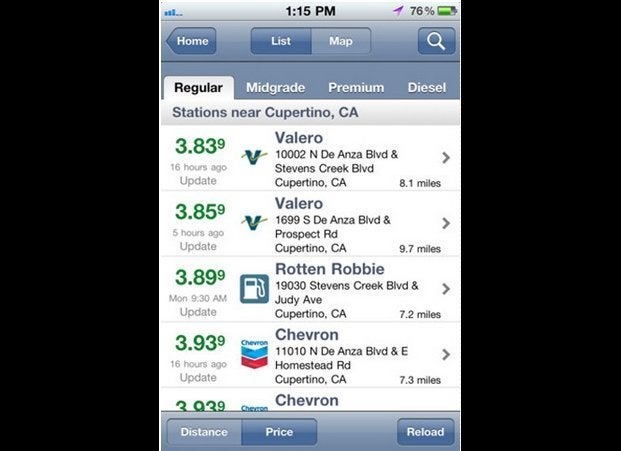 ESSENTIAL LA IPHONE APPS
Popular in the Community