While the show doesn't air until December 4th on CBS, the live event took place at New York's Lexington Armory on Wednesday. Even though there was a furious snowstorm outside, forty of the world's top models made their way down the runway wearing lots of feathers, sequins and not much else during the hour-long spectacle. Brazilian model Alessandra Ambrosio was chosen to wear the coveted $2.5 Million Fantasy Bra.
Meanwhile, in an outfit only Stevie Nicks could love, Rihanna sang her single "Diamonds" in a floor-length, high-slit black dress, topped off goggle-looking sunglasses, long gloves and a garter belt. She returned later in the show wearing a decidedly more low key look: Sheer pink short dress, pink ankle boots and a pink long sleeve sweater tied around her waist (a look she's tried before).
Biebs showed his sensitive side when he pulled up a stool -- alongside another stool-sitting guitar player -- and sang an acoustic version of "As Long As You Love Me." (Aren't you supposed to be the one playing guitar when you go the ole' "unplugged" stool route?) But it wasn't long before the 18-year-old was back to his usual shenanigans, dancing in sync with ten or so back up dancers.
The show ran through different themed vignettes (including months of the year, the circus, pinball), but it was most refreshing to see new girls like Cara Delevingne and Jourdan Dunn make their debut. And of course, veterans like Miranda Kerr, Adriana Lima and Alessandra Ambrosio attracted serious applause and screams from the crowd.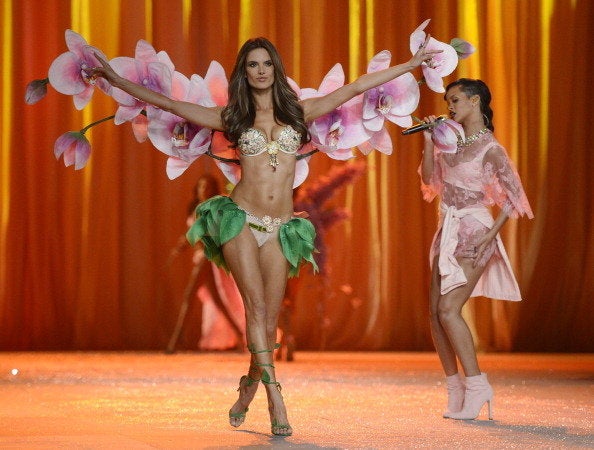 Victorias Secret Fashion Show 2012
Related