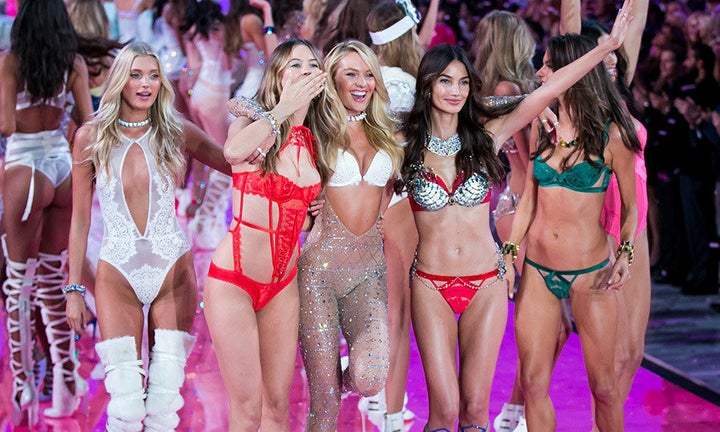 For the past several years, I have convinced myself that it finally must be time for the annual Victoria's Secret Fashion Show to heed calls for a more size-inclusive runway. Every year, 2018 included, I find myself disappointed ― but not surprised ― when it doesn't.
The annual extravaganza has evolved from its exceedingly creepy past in some ways. The brand prides itself on the fact that its models come from all over the world, and it made waves two years ago for sending models down the runway with their natural hair. But it has largely failed to expand its narrow vision of beauty, with no apparent concern for the impact on its young, female audience.
As the rest of the fashion industry has begun to widen its lens to accommodate and celebrate people of all different shapes, sizes, abilities, races and genders, Victoria's Secret still comes up short.
So veteran plus-size model Robyn Lawley is making a bold move: calling for an outright boycott of the brand's lingerie show, which airs on TV on Dec. 2.
"I want to see women like myself and women I see every day in magazines, on runways and in bras all over the world," reads the petition, which had more than 9,850 signatures as of Friday morning. "So let's start changing things from the top!"
It's rare to see a model take a stand against a specific brand, especially one with as much recognizability as Victoria's Secret. It's not just about damaging a relationship with that brand, but with the many people in the industry whose influence stretches far beyond this one event.
"Going against a company of this size is stature is incredibly daunting," Lawley told HuffPost. "They have very big casting directors, who cast for more than just Victoria's Secret, casting these shows. That's why many models don't say anything. Our hands are kind of tied."
Lawley said she decided to take a stand against the lingerie company in an effort to start living a more "honest" life.
"I had a pretty traumatic incident this year, I nearly lost my life," she said, referring to a seizure and consequential 7-foot fall she experienced over the summer. "I gave up trying to protect people who don't have women's interest at heart, and they don't. To glorify such an extreme body type and exclude so many types of bodies is just a joke at this stage."
Lawley praised Rihanna's lingerie line for its diverse runway and ThirdLove for its inclusive advertisements and sizing, and said she hopes more brands follow suit.
As ratings dip for the annual fashion show and more people call out Victoria's Secret for its lack of change, we might someday see a different side of the company. But for now, Lawley said, the best approach is avoidance.
"That is going to be the biggest indicator to them that they've lost their market," she said. "It's dictated that these are the most beautiful women in the world, but in my opinion beauty comes in all shapes and sizes. If they're only including one size bracket they're not including all of the most beautiful women."
Lawley was quick to point out that she is not denying that the women in the show are beautiful and hardworking. "I'm just asking where the problem is in using a few more sizes," she said.
The petition includes a call for women to share photos of themselves using the hashtag #weareallangels. ThirdLove says it will donate a bra to Support The Girls, a nonprofit that provides bras to homeless women and girls around the country, for each photo shared.
One petition is not enough to change the mind of a giant corporation. But it's a start.