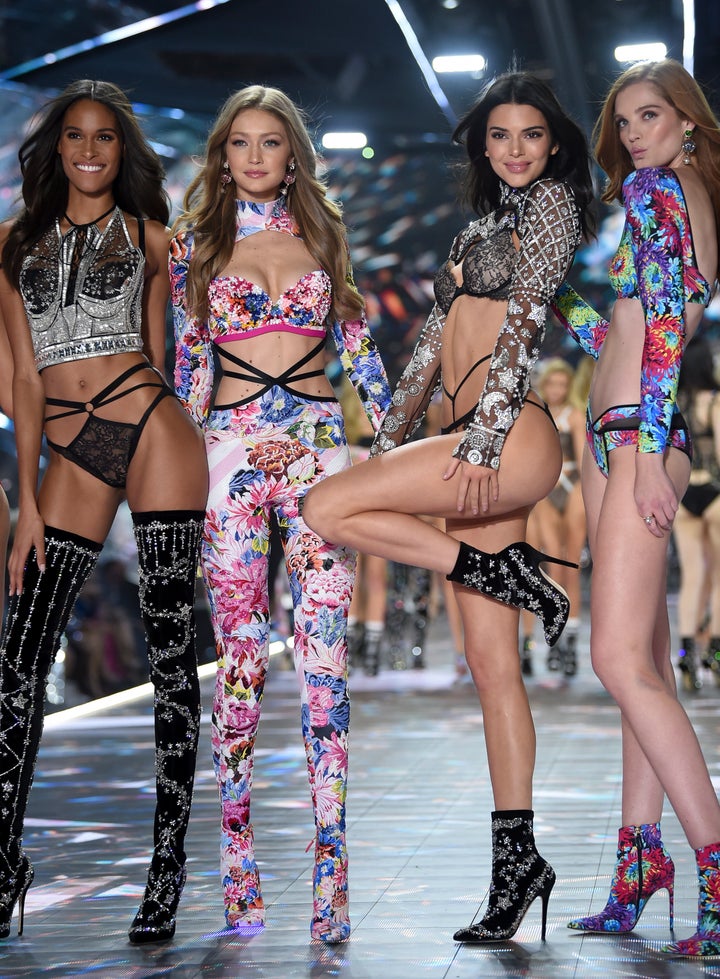 The Victoria's Secret Fashion Show airs this Sunday, Dec. 2. Filmed in New York City on Nov. 8, the show will feature a slew of gorgeous women who represent a very specific and unrealistic ideal of beauty.
Well, I have a message to send to Razek and the rest of the Victoria's Secret team: I don't want you to put a plus-size model in your show. Not now, and maybe not ever.
I am not self-loathing and I am not averse to creating change in the fashion industry more broadly. Nor am I in denial about the ways the fashion world and society at large have, in some ways, changed for the better when it comes to inclusivity.
The reason I don't care to see a plus-size model in the show is because Victoria's Secret is not, has never been and never will be the catalyst for change the industry so desperately needs.
It's no secret that the lingerie giant has major brand power and recognition, and it still helps bring in billions of dollars and millions of viewers (Tyler McCall's analysis on Fashionista, a must-read, reminds readers that among other things, Victoria's Secret is often the only lingerie store for miles in some parts of the country). But to put a plus-size model in the show now ― and I say "a" because, let's be real, it would only ever be just one model ― is too little too late. Razek said himself he wouldn't want to do something just to shut up a reporter or pander to an audience ― and I don't want him to either.
Many designers who show at fashion week and beyond pat themselves on the back for including one plus-size, one older, one transgender model on their runways, signaling to me that their intentions are to create buzz and stay relevant instead of actually seeking to expand their customer base. In the same vein, I don't want to see a runway in which one model of Victoria's Secret's choosing, who happens to be above a size 2, is paraded around the stage for the brand to check off a box.
"Victoria's Secret is not, has never been and never will be the catalyst for change the industry so desperately needs."
And speaking of an expanded customer base, it's worth noting that even the women who do get chosen to walk a runway or star in a campaign still don't reflect what women, with their many shapes, sizes and proportions, really look like. Plus-size models ― all models! ― work their asses off at their jobs and are looked up to by people around the world. And it's understandable for them to dream of walking this very specific, career-catapulting runway.
But they are still models. A woman who has "perfect" proportions that happen to be larger than those we've become used to seeing on a runway is doing little more to help me feel better in my own skin than her thinner counterparts, regardless of her good intentions and real commitment to change.
Branded body positivity dictates that if you are going to exist in a bigger body, it had better look like the bigger bodies in the ads. At the same time, it implies that you should feel bad if you don't love your body as is.
I have spent years celebrating brands for ditching Photoshop and becoming more inclusive. But I'm no longer inspired when a brand throws a curvy girl in their branding, often without even carrying the size the girl in the shoot is wearing.
Instead, I'm inspired by the women I see on social media, the ones who more closely reflect the bodies so many women see in the mirror ― wearing lingerie, wearing whatever the hell they want.
I'm also inspired by Savage X Fenty. By ThirdLove. By Knix. Brands that are raising the bar, calling others in their industry to task and actually marketing to and carrying sizes that women with bigger bodies can wear.
Victoria's Secret will continue shilling its five-for-$25 cotton underwear and pushup bras that fit one very narrow part of the population and using a multimillion-dollar production to do so, because it can. Personally, I would rather take my dollars and attention elsewhere than plead with a company to do something that it doesn't want to do ― and probably wouldn't do very effectively.
If you, like me, would prefer to do just about anything else than watch one more year of this spectacle, I did the honor of finding a few other things airing on television this Sunday night at 10/9 p.m. Central, according to my very scientific search of TV Guide:
"Dirty John," Season 1, Episode 2, on Bravo.
The last hour of "Life Size 2" on Freeform.
"Gilmore Girls," Season 2, Episode 14, on Pop.
"Friends," Season Any, Episode Any (you know, probably somewhere).
Anything on any streaming service.
But especially "Salt Fat Acid Heat" on Netflix, partly because it's beautiful and soothing to watch but mostly because of Samin Nosrat's genuine love and happiness surrounding food, a pretty solid antidote to the liquid diets historically taken on by some models in the days before the show.
Or, if you really need to see some runway action, you could always rewatch the totally badass and totally inclusive Savage X Fenty show on repeat.
Popular in the Community