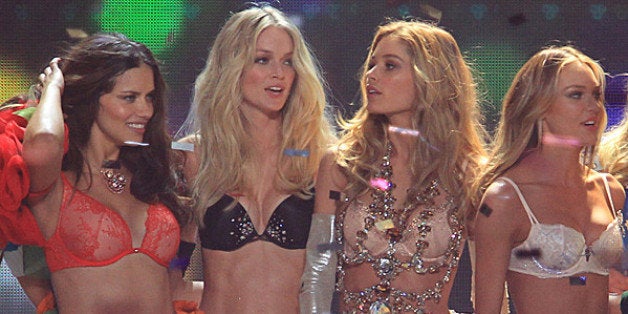 By now we've caught on to how Photoshop morphs regular (albeit beautiful) women into flawlessly smooth, blemish-free models in magazines and ads. But the brave souls who walk the runway at the Victoria's Secret Fashion Show don't have the benefit of digital airbrushing. So how do they look so perfect?
Body makeup helps. We asked Candice Swanepoel, who will open the Victoria's Secret Fashion Show tonight in the $10 million Fantasy Bra, for the deets.
"It varies from year to year, whether they want us to have body makeup or not. I think last year, they didn't want us to have too much, because [the look] was more natural," she told HuffPost Style at her bra fitting. "But they used to have a whole set-up backstage of bronzers, getting it all in your ass and in the right spots," she laughed.
Another key trick? Thorough hair removal. We've always wondered how the models look so gosh darn smooth, so we had to ask Candice about her body hair regimen.
"You know, for years I'd been waxing, which is part of the torture of being a model -- I'm blonde, thank God! But I actually did laser, which was the best thing I ever did for myself, I wish I'd done it 10 years ago," Candice said.
As cool as it looks to be a Victoria's Secret Angel, we're not envious of that part. Well, or this part. Or this part...
Catch a peek of the Victoria's Secret Fashion Show tonight as we live-tweet and Instagram from the front row, and see the full show air on CBS on Dec. 10 at 10/9c.
Do you detect any body makeup?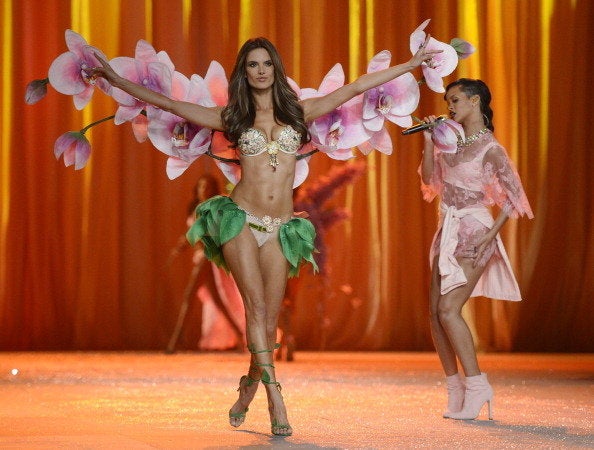 Victorias Secret Fashion Show 2012
Related