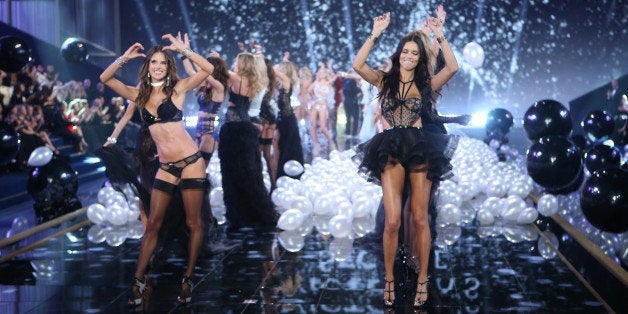 Victoria's Secret is an unstoppable force of bras and panties.
The fashion brand's lingerie hasn't been this popular in nearly two years, according to new data from YouGov BrandIndex, a firm that tracks the public's perception of different brands. Victoria's Secret is expected to have a major holiday season in 2014, thanks to its fashionable underwear lines and the success of its glitzy fashion show, industry observers say.
That's more good news for a brand already on a tear. Victoria's Secret has raked in $4.8 billion in sales through the third quarter of this year, up nearly 5 percent from the same period in 2013. Shares of its parent company, L Brands, have climbed nearly 70 percent over the past two years.
At Victoria's Secret's annual fashion show, which aired on CBS on Dec. 9, the brand's premier supermodels, dubbed Angels, donned their wings and graced the runway as usual. But the spectacle had some special flavor this time around.
Typically held in New York City, the show moved across the Atlantic to London for the first time, adding to the hype. The catwalk featured performances by Taylor Swift, Ariana Grande, Ed Sheeran and Hozier. Swift, in particular, was a coup for Victoria's Secret. She belted out her first-ever live performance of "Style," from her new album. It won the night "hands-down," Glamour's Lynsey Eidell declared.
"It's become a marquee event, a tentpole event," Ted Marzilli, CEO and global managing director of YouGov BrandIndex, told The Huffington Post. "It works for them."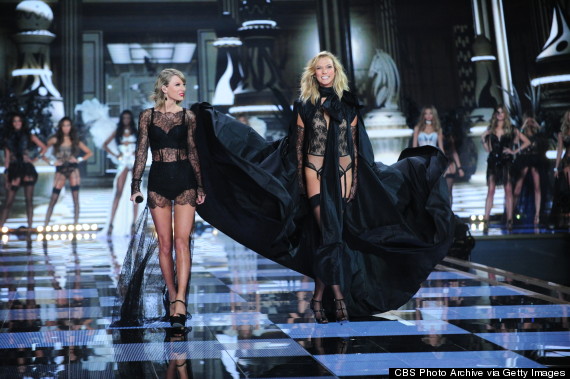 Taylor Swift and Karlie Kloss walk the runway at the 2014 Victoria's Secret Fashion Show.
At this year's extravaganza, it wasn't just Angels like Adriana Lima, Alessandra Ambrosio and Candice Swanepoel who shined. The clothes did too, according to Marzilli.
When the Victoria's Secret Fashion Show was broadcast, purchase consideration levels for women spiked from 24 percent to 30 percent, according to data from YouGov BrandIndex. That means more women were thinking about buying VS stuff. Last year, that number never ticked past 25 percent after the show, and faded to 20 percent by the end of the month.
Many viewers watch the annual show for entertainment, a yearly event to watch with friends. Others are more interested in the clothes themselves, as a different way to look at the catalog, said Marzilli.
And it seems Victoria's Secret remains devoted to the show. In November, CEO Sharen Turney teased plans for 2015 and said she's proud of how the show's developed over the years.
"No matter where the fashion show is, whether it is in the U.S. or whether it is international, it is one of the highest-rated and watched shows around the world," she said on a conference call with analysts in November. Victoria's Secret did not respond to a request for additional comment.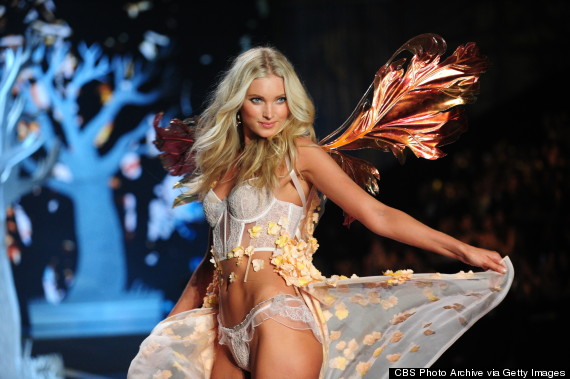 Elsa Hosk walks the runway at the 2014 Victoria's Secret Fashion Show.
It's clear that Victoria's Secret's marketing magic is working. In August, the brand launched its new "Simple Sexy" women's underwear line with a more toned down, comfort-first style. Pink, its brand geared toward teens and college kids, is also continuing to gain more attention from shoppers, getting more space in Victoria's Secret stores and opening its own standalone shops.
Industry observers praised Victoria's Secret's styles this season. Oliver Chen, an analyst at Cowen and Company, wrote in a note to clients on Tuesday that he expects Victoria's Secret's momentum to continue, saying the brand is poised to "win" the holiday rush. Pink is fashionable, fragrances are doing well and the marketing around the fashion show was on point this year, he noted.
The brand is charging forward in a sector that's been slammed of late. As a whole, specialty retailers reported mediocre results for Black Friday and November, but Victoria's Secret has "bucked the trend," according to Ike Boruchow, an analyst at Sterne Agee.
CORRECTION: An image caption in an earlier version of this story misstated the name of a runway model. She is Elsa Hosk, not Maud Welson.
REAL LIFE. REAL NEWS. REAL VOICES.
Help us tell more of the stories that matter from voices that too often remain unheard.