After nearly 6 years of fighting, my life has changed again with just one order. Monday morning Wharton county Judge Randy Clapp will receive an order requiring him to reverse his 2011 ruling against me, a transgender woman, Nikki Araguz Loyd. And as long as he doesn't pull a "Kim Davis" my long standing fight will be over.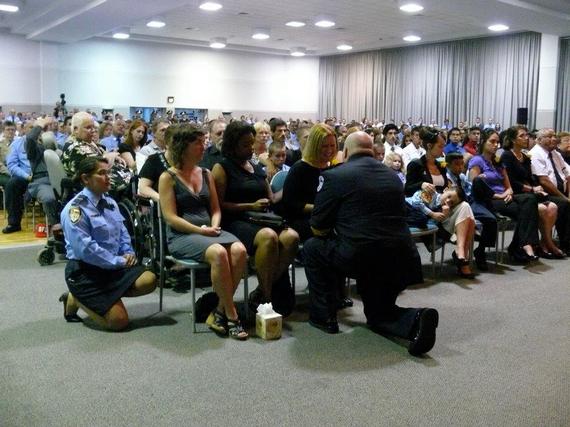 "Widow, Nikki Araguz, receiving a flag at her husband's funeral, attended by over 5,000 people July 11th 2010."
The evening he died, I had been on the road heading to California, to amend my birth certificate. Because, while my medical history as a transsexual was not a secret, our private life had been made public as my campaign for Mayor of Wharton heated up in the spring of 2010. Son of a former Wharton Mayor, Attorney Frank Mann, decided to use his prior knowledge of my personal medical information, including my trans and HIV status, as my lawyer for a bankruptcy hearing in 2003, and sent a public email to many residents of the town, causing a hostile environment in my husband's employment as a firefighter, as well as irreparable damage to my local business, Wharton County Living magazine. The public outing was meant to damage my reputation and campaign, but what it did was put undue pressure on our marriage. Suddenly, a private family affair had become small town public fodder. Within months, none of that would matter, and Mann would take it a step further.
I returned that day to bury my husband and the day after his funeral, was served by Capt. Araguz's first wife and mother, suing for death benefits and challenging our marriage, because I am transgender, and guess who their lawyer was? Frank Mann.
Within months, Judge Clapp, a former classmate of Frank Mann, without hearing, ruled against our marriage and family voiding our 2-year marriage. Following years of legal stall tactics, and a win for me in the appeals court, the case ultimately reached the Texas Supreme Court this year, who in September ruled in my favor, sending the case back through the slow moving legal system, landing on the desk of Judge Clapp, who has been ordered to reverse his ruling.
In light of the historic Obergefell marriage equality rulings that happened over the summer in the United States Supreme Court, the petitioners no longer have standing for their case, and as a matter of law, our marriage must be recognized regardless of their consideration of my gender, ending a nearly 6 year-long battle for the transgender community and myself. I am relieved to finally have an opportunity for closure, my grief was delayed because of this absurd case. They hoped I'd give up, but I don't do that. What they did was make me stronger, and I look forward to hearing Judge Clapp eat his, prejudicial, bigoted, dismissive words, and be forced to reverse his ruling. He and Mann will forever be "that guy" who attacked a widow in her darkest hour and thought it was okay to legally abuse and attack a transgender woman. I am thankful the children have been receiving their survivor benefits all along, and I want them to know that I love them, miss their father and when they are ready, I have photos, videos and memories to share with them.