On Chile's Juan Fernández Archipelago, unique fish and crabs sit pocketed alongside vibrant coral reefs against a rich, blue underwater background. Further west in the Pacific, brilliantly colored lobster dot the rocky crevices and coral surrounding Easter Island's seamounts. These are some of Chile's seamounts -- beautiful underwater mountains that are home to thousands of species and act as nurseries and breeding grounds for important marine life.
Recently, the Chilean government made a truly historic move in protecting these valuable marine ecosystems: Chile became the first nation in the world to permanently protect every one of its seamounts -- all 117 of them -- from a destructive fishing practice known as bottom trawling. Bottom trawling involves dragging weighted nets, which can be as large as 12 meters tall by 60 meters wide, across the ocean floor. As one of the most unselective types of fishing gear in the world, virtually everything in its path gets disturbed or destroyed.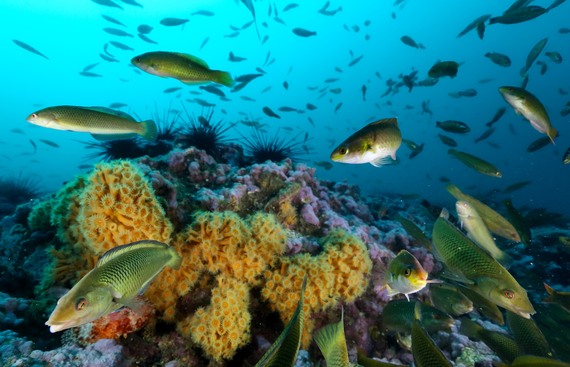 Seamount off the Juan Fernández islands, taken during a 2014 Oceana expedition. (Photo © Oceana / Manu San Felix)
This is a tremendous victory for Chile's waters -- and the fisheries, economies and livelihoods that depend on the health of these seamounts. Now, 68,065.63 square kilometers of Chilean waters are protected from this dirty fishing practice, according to the Chilean news source La Tercera.
The ban is also a huge win for Oceana in Chile and comes as a direct result of six years of campaigning. Oceana in Chile began working on this issue in 2009, proposing amendments to the Chilean Fisheries Act to protect all vulnerable marine ecosystems, including closing seamounts to fishing gear that carried irreversible or long-term impacts on the seabed. Then, in 2013, the Chilean National Congress passed a bill, sponsored by Oceana and five senators, that called for this ban and reformed the Chilean Fisheries Act. Now, two years later, Chile's Undersecretary of Fisheries issued final regulations to implement this protection, which maps all seamounts and bans bottom trawling permanently.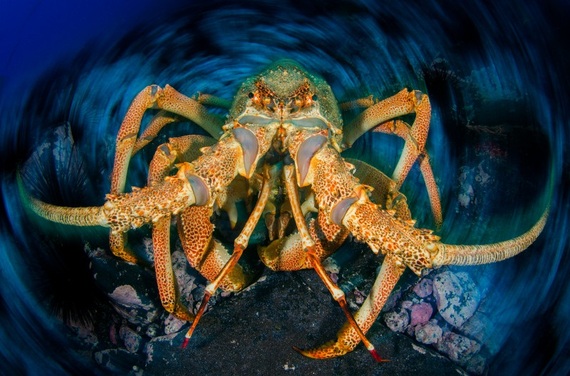 A Fernandez rock lobster (Jasus frontalis), located around the Juan Fernández islands. (Photo © Oceana)
Through expeditions, Oceana in Chile has documented and mapped many seamounts over the past decade. In both 2010 and 2011, Oceana and National Geographic conducted expeditions to the island of Salas y Gómez, near Easter Island, leading to it becoming the fourth-largest fully protected no-take zone. Oceana has also conducted several expeditions to the chain of seamounts along Chile's Juan Fernández islands, ultimately leading to protections of these seamounts too.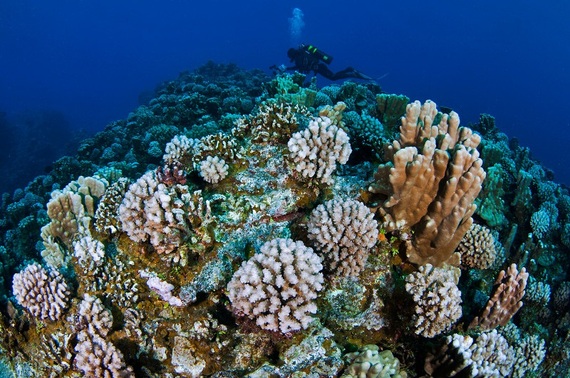 A coral community (Pocillopora sp., Porites lobata, etc.) along the island of Salas y Gómez. (Photo © Oceana / Eduardo Sorensen)
Many seamounts that Oceana focused on have already received some form of protection, like four seamounts inside the Motu Motiro Hiva marine park, which Chile established as a no-take zone of 150,000 square kilometers in 2010, following a proposal by Oceana and National Geographic. Now the permanent bottom trawling ban builds on these existing laws to create a robust network of protected habitat areas throughout Chilean waters.
This move truly designates Chile as a global leader in marine conservation. Chile has passed effective fishery regulations in the past -- like implementing science-based fishing quotas -- but a ban of this scale marks a truly historic move. Hopefully, other nations will soon follow Chile's footsteps, prohibiting bottom trawls around sensitive habitat and protecting their waters for generations to come.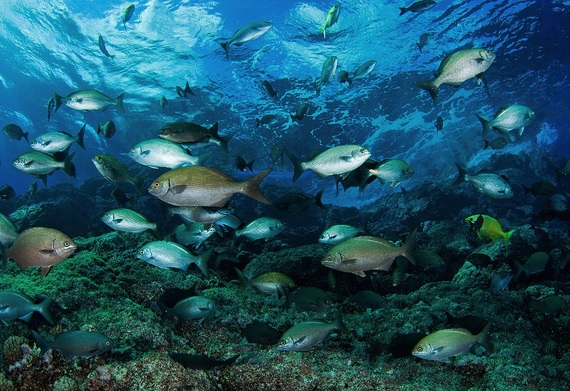 Brown Chubs (Kyphosus bigibbus) along the island of Salas y Gómez. (Photo © Oceana / Eduardo Sorensen).
Support HuffPost
The Stakes Have Never Been Higher
Related
Popular in the Community