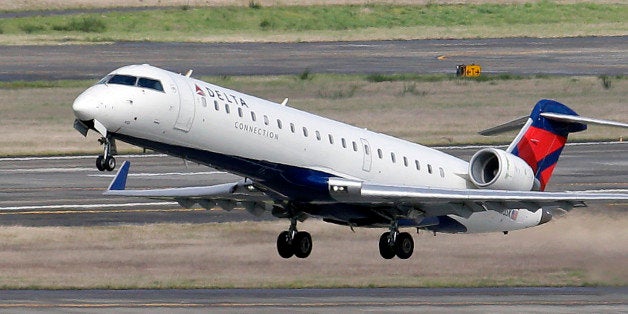 American workers and travelers all over the world have something to celebrate this week.
After months of deliberation, the U.S. Department of State on Monday confirmed media reports that the Obama administration has resisted pressure from the Big Three U.S. airlines (American, Delta and United) to dismantle the aviation policy known as Open Skies. Since February 2015, the Big Three have demanded the U.S. government freeze new flights from Persian Gulf-based carriers Emirates, Etihad and Qatar Airways, and initiate "formal consultations" that would effectively end our Open Skies agreements -- essentially, free-trade pacts for aviation -- with the United Arab Emirates (UAE) and Qatar.
Thankfully, the U.S. government will do neither. The State Department's announcement of "informal talks" to commence this summer between the U.S. and the UAE and Qatar signals a refusal to seriously entertain the Big Three's outlandish demands. This means that Emirates, Etihad and Qatar Airways can continue to operate flights and expand air service on routes to the U.S. -- and that's good for the economy, good for American jobs, and good for travelers both here and abroad.
In order for our economy to remain globally competitive, the U.S. needs to remain an attractive, welcoming destination for international visitors and maintain a safe, modern aviation system. Time and again, the Big Three have wrongly claimed that the Gulf carriers steal their business and sideline American jobs.
However, research proves that is simply untrue. Of the 1,700 routes flown by the Big Three and the Gulf carriers, they compete head-to-head on exactly two. Furthermore, according to a comprehensive study by Oxford Economics, only 0.7 percent of passengers who flew on a Big Three flight to the U.S. could have flown the same route on a Gulf carrier.
On top of that, research proves that the entry of Etihad, Emirates and Qatar Airways into U.S. market has only been additive, driving down fares for travelers, feeding into domestic flights run by U.S. carriers and adding American jobs. The Gulf carriers have dramatically increased the number of U.S. visitors from previously underserved markets in the Middle East and South Asia. For these reasons, my colleagues and I at the U.S. Travel Association have fought from the beginning to counter the Big Three's arguments, and preserve Open Skies. While we should all want U.S. airlines to be profitable, there was simply no proof that Middle Eastern competition hurts their ability to be so -- only that the Big Three were seeking a tilted playing field with a protectionist, anti-competitive lobbying campaign.
Thankfully, the U.S. government sees the facts. Informal talks may prove an outlet for the Big Three to air their specious grievances over a program that has been largely better to them than it has even to foreign airlines -- but for the foreseeable future, American workers, travelers and the global economy are safe from the disastrous effects of tampering with Open Skies.
Related
Popular in the Community