Kristin Freshwater is the director of Victory Hall Players in Scottsville, Virginia. She runs Baine's Books and Coffee and sits on the board of directors for the Scottsville Center for Arts and Nature. On April 28, 29, and 30, Victory Hall players will present their final weekend of Thornton Wilder's Our Town.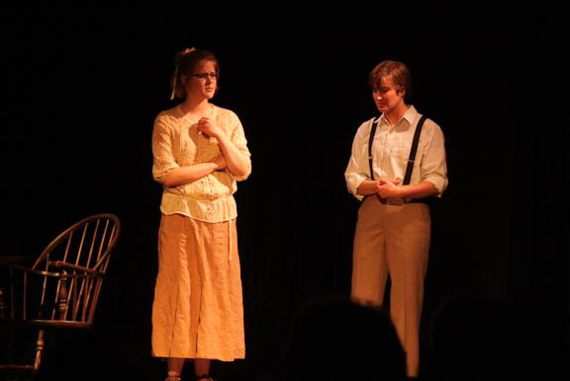 Lanie Bittner (L) plays Emily Webb. Kristin Freshwater (R) plays George Gibbs and directs Our Town. Photo by Nancy Gill
Tell me a little about Victory Hall Players.
'Victory Hall Players' is an in-house educational community theater program built into the Scottsville Center for Arts & Nature (SCAN). SCAN has existed for about 11 years now. Its primary goal is to provide arts and nature educational programs for individuals and families. Music, drama, dance, visual art, and environmental classes and workshops comprise the main focus of the offerings. It was the vision of our Executive Director, Nancy Gill, to have a regular season of shows that gave people within the community the chance to learn, create and engage in quality theater. That's where I came into the picture. Nancy immediately approached me about creating something like 'Victory Hall Players' nearly three years ago when she learned that I had a background in theater art. It took a little while to conceptualize the program and get it off the ground, but here we are, three years later with a phenomenal production of Thornton Wilder's Our Town. I couldn't be prouder of all of my staff and actors.
What brought you to Scottsville? How long have you lived there? What keeps you there?
Good question! To be honest, my partner and I moved to Scottsville to get out of Charlottesville. It was a very instinctual move. At the time we knew no one here, but it just felt right. We were both working in Charlottesville but chose to commute because we wanted to be in a small town, country environment. When I was an undergrad student at UVA I always traveled through Scottsville on my way from Charlottesville to Appomattox to visit my folks. I thought Scottsville was incredibly charming and loved that it was right on the James River. When looking at places to move right outside of Charlottesville, Scottsville was just naturally at the top of the list for us.
After about nine months of commuting we realized that there was a need for more viable businesses in town. We took action and joined forces with our friend Bryan Baine to open a second location of 'Baine's Books & Coffee' (The original location is in Appomattox, VA). We opened the Scottsville store in November of 2012 and have been here ever since. The business and the wonderful community of people is what keeps us here.
Our Town seemed to be the right choice for Victory Hall Players' first show. It's relevant and endearing, yet thought provoking. It was a play I knew that many in this small community could relate to and connect with. I also wanted to do a show that was written during the time period of Victory Hall's heyday. Our Town fit the bill perfectly.
What experiences in theater and life influenced your choice?
Gosh! So many things! I don't know where to begin. I have had the privilege of being involved in theatre since I was very young. My mom began signing my sister and me up for community theatre productions when I was about seven or eight years old. We both loved everything about it: the community, the self reflection, the creativity. I quickly got bitten by the theatre bug as some might say, and my involvement in theatre continued throughout high school. It was during these years that I decided theatre was something I wanted to pursue. The very last show I performed during my high school career was 'Our Town.' I played Mrs. Webb. I liked the show then, but now I love it!
During my time in UVA's Department of Drama I learned a lot about myself as a theatre artist. I discovered that my views on life, my faith, and my overall experience in the world all affected my art and how I staged things. I was and continue to be drawn to minimalism. This is one reason this script speaks to me.
Thornton Wilder first produced the play in 1938, featuring a small, fictional town in New Hampshire--Grover's Corners--for about a thirteen year span at the turn of last century. What keeps this play relevant for today's audience?
This play seems always to be relevant. Even though it was written nearly 80 years ago, it is still one of the most produced plays in the world. Its themes are universal, and that is the reason for its continued success. It isn't so much about the small town of Grover's Corners or the characters we meet onstage as it is about the connection to the audience. It was written as an interactive play.
The Stage Manager constantly breaks the fourth wall, drawing the audience into the action of the play and bridging the gap between the here and now and the action onstage. For that reason, the audience is more invested and involved. They connect to and understand the daily life, the love, and the death of the characters they meet. It is relevant because the story is real. It addresses what it means to be human, the joy and the pain. Their town is "our town." Their story is our story.
It may even be more relevant in today's technologically driven society, as it reminds us to breathe, to take time to enjoy the journey, and to really "look at one another" while we're still here.
How was this play seen as "cutting edge," both back then, and currently?
At the time that Our Town was first produced America was in between two World Wars and just climbing out of the The Great Depression. It was a time period in American theater history where most shows were escapist in nature: think the American musical and vaudeville. There were exceptions to this trend, though, and Thornton Wilder's style was one of them.
Our Town's minimalism is what makes it "cutting edge." Wilder made extremely specific notes in his script about how Our Town is to be performed. He insists on the minimalism. The play begins with a "blank, bare stage." The set is extremely minimal, giving the audience license to imagine kitchens, streets, soda shops, and graveyards. The entire show is virtually propless. Nearly everything is pantomimed, from school books to kitchen equipment. The minimalism is another tool aimed at making the audience active participants in the drama. When sets and props aren't already laid out for the audience they are forced to use their own imaginations to flesh everything out. This mechanism also puts more emphasis on the action itself and the characters.
Wilder's stage directions and insistence on minimalism is vital to Our Town's success. It is also what made the play so "cutting edge" at the time of its first production. Audiences were not used to seeing plays without full fledged sets and props. And a broken fourth wall was rare. With Our Town Wilder broke the mold in America.
Please tell me a little about the auditioning process...how did you assemble this cast? Was it easy? Were there a lot of folks involved?
Auditioning is always a mix of exciting and challenging. You never know who might show up, and you have to work with whom you get. I was extremely lucky with this particular auditioning process and the cast I was able to assemble from it. A couple of actors dropped out before showtime, but we managed to fill the roles from within the group of people we had already assembled. The hardest part of casting this show was deciding who fit each role best. In the end, I was extremely pleased with how the cast turned out. Everyone fits into each of their roles perfectly, and they all have done a fantastic job.
It was a challenge working with various experience levels. I had folks that had never been involved in theater and others who had a decent amount of theatre experience. Because Victory Hall Players is an educational program I had to meet each actor where they were with their experience. And those who wanted even more instruction were given one-on-one rehearsals to work out some of the finer nuances of the script.
How has the play unfolded over the course of auditions, rehearsals...to the first performances? Did you hit any roadblocks or speed bumps?
It has morphed and changed so much since auditions and first rehearsals. There have been many roadblocks along the way. Most of those were with figuring out Tech in the space, but luckily I have my sister, Sophie Freshwater, who is a theater lighting and sound genius! She was able to troubleshoot and fix all of the issues in time for performances.
Another unexpected speed bump was losing our actor who played George Gibbs just a week and a half before showtime. I searched high and low for someone to replace him at the last minute, but every actor I contacted was busy. Soooo....I cut my hair and stepped into the role, and honestly I wouldn't have it any other way. I have garnered so much more from this show by both directing it and being in it. Working alongside all of my actors has been a blast! Also, it will probably be the only time in my life that I'll have the opportunity to play a teenage boy.
If you had to do it all over again...would you? Would you change anything?
YES! I would most definitely do it all over again. I've had such a great time working on this show. It is one of my all-time favorite plays ever written. To produce it as the first Victory Hall Players show in a town that I love so much has made this my absolute favorite production I have ever worked on. There's nothing I would change, except maybe more rehearsal time.
Has your understanding of Our Town changed as you have been more involved with it?
It has! There are definitely subtle nuances in the script that I had never noticed until we started bringing it to life. I love the play even more now than I did before. As a script, it is brilliant! Thornton Wilder took so many details into consideration when writing it and that becomes exceedingly clear as you work to produce it.
Describe your directing style. You also act in the play...how did that evolve, and how did it affect your role as director?
I try to be very relaxed as a director. I never want to be a dictator of "one true vision" or some sort of authoritarian on the script. I like my actors to make discoveries. Sometimes they bring things to the table that I haven't even thought about as director. And that's refreshing!
Yes, I have to keep the action and blocking on course, but not without giving my actors creative license.
As a set designer and director I tend to direct with total stage picture in mind. I use the Stanaslavski method when acting and my directing tends to fall into that same style as well. I allow my actors to experiment with action and use their emotional memory and imagination to bring their characters to life.
Stepping into the role of George Gibbs was challenging, but extremely rewarding. It allowed me to step into the stage picture I had created and be a part of what it feels like to be onstage with my own blocking. In a lot of ways I feel like it helped the production for me to be more involved with my actors onstage. It also forced me to see things from an actor's perspective, which was helpful. It was hard for me being unable to watch every minute. I couldn't critique any of the scenes from the audience's perspective. Luckily, I had my Stage Manager and Technical Director to give us notes.
What's next for you? What's next for the Victory Hall Players?
Well, next I'm going to focus on overseeing the Victory Hall Players as Artistic Director. The next show will be performed in the Fall. We will be bringing in a Director for that show, potentially an undergrad student who is gifted at directing. I want to use Victory Hall Players as a training ground for young directors, as well. However, I will be overseeing the entire production process from concept and design to final performance. We will be choosing the Fall show in the next month or two. The goal is to have a regular season of shows: two mainstage shows, one in the Spring and one in the Fall, and a children's show in the Summer.
REAL LIFE. REAL NEWS. REAL VOICES.
Help us tell more of the stories that matter from voices that too often remain unheard.