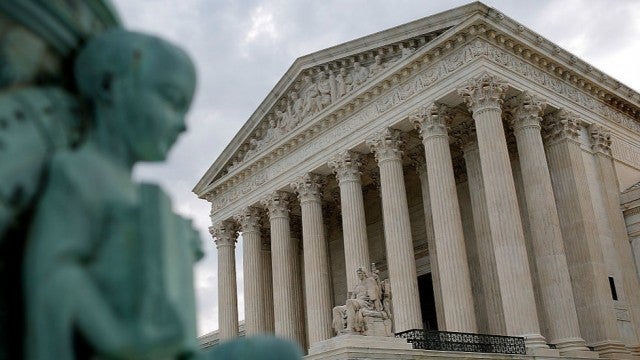 Last week, the Supreme Court unanimously ruled in favor of the disability community. It sounds great; however, the ruling comes 35 years too late. But better late than never. Students with disabilities should not be warehoused in special education classes where they are babysat or denied the opportunity to achieve. Unfortunately, this has been the case for the past 35 years. Under the law, every child deserves a chance to be challenged and to succeed in school. School should be a right for every child, not a privilege. Thanks to the Supreme Court's new decision in Endrew F. v. Douglas County School District, proper education for the disabled will now be a right.
As a law student with autism, the Supreme Court's new disability decision especially hits home for me. Endrew, a Colorado kid with autism, has made it possible for millions of students with disabilities nationwide to get exactly what they need from the public school system.
It's daunting to read a lengthy Supreme Court opinion. Who better to explain twenty pages of legalese than an autistic woman in law school?
I decided to unpack Endrew's case for people who just want to know the basics or the answers to one or both of these questions:
"How did this even happen?"
"What does this decision mean?"
Here's how our legal system works: The Supreme Court is the highest court in the country. The Supreme Court answers tough questions about the U.S. Constitution and federal laws. Those questions come from lower courts. The Supreme Court gets to decide whether or not to answer those questions; if it does, the Court grants certiorari. When certiorari is granted, both sides present arguments to the Court. The Court gives a final opinion.
For our friend Endrew, the Court considered the Individuals with Disabilities Education Act (IDEA). In public schools, students with disabilities are supposed to be granted accommodations and tools to succeed. This happens through individualized education plans (IEPs) created by parents and teachers.
Endrew had an IEP while attending public schools from pre-kindergarten through fourth grade. His progress stalled in fourth grade. Endrew's parents wanted changes for his fifth grade IEP. The new IEP did not meet Endrew's evolving needs, so he transferred to private school, where he made significant progress.
But private school is expensive, and the public schools were obliged to help Endrew grow and succeed. His parents wanted to be reimbursed for tuition costs because the public schools didn't adequately meet their son's needs. Two lower courts denied reimbursement because of a 35-year-old decision that said in order for IEPs to be effective, schools only have to allow kids with disabilities to pass their classes if they weren't in special education, or receive services above the bare minimum in special education.
Last week, the Supreme Court unanimously disagreed with the lower courts. The slightly more than the bare minimum ("de minimis") is not good enough. It isn't good enough for Endrew and the millions of students who receive services under IDEA or are in special education.
The spirit of an IEP is that every student with a disability has a unique plan tailored to meet individual needs.
The Court said that every child should have opportunities to meet challenging objectives. The bare minimum isn't good enough for any child! Schools must allow students with disabilities to make "appropriately ambitious" progress. Students must be challenged, encouraged to think, be creative, and be more than a passing grade in a class. They should be human!
In fact, I would say that society doesn't give kids with disabilities enough credit. Students with disabilities are mistakenly written off as low achievers when in reality, they haven't been given the proper tools to succeed. Everybody can communicate, think, and understand things, albeit differently. Schools, educators, parents, and students are now encouraged to be better advocates. We should think outside the box for meeting unique needs. Society is finally setting higher standards for people with disabilities.
My story closely mirrored Endrew's. I was once a special education student who didn't get adequate services, and had to transfer to a private school. Like Endrew, I made significant progress in private school and was lucky to have the opportunity to attend private school – most aren't given the chance to transfer, and their success is hindered with abilities hidden.
I wouldn't be where I am today without private schools' willingness to meet my needs. I certainly wouldn't be in law school if I had been in public school with the "bare minimum." Now that every child has the right to be challenged and succeed, my hope for the future is renewed.
It's shocking this took so long. Thankfully, the next generation will have quality opportunities. People with disabilities and their allies need to stay in the conversation. Being a lawyer with a disability will certainly allow me to speak up for the rights of others with disabilities.