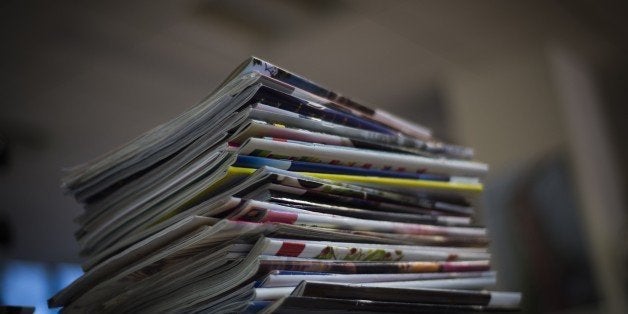 Literary reviewers, quake in your boots: It's VIDA Count day once again.
Now in its sixth year and celebrating the publication of its fifth count, VIDA delivers an annual jolt to the literary community with its report on women's underrepresentation in the pages of influential journals.
The 2014 VIDA Count, as always, features a breakdown of how many women vs. men were reviewed and published in major reviews such as The New Yorker, Harper's Magazine and The Atlantic Monthly. The results are a mixed bag. Some publications, including The New York Times Book Review and Granta, have made tangible strides toward parity; while others, such as The Nation and The Times Literary Supplement, haven't budged. Overall, TLS featured 2200 male writers in 2014, and just 869 female ones.
With four previous VIDA Counts under its belt, the organization has branched out in a significant way: This year's report included the first annual Women of Color Count. Such a count was no minor undertaking; to avoid miscategorizing or erasing the racial identities of writers, VIDA reached out to women who published in each outlet with a carefully constructed survey. "Ultimately," the report noted, "we received responses for no fewer than 45 self-identified race categories." The results are gathered into bar graphs for easy, if unsettling, viewing.
Though the counts are not definitive -- for 10 out of 13 publications studied, the majority of the writers VIDA was able to contact didn't respond to the survey at all or declined to be identified -- the breakdowns of the larger publications, at least, still mustered enough numbers to hint at a depressing reality. The New Yorker's count was far from complete, but its responses included 11 women of color, one unsure, and 55 white women. The New York Times Book Review has been rightfully lauded for making strides in gender equality within its pages; its racial diversity doesn't look so impressive, with only 29 women of color, two unsure, and 158 white women respondents.
VIDA is at pains to point out it received incomplete data for its Women of Color report, but it's difficult to imagine that a full set of responses would have returned a more diverse spread. The use of a subject line containing "2014 Women of Color VIDA Count" might well lead white writers to overlook an email that didn't seem to fit their identity; in fact, Amy King, a member of VIDA's executive committee, noted in the methodology section, "I received several responses from writers who wrote to let me know that they were providing their email addresses but that they were not 'a woman of color.'"
Writers of color might well have their own reasons for overlooking or preferring not to identify themselves for such a survey, but white writers, we might speculate, seem less, rather than more, likely to acknowledge the significance of their race in their profession and the importance of its being surveyed.
"We began to wonder," wrote WAM! executive director Jamia Wilson, "how many from our 2,000+ writers felt ... that this had nothing to do with them?"
King told The Huffington Post that they look forward to building on this year's initial report, pointing out that they will continue to work with the writers they were able to contact this year and to reach out to more for future surveys. "This year's work carries over and is cumulative," King said.
VIDA's foray into racial representation in literary media isn't the first attempt at such a count. In 2012, author and critic Roxane Gay researched the books reviewed by The New York Times in 2011, breaking down the results by the authors' racial identities. According to her research, a staggering 655 of 742 books reviewed were written by Caucasian authors, male and female.
In her article on the study, "Where Things Stand," Gay pointedly spoke of how frequently gender imbalances are privileged over racial ones in discussions about inequality. "Race often gets lost in the gender conversation as if it's an issue we'll get to later," she wrote. "I've wondered about where race fits into the conversation and who will take up that issue with the same zeal VIDA has approached gender."
Apparently, VIDA has decided later is now, and VIDA is who -- at least when it comes to the intersection of race and gender. The VIDA Count does not include male writers of color in their count, unlike Gay's across-the-board racial survey, and there aren't currently plans for future reports to expand in that direction. "As our focus has always been on women, the addition of race is meant to identify connections and intersections of race and gender," King told The Huffington Post. "Maintaining that focus for now is our priority."
Of course, reporting on gender disparities through a binary breakdown has its own flaws, which VIDA has recently worked to address. On their site, VIDA notes that they are "aware that the male-female binary oversimplifies the wide range of genders and sexes that individuals may identify as and/or exhibit." In 2013, they began to include trans writers in their report.
With men of color continuing to face their own struggles in the realm of literary journalism, there's still plenty of room for an accountability survey focused primarily on race to fill the gap. For now, VIDA's new Women of Color Count is a big step toward more public visibility of the diversity problem in literary media, and an encouraging sign of how hard the volunteer-staffed organization works to continually move the conversation forward.
Popular in the Community