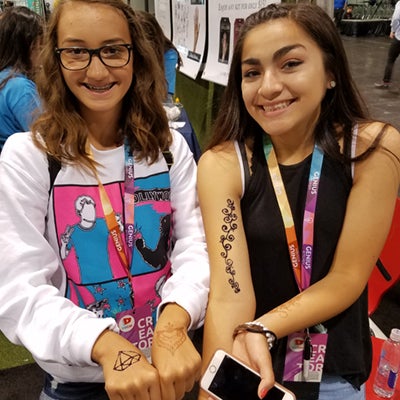 It's just over a week since we dismantled our booth at Vidcon, the annual online video conference. Vidcon is where like-minded people come to share and exchange information, meet influencers in the industry, learn what's trending, get a grasp on what it takes to master the field, and, most of all, have FUN; and anyone who has ever been an exhibitor at conferences like Vidcon will tell you that by the end of each day, you cannot believe how much energy it takes to hang out and talk with people all day!
So as we recovered from the hard work of imagining, then creating a booth; doing the daily hustle From Hollywood to Anaheim, where the event took place (hello bumper-to-bumper 5 Freeway!), and explaining the ins and outs of our Earth Henna Temporary Tattoo Kits from 8AM to 6PM for three days to enthusiastic lovers of body art, we walked around our office in a daze, reminiscing about some of the most memorable moments from Vidcon. And I tell you, some of them were adorable.
One of my favorites was when a dad accompanying his young son and daughter stepped out of the line to our booth to ask if they could buy a henna kit without waiting?
First, let me explain that, by anyone's account, people who love online video also love body art. For the last three years, the Vidcon community, whose age range is 13-17 years old, has flocked to our booth and waited as long as 4-5 hours for an artist to create temporary henna and jagua tattoos on their hands, arms, legs and backs. This year, we tried to ease the long wait time by offering henna tattoos created by pros, as well as a free opportunity for people to do their own tattoos by using the stencil transfers in our kits. Our DIY idea worked! We set it up so that 12 people at a time were able to come through the booth to try out our kits and see how easy it is to create gorgeous temporary body art. The line moved at a much faster clip; however, most people still had to wait 10-15 minutes to get their turn.
So, back to the dad who wanted to buy a henna kit. I told him he wouldn't have to wait, so he stepped forward to buy the kit. But what he didn't know was that his kids still wanted to try their hand with the stencils right then and there. The thought of having to wait some more really annoyed him, and he stalked off, at which point, his son turned to his sister and said, "I think he hates us."
I tried really hard not to laugh. "I'm sure he doesn't hate you," I said. "He's probably just a little tired." And then two minutes later, what do I see? A contrite dad heading back to the booth, reconciled with his original purpose for being there—making his kids happy! They didn't have to wait much longer by then, and soon, they were on their way, tatted up and walking on air, along with their gratified dad. It was totally adorable.
That scenario, and many others like it is what makes me so enjoy Vidcon. Watching parents, who would presumably be otherwise engaged, hoofing it with their kids through this huge conference, where YouTubers reign supreme, doing whatever it takes to give their children the experience of their lives. I am a businesswoman, there to promote my temporary tattoo products. But in addition to the fact that Vidcon gives me access to an important segment of my targeted market, this is the stuff that warms the heart and makes it all worthwhile.
REAL LIFE. REAL NEWS. REAL VOICES.
Help us tell more of the stories that matter from voices that too often remain unheard.
This post was published on the now-closed HuffPost Contributor platform. Contributors control their own work and posted freely to our site. If you need to flag this entry as abusive,
send us an email
.