On this week's "Only in Illinois," we look at a timeline of the state's bill backlog that dates back to the end of Fiscal Year 1998, when the state had a surplus of more than $1 billion. This year, with no budget in place to control spending or generate more revenue, we're on a pace to amass a $5.9 billion bill backlog by New Year's Eve.
How did this pattern of red ink become an entrenched part of Illinois' fiscal condition? Scrolling through Comptroller's Quarterly Reports from 2001 forward shows a consistent pattern. When bills built up, the state borrowed to pay them down. That would help the current year's backlog, but the following year the state was in deeper trouble.
When the state closed calendar year 2010 with a pile of unpaid bills totaling $6.4 billion, the situation was deemed a crisis that could be dealt with only with a steep income tax increase. Amid protests from Republicans in the General Assembly, the Legislature in its January 2011 lame duck session approved the state income tax rate by 67 percent for for years. The intent was to get the bills paid.
But when the temporary income tax increase expired this year, the state was barely better off. It closed calendar year 2014 with $4.4 billion in unpaid bills. Most of the record tax intake from 2011-2015 had gone to the state's underfunded public pension system.
Today the state is operating without a budget and court orders require it to continue spending at 90 percent of last year's level. That means state government is on pace to be $5.9 billion behind in its bills at the end of this year. Even reinstating the 2011 income tax increase won't fix the situation, Comptroller Leslie Geissler Munger said this week in a radio interview with Rockford radio station WROK-AM 1440. (There's an excerpt of her statement in this week's video.)
The purpose of this history lesson is to show that Illinois didn't get into its dire financial straits overnight. Repeating the same mistakes over and overbuilt things up to where they stand today.
With the state now running its finances on auto-pilot as dictated by courts that can't make fiscal policy, the lack of a state budget could send us into a new and uncharted brand of crisis.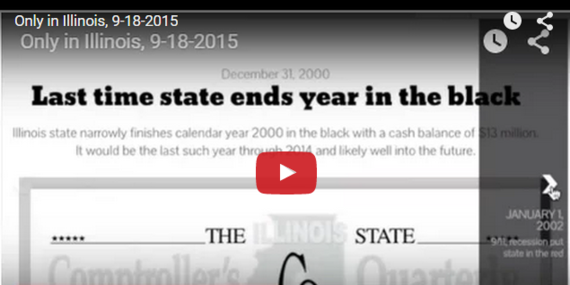 Calling all HuffPost superfans!
Sign up for membership to become a founding member and help shape HuffPost's next chapter