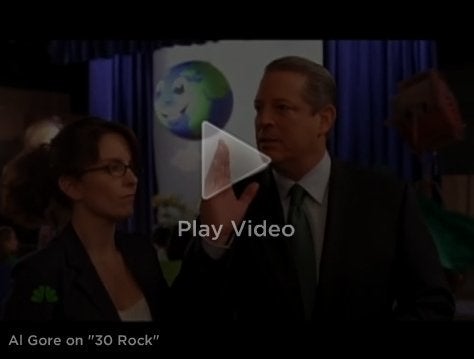 As part of their "Green is Universal" campaign, NBC went green last night, with a slate of environmentally themed programming from "Deal or No Deal" to "The Office." Perhaps the most entertaining, and hyped, show-gone-green was "30 Rock," which featured guest appearances from Al Gore, David Schwimmer, and Meredith Vieira. Gore and Schwimmer were part of a segment meant to mock NBC executives for the "Green is Universal" campaign, with Liz Lemon (played by Tina Fey) and Jack Donaghy (played by Alec Baldwin) suggesting that Gore "throw on green tights and a cape and tell the kids how big business is good for the environment." Instead, Gore tells them,
If your network really wants to demonstrate a commitment to the environment, why don't you start by, for example, having an entire week with nothing but environmental themes on all the programs? Use entertainment for substance! You could have a character in primetime making a passionate argument to the American people that we need CO taxes to replace the payroll taxes. Your parent company could lobby congress and the president to pass the treaty and save the climate.
Jack's typical studio response? "Or, you could put on a silly hat and tell the kids how outsourcing means cheaper toys at Christmas."
Popular in the Community