Was 2015 the "Year of the Mural"?
A lot of people thought so, and the rise of commercial festivals and commissioned public/private mural programs probably brought more artists to more walls than in recent history. Judging from the In Box, 2016 is going to break more records. Enormous, polished, fully realized and presented, murals can hold a special role in a community and transform a neighborhood, even a city.
But they are not the "organic" Street Art that draws us into the dark in-between places in a city, or at its margins.
We keep our eyes open for the small, one-off, idiosyncratic, uncommissioned, weirdo work as well, as it can carry clues about the culture and reveal a sage or silly solo voice. It also just reinforces the feeling that the street is still home to an autonomous free-for-all of ideas and opinions and wandering passions. For us it is still fascinating to seek out and discover the one-of-a-kind small wheatpastes, stencils, sculptures, ad takeovers, collages, and aerosol sprayed pieces alongside the enormous and detailed paintings that take days to complete.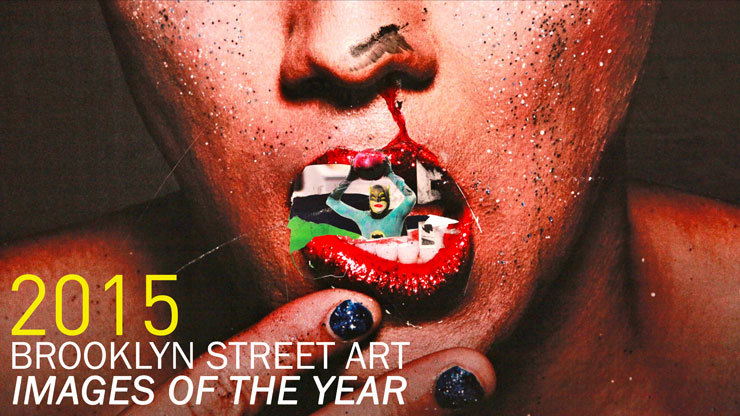 The main image above is from a vinyl subway advertisement that was high-jacked and we published it in February of this year on our Images of the Week posting. It's small, personal, and very effective as you can see someone suspiciously similar to Batman is jumping out of the mouth of someone looking awfully similar to Hedwig of "Angry Inch" fame.
Of the 10,000 or so images photographer Jaime Rojo took in 2015, here are a selection 140+ of the best images from his travels through streets looking for unpermissioned and sanctioned art.Brooklyn Street Art 2015 Images of the Year by Jaime Rojo
Brooklyn Street Art 2015 Images of the Year by Jaime Rojo includes the following artists;
365xlos43, Amanda Marie, Andreas Englund, Augustine Kofie, Bisser, Boijeot, Renauld, Bordaloli, Brittany, BunnyM, Case Maclaim, Casg, Cash4, CDRE, Clet, Cost, Curve, Dain, Dal East, Dan Budnik, Dan Witz, David Walker, DeeDee, Dennis McNett, Don Rimx, Ricardo Cabret, LNY, Alex Seel, Mata Ruda, Don't Fret, Dot Dot Dot, ECB, El Mac, El Sol25, Ella & Pitr, Eric Simmons, Enest Zacharevic, Martha Cooper, Martin Whatson, Ever, Faile, Faith47, Findac, Futura, Gaia, Gilf!, Hanksy, Hellbent, Hot Tea, How & Nosm, Icy and Sot, Inti, Invader, Isaac Cordal, James Bullough, Jane Dickson, Jef Aerosol, Jilly Ballistic, Joe Iurato, John Fekner, Le Diamantaire, Li Hill, LMNOPI, London Kaye, Low Brow, Marina Capdevilla, Miss Van, Mr. Prvrt, Mr. Toll, Myth, Nafir, Nemos, Never Crew, Nick Walker, Nina Pandolofo, Old Broads, Oldy, Ollio, Os Gemeos, Owen Dippie, Paper Skaters, Pet Bird, Kashink, Smells, Cash4, PichiAvo, Pixel Pancho, QRST, ROA, Ron English, Rubin415, Saner, Sean 9 Lugo, Shai Dahan, Shepard Fairey, Sheryo & The Yok, Sinned, Sipros, Skewville, Slikor, Smells, Sweet Toof, Snowden, Edward Snowden, Andrew Tider, Jeff Greenspan, Specter, Stray Ones, Sweet Toof, Swil, Willow, Swoon, The Outings Project, Toney De Pew, Tristan Eaton, Various & Gould, Vermibus, Wane, Wk Interact
<<>>><><<>BSA<<>>><<<>><><<>>><><<>BSA<<>>><<<>><><<>>><>
Please note: All content including images and text are © BrooklynStreetArt.com, unless otherwise noted. We like sharing BSA content for non-commercial purposes as long as you credit the photographer(s) and BSA, include a link to the original article URL and do not remove the photographer's name from the .jpg file. Otherwise, please refrain from re-posting. Thanks!
<<>>><><<>BSA<<>>><<<>><><<>>><><<>BSA<<>>><<<>><><<>>><>
Read all posts by Steven P. Harrington and Jaime Rojo on The Huffington Post HERE.
Follow us on Instagram @bkstreetart
Related
Popular in the Community