Burmese journalist, longtime political prisoner and National League for Democracy co-founder U Win Tin passed away on April 21 at age 85. Here's video of his last public appearance, on a panel of exceptionally courageous journalists at the East-West Center International Media Conference in Yangon this March:
Here's a report from the conference website on the panel session:
Journalists recount tales of overcoming imprisonment, abuse and intimidation for their reporting
YANGON (March 10, 2014) - In the crackdown that followed a widespread 1988 uprising against repressive military rule in Burma (aka Myanmar), journalist U Win Tin was arrested, tortured and imprisoned for nearly 20 years before being released in 2008 amid sweeping reforms in the country.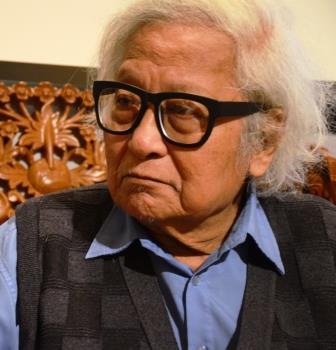 Now in his eighties, U Win Tin was among a panel of journalists, all of whom had endured imprisonment, beatings or threats for their reporting, who addressed some 400 participants gathered for a keynote dinner on March 10 as part of the East-West Center's International Media Conference in Yangon this week.
In a scene that would have been virtually unimaginable just a few years ago, he told the audience at a hotel ballroom that today, "we are trying for democratic change in this country, but the remnants of the military dictatorship remain in various forms."
Choosing to speak through an interpreter, he said that "we have to fight against the remaining followers of the dictators. Only after that we can have a chance to march towards democracy."
American reporter Roxana Saberi recounted the 101 days she spent in Iran's notorious Evin Prison after being accused of spying in a case that received international media attention. Initially held in solitary confinement and denied outside contact, she was unaware of the outcry over her plight until she was finally allowed to mix with other prisoners who had heard of it.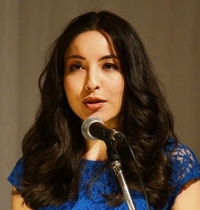 While she was not physically tortured as many other prisoners were, she said, she did experience something known as "white torture," which "doesn't leave a mark on your body but it can devastate your mind and your conscience through a combination of threats and isolation, and making you do and say things that are designed to rob you of your dignity."
Saberi said that during early days of her imprisonment she tried to think of inspirational prisoners of conscience like Mahatma Gandhi, "but then I thought, 'Well, Gandhi was never jailed in Iran, and he would have been afraid too."
In the end, she said, she drew courage from other women prisoners she met who were being punished for peacefully exercising their basic human rights. "One of the main lessons they taught me was to do what you think is right, to listen to your inner voice," she said. "Tell the truth, because even if you may suffer, in the end you will prevail."
"I realized that when we don't have a voice, we need other people to speak out for us," she said. "And when we do have a voice, we have this opportunity and responsibility to be a voice for the voiceless, and the media have a great power to do this."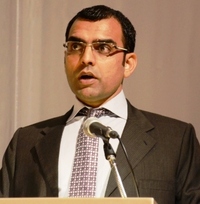 Umar Cheema from Pakistan recounted how in 2010, after reporting frequently on government officials' misdeeds, he was abducted by intelligence agents, beaten with a wooden rod and leather strap, stripped naked and forced to pose in humiliating positions while his kidnappers took photographs and videos. "This is the consequences of writing against the government," one of them told him.
After about eight hours, he said, he was dumped far outside Islamabad with a warning: "If you speak to the media about this incident, you will be picked up again, never to return, and your pictures and video will be posted to YouTube." Even confronted with this threat, he decided to go public with his experience and continue his reporting, despite pleas from his family and friends to flee the country.
Cheema noted that his story is the story of many journalists in Pakistan. "It is a story of a country where you are free to speak, but at your own risk," he said. "It is a story of a country where journalists are not sent to jail, but instead sent to graves, and their killers operate with impunity."
Afghan journalist Najiba Ayubi, director of a nonprofit group of radio and magazine outlets based in Kabul, recounted how, after one of her radio stations reported on a gun battle in the city between the militias of two warlords-turned-members of parliament, she was called by a government minister who told her to stop the coverage, saying, "You are a woman - this is not good for you."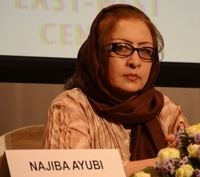 After she refused to stop the reporting, she said, some men came to her home later that day and banged loudly on the door asking for her. Telling what she said was the first lie of her life, she escaped by pretending from behind the door to be her mother, but she and her family spent several days worrying that the men would return. "This is one of those experiences that I had a lot," she said. "Not one time, many times."
Ayubi said that the journalism environment in her country has improved markedly in the last 12 years, with a proliferation of news outlets and the best media law in the region. "But self-censorship is a big problem," she said. "Because of the lack of security and the powerful people (in control), there are many things we can't talk about."
"Being a woman journalist in Afghanistan is not easy," Ayubi added, but she feels hopeful that both a free press and women's rights will continue to increase in Afghanistan. "A lot of good changes have happened," she said.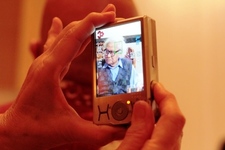 The journalists on the panel all agreed that by refusing to be silenced, they hoped that each act of courage would mark a step closer to a freer press, and subsequently freer societies.
In a moving conclusion to the evening, the entire audience sang "Happy Birthday" to U Win Tin, who was just a few days away from turning 85. Wearing a shirt that was the same shade of blue as his former prison uniform - a color he's vowed to wear until every remaining political prisoner in Myanmar is freed - the still-active opposition organizer clasped his hands to his heart and beamed.
- Student journalist Jessica Anania of the Missouri School of Journalism contributed to this report. Photos by Ninh Pham, Missouri School of Journalism, for East-West Center.
Related
Popular in the Community