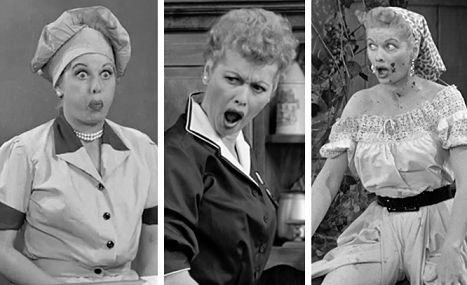 She would have turned 100 today.
So what was it that made I Love Lucy so historically good? Was it because the plots were thoroughly preposterous? Was it because the scripts were so marvelously written? Was it because we all somehow related to Lucy, Ricky, Ethel and Fred--even though none of us knew anyone in real life with chemistry that sharp and funny? Or was it simply because the star of the show--the brilliant and hilarious comedienne Lucille Ball--was a once-in-a-lifetime phenomenon, who, like a red-headed comet, soared through our lives and left us all enchanted?
The answer is: All of the above. Let's go to the tape.
1. "The Ballet" (Season 1, 1952)
When Lucy discovers that Ricky needs a ballerina for his act, she hopes to get her foot in the door by taking a crash course in ballet. Unfortunately, the door isn't exactly where her foot winds up. (Film and TV actress Mary Wickes plays the formidable Madame Lamond.)
2. "Lucy Does a Commercial" (Season 1, 1952)
Ricky refuses to let Lucy audition for a commerical on his television show, so she defies him and lands the job anyway. The product she's endorsing -- a health tonic called Vitameatavegamin -- is 23% alcohol. Oops.
3. "Job Switching" (Season 2, 1952)
When Lucy and Ethel swap livelihoods with Ricky and Fred on a bet, they go in search of a job, and end up in a candy factory -- where their stern boss, a fast conveyor belt and 300 chocolate bon-bons spell trouble. It is arugably the most classic scene from "I Love Lucy."
4. "Lucy Is Enceinte" (Season 2, 1952)
When Lucy discovers that she's expecting a baby, she tries to find the perfect moment to tell Ricky, but he's so busy she can't seem to get his attention. Here's how she finally break the news. (The title of this episode uses the Spanish word for pregnant because, at the time, saying "pregnant" on television was verboten.)
5. "Lucy Goes to the Hospital" (Season 2, 1953)
With Lucy on the verge of having her baby, the Ricardos and Mertzes rehearse how they'll respond when the big moment arrives. Unfortunately, they could have used a few more practice sessions.
6. "L.A. at Last!" (Season 4, 1955)
After arriving in Los Angeles, Lucy decides to star-gaze at the Brown Derby, where she accidentally smashes a pie into the face of screen idol William Holden. When Ricky coincidentally brings Holden home with him later that day, Lucy tries to disguise herself -- badly.
7. "Harpo Marx" (Season 4, 1955)
While in California, Lucy dresses up as famous celebrities to trick her (very near-sighted) friend Carolyn Appleby into believing that she's been rubbing elbows with the stars. All goes well -- until Lucy's fake Harpo Marx runs into the real McCoy. (This scene is a recreation of a similar bit from the Marx Bothers' classic comedy, "Duck Soup.")
8. "Lucy's Italian Movie" (Season 5, 1956)
While in Italy, Lucy lands a role in an Italian movie and decides to research her part by visiting a local vineyard. In real life, the actress who appears in this scene with Lucy spoke no English, and didn't understand Lucy's cries for help when the shtick got too rough. So what you see here is Lucille Ball getting laughs -- as she's trying not to drown.
9. "Lucy Does the Tango" (Season 6, 1957)
After Ricky decides to get rid of the chickens at their contry home because they're not laying eggs, Lucy secretly buys eggs at the grocery store to fill the nests. The gig is up, however, when Ricky asks Lucy to rehearse a tango routine they've been working on. The audience reaction to this scene eventually became known as the longest recorded laugh in television history.
10. "Ricky Sings 'I Love Lucy'"
In this episode, "Lucy's Last Birthday" (Season Two, 1953), Ricky sings the tune that every American at the time knew by heart -- but who knew it had lyrics?! Happy Birthday, Lucy. We will always love you.