At this pub, the spirits flow freely -- and possibly in more ways than one.
The camera caught the image on Oct. 15, in the weeks just before Halloween.
Pub manager Kate Staniszewska is dead serious with the possibility that the image may show something from another realm.
"There are many stories about who it is. I believe this one is a woman figure which appears quite often," she told Get Hampshire.
"I live in the building and so I can feel it when I pass the ghost. I've lived here six months and it's happened a few times but this is the only place we have seen it."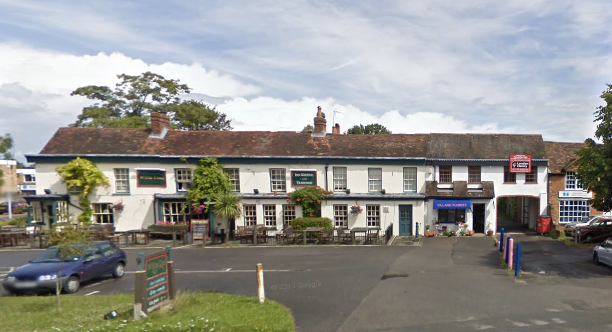 Andy Froker, who recorded the video, said they looked at it because the pub alarm was going off, and he wanted to know why.
"It's not the first time it has happened. There were only three of us in the pub one time and I was serving someone at the bar and the old manager was upstairs," he told Get Hampshire. "We heard a glass fall off of the shelf and smash and when we watched that back on the CCTV (closed-circuit video surveillance), it looked like it had flown off the shelf rather than fallen."
According to the site, the location is haunted by at least one ghost, the spirit of James Rogers. 
"This apparition, thought to be James Rogers (the first licensee) has a specific loving for his tankard. At the point when last moved, the alarm system malfunctioned amid the early hours of the morning until a peace offering was made," the site says.
According to its town council website, Yateley is home to about 22,000 living souls -- though, judging by the video, it may also be home to a few souls that aren't alive, too.
REAL LIFE. REAL NEWS. REAL VOICES.
Help us tell more of the stories that matter from voices that too often remain unheard.